The WTCE team spoke with Jennifer Green, President + Co-Founder of Procurall Solutions. In our talk, we covered how partnerships, third-party evaluations, and both consumer and airline demand are key industry drivers for a more sustainable onboard supply chain.
Spotlight on: Jennifer Green, Procurall
With 15 years of experience dedicated to developing airline in-flight comfort and experience products, Jennifer started Procurall which began doing business in February 2022.
The company is female-owned, female-led and has seen a "whirlwind" of success already, supporting and supplying to airlines, globally.
"There is a global movement happening focusing on DEI, CSR, promoting female leadership and advancing gender equality. Having a career in a male-dominated industry, such as supply chain, my co-founder and I thought if there was ever a time to jump in with both feet, it was now! I have such an intense passion for this industry and with some encouragement from my mentor, brand partners, vendors and even some of my respected + valued clients, I did just that… jumped in with both feet!"
The company's focus is on inflight comfort and experience. This includes products across:
amenity kits
brand collaborations
soft goods including bedding, blankets, pillows and sleep suits
Premium Cabin products like noise-cancelling headphones and first class dinnerware service
buy on board programs with travel accessories such as ear buds, neck pillows, travel blankets, eyeshades and more
Sustainable food and beverage products for economy class
In Green's own words:
"if it's not affixed to the plane, it's something we can supply."
The demand for sustainability from airlines
It's no secret that the aviation industry, with Net Zero targets now publicly in place, is revaluating the global supply chain for opportunities to become more sustainable. Whether that's, as Green says, finding regenerative materials or the move to sustainable aviation fuels (SAFs), airlines are exploring all avenues.
"Greenwashing is becoming increasingly less acceptable as passenger perspectives become savvier and the demand to quantify claims hold companies accountable."

Aviation Business Specialist
Embracing Challenges & Harnessing Trends in Airline Onboard Hospitality Report by En Route
As for the onboard industry in particular, sustainability is without a doubt "at the forefront". Every airline seems to have their finger on the pulse. It's no secret aviation isn't sustainable but having that realisation and taking measures to help combat it are key."
So, whilst there is strong demand from airlines to meet these targets, they can increase their impact by developing strategic partnerships "with suppliers like ourselves" says Green, "where sustainability is embedded in our ethos."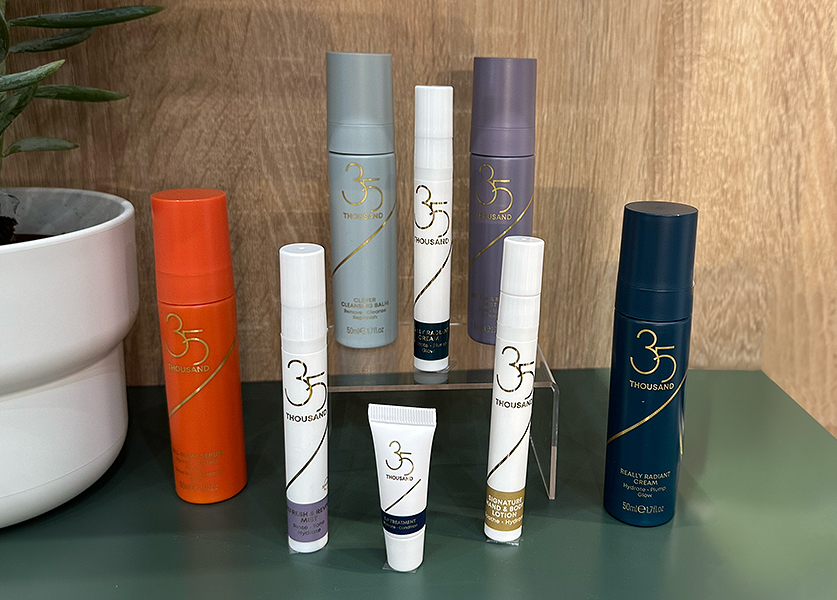 "Every decision we make and action we take is influenced by our pursuit of environmental sustainability and our collective responsibility to protect and preserve our planet. We amplify this by collaborating with like-minded partners who champion responsible business, education and the environment throughout our supply chain."
But sustainable solutions for the inflight catering, onboard services and passenger comfort industry can be restrictive.
With weight and format considerations as well as tight margins, suppliers wanting to get their product onboard often have to price for the mid- to long-term to see any uptake. To add to this, airlines still want products with a "sustainable element, but not necessarily with the sustainable price tag," says Green. "Many airlines have made public statements, target goals, or have implemented initiatives that focus on their commitment to reaching these targets by 2030 or 2050. Making sure their supplier portfolios have the same goals and initiatives, help airlines align and move forward."
"The days of greenwashing are over. Airlines demand proof. They require suppliers to provide product and factory certifications for any claim of sustainability. Airlines want the confidence to know if a supplier is claiming net-zero or carbon-neutral, they can back those claims with quantifiable metrics, which is quite difficult with Scope 3 emissions."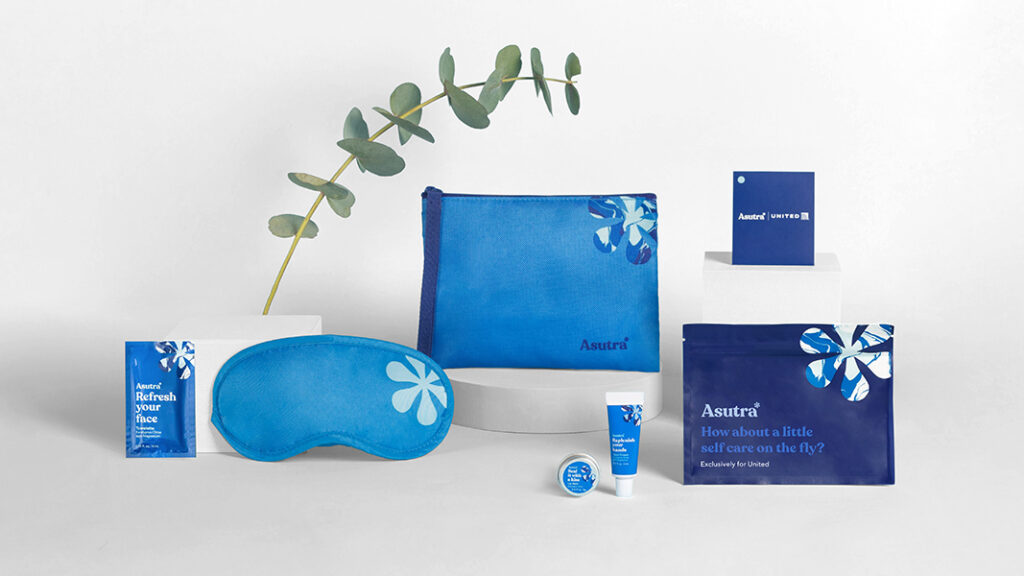 Sustainability Challenges
And Green raises a pressing issue about the challenges and drawbacks of sustainable solutions. Namely, who decides?
Senior airline, rail operator and catering company buyers come to WTCE to find sustainable items. But without expert input, which can be costly, companies' claims to sustainable products can be spurious; often unintentionally.
"WTCE is a phenomenal show. It's a Who's Who in the world of Airlines and Suppliers. To be a true player 'in the game', you've got to be there. You have to have a presence."

Jennifer Green
President + Co-Founder of Procurall Solutions
Accreditation and methodology
On the process of sustainability accreditation, Green mentions, "it's expensive and it's a full-time job all in its own. Even for a small company like us, to hire a third party that's going to come in and verify the accuracy of our claims, is difficult. You don't want to publicly announce a sustainability commitment if you're not fully confident on your ability to meet those commitments. We don't publicly announce any initiative until we are confident we can execute and do so legitimately."
With an ever-changing landscape as to what defines sustainability, it's rare to have true industry experts that can cover all bases. Does sustainability mean simply reducing carbon emissions across the supply chain? Is the chief concern working with circular manufacturing economies? What about reducing waste and recycling — or do airlines expect all of this all the time across the supply chain?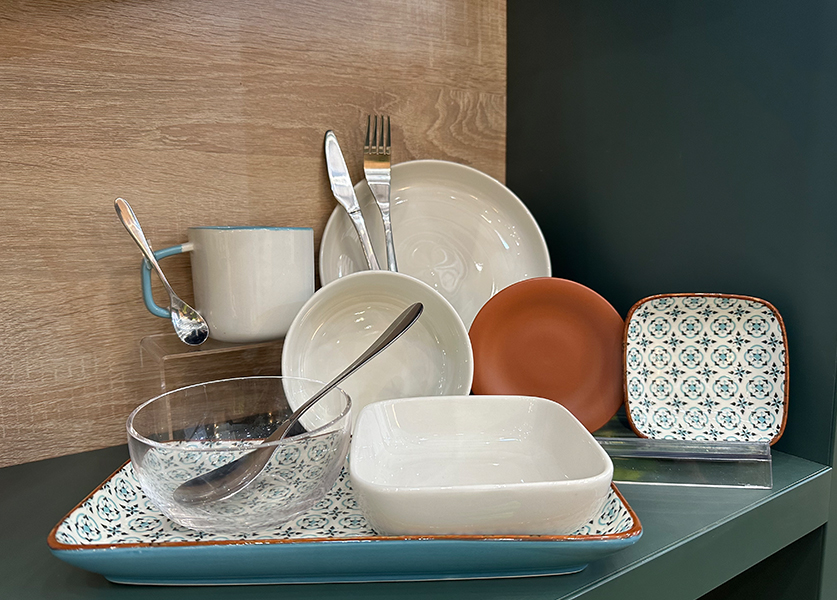 Combined with the associated costs, it's hard to keep up sometimes as Green states when "it's the Wild Wild West and everyone is doing whatever they want."
"Especially here in the US, companies in every industry were claiming whatever they wanted. From manufacturing companies claiming 'This is plastic free. That is sustainable. You can compost this. To skincare companies promising their products are 100% 'clean', 'vegan' or 'plant based'. And when push came to shove many of those claims were unverifiable or flat out falsified.
And we can't forget the challenges of global inconsistencies", states Green. "The EU has been ahead of the US in several areas as it relates to policy and regulatory frameworks, notably Climate Change and Environmental Regulation. Unlike the US who is barely starting to scratch the surface on verifiable claims, the EU has taken a leading role in addressing climate change with ambitious targets for carbon emission reductions and renewable energy adoption. Due to the US having differing policies at the Federal and State levels, our varied approaches make researching targets even mor difficult. We have a lot to learn, so there's a lot of educating to do."
Similarly, global food service and supply chain partner En-Route is focused on ensuring packaging is recyclable or compostable, while also working to remove plastic and/or laminated materials.
Can sustainability be accurately measured?
This all serves to beg the question as to whether sustainability can be accurately, centrally defined and measured for the onboard industry.
As part of the UN Global Compact, a voluntary initiative based on CEO commitments to implement universal sustainability principles, Green was interested in learning more and helping to define Procurall.
"What sustainability scope is Procurall? We're a smaller company, we mainly work remote, and we don't own our factories. Through our education in the UN Global's Climate Ambition Accelerator Program, we have learned Procurall falls under Scope 3. Those familiar with sustainability scopes know until recently the focus of measuring GHG's was on Scope 1 and Scope 2. With a growing need to reduce GHG emissions wherever possible, Scope 3 companies are increasingly being expected to have a better understanding of their true carbon footprint by taking more accountability within their value chain. But, in a relatively new field, a main challenge is the lack of expert knowledge on how to measure scope 3 emissions?"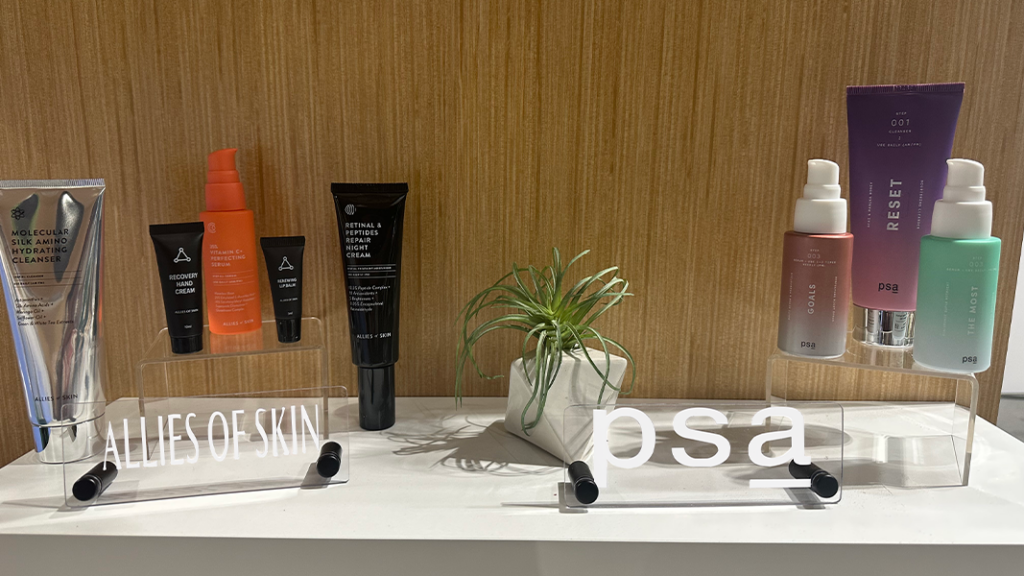 With the consideration to both 'goods produced' and having a logistics partner that is onboard with tracking emissions, this allows Procurall to provide airlines with quantifiable numbers.
The interesting part, however, is how they're then offset. "We, as suppliers, can plant trees; we can invest in sustainable fuels, we can do XYZ. Or, we can propose that airlines offer their passengers the ability to participate in their own sustainability journey. Involving passengers in becoming more sustainable only enhances the eco-narrative.
How does an airline involve passengers in their sustainability journey? There are numerous ways, passengers can simply pay to offset their emissions, like Virgin Australia and Delta who offer carbon offset tariffs on tickets, or they can donate and plant a tree. At Procurall, we set out to discover ways to make these contributions, like planting a tree more impactful. Offering passengers the ability to dedicate the tree they are donating to a loved one, complete with a certificate of authenticity, is a heatfelt way to involve the passenger a with narrative that will resonate."
Partnerships to create a sustainable supply chain
But the monumental task of achieving Net Zero promises requires reform and innovation along every step of the way. And from a product point of view, Green believes that finding new partners and working with the supply chain is the way to improve sustainability.
Even when commenting on the adoption of SAFs to make air travel green, a recent report by P3 Group emphasises that it's "beneficial to evaluate each step along the supply chain thoroughly and build broad partnerships…inside as well as outside the aviation industry."
The report, aptly named a Reminder to join forces for decarbonisation in aviation, highlights some of the points Green is driving at.
Procurall has recently partnered with an innovative tech-startup who is focused on regenerative materials to eradicate single use plastics — "we are still in an analysing phase, navigating various cost comparisons, but we've been working with a few airlines and are close to launching a pilot program with one of them, likely in Q2 of 2024."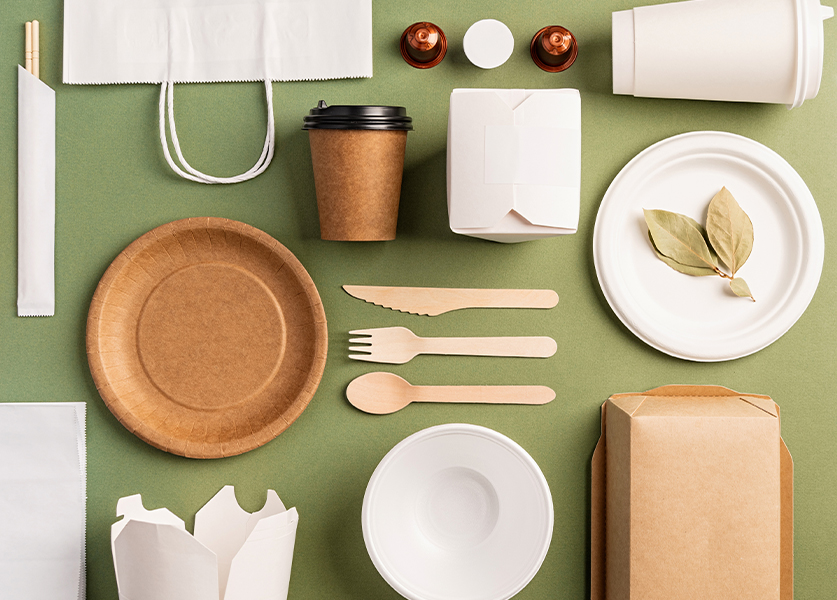 To enable end-to-end alignment, Procurall "vets all of our factories very stringently. We have a sustainable questionnaire hey must complete; we request + require certain certifications at the factory level (like ISO140001, ISO50001 and/or BSCI) as well as product certifications (like BPI, ASTM D6400, and FSC), and favor transparent factories who release annual ESG Reports, SDGs and/or CSR."
They also make sure their factory partners are sourcing responsibly and practicing sustainable production such as working in a closed loop manufacturing environment. Where this is unachievable, the company towards recycling + upcycling — "how and what can we create to give a product a 2nd or 3rd life cycle? We currently have 2 strategic partnerships which allows us the ability to collect a variety of waste streams and recycle them into a secondary raw material. The secondary raw materials are then used to make entirely new products, or we can implement them back into a specific customers supply chain.
This mirrors the stance of Aviation Sustainability Forum's report on circularity, that there "are certainly challenges but suppliers are rising to them." Another company, Global-C, which designs, manufactures, and delivers inflight products, says one of the ways it's working circularity into its supply chain is by customising the recycling technology of its larger, raw materials and manufacturing partners.
So how do onboard suppliers find partnerships with similar vision and practices?
"We do a lot of research," says Green "following different trends. WTCE and IFSA are two of the aviation industry's largest platforms where we always learn a lot."
Ultimately, "our focus is based on whatever needs the airlines have. Our goal is to make their jobs easier. Everything that we do is driven by the airline. It's all based on their initiatives and their goals."
"During this decade, scrutiny over the entire aviation industry supply chain will increase."
Procurall's sustainable offerings
Despite the widespread preconception that greener flights are going to cost more, companies like Procurall have "been able to transition the majority of our products" to having some element of sustainability. Green elaborated how they've managed to "produce something that's sustainable at the same price as something that isn't."
Cutlery and Amenities on JetBlue
Cutlery and rotables are a key area of onboard where many airlines have started to tackle sustainability. But, with the ability to swap out disposable cutlery between, say, Bamboo or Birchwood, the cost is often higher.
Procurall, for example, recently launched "agave cutlery onboard JetBlue, which is significantly more expensive than even Bamboo and definitely more expensive than plastic."
But in the world of amenities, "certain products have been easier to transition, which was unexpected. From using rPET (recycled polyethylene terephthalate) and quantifying, for example, "how many plastic bottles made that blanket?". Procurall designed and developed a sustainable Buy-on-Board program with jetBlue offering an a-la-carte menu of eco-earbuds in a stylish + reusable RPET felt pouch, a sustainable travel blanket w/bag or travel neck pillow, both also made of RPET.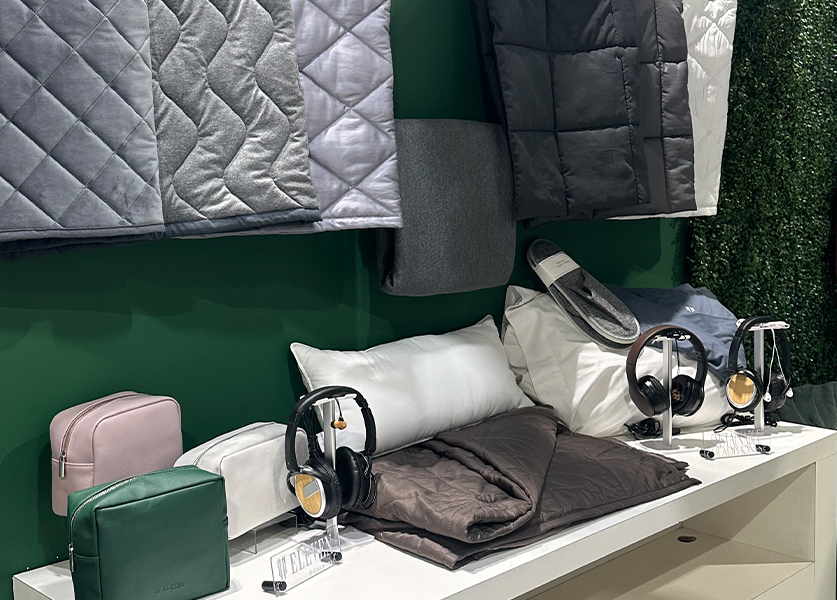 The company has also found that they can "sustainably manufacture earbuds with recycled plastic cost neutral to a standard earbud. This is a great option, with a positive narrative, so why not?"
In August, Procurall "launched transcontinental kits on United Airlines", as mentioned previously, they had to work within an allotted budget, which is very standard, as is holding pricing for duration of contract. "Staying in line with United's sustainable commitments and ensuring to execute on Procurall's Promise of "Creating Impactful Partnerships with Purpose", our team along with our skincare/wellness partner, Asutra, were able to meet our goal of launching an environmentally friendly kit. We focused on implementing eco-design ideation and were able to incorporate sustainability into every aspect of United kits, with only 2 elements not able to be classified as eco-friendly", says Green, from the bag to the toothbrush and eyeshades to the skincare. Having multiple eco-friendly touchpoints, gives United a wide narrative with which to engage their passengers.
Consumer perceptions on sustainability
In support of this, it's clear that passengers do want to have this conversation. It's now widely accepted that "the sustainability imperative has been driven primarily by the consumer." And airlines' more recent understanding that this is what consumers want and the influence of it as a decision-driver is tangible. They are making changes.
As for the younger generations, sustainable branding is key for companies. Consumer insights have shown that brands that "are rated highly by Gen Zers for sustainability all incorporate this characteristic into their key messaging and brand identity."
So now all that's left it for industry players to align their efforts with their audience. As Green notes, "Airlines need to be the ones driving home the sustainability narrative they want to associate with. They have to be putting something in there with their storytelling to let passengers know that this is a sustainable item."
This doesn't necessarily have to be separated across cabin class offerings or free versus buy on board offerings. "It's a fine line between luxe and sustainable"
"Balancing luxury + sustainability requires careful consideration and innovation", Green says. "With the growing trend in the luxury industry towards sustainable + ethical practices, the 2 can live in harmony. For example, whether ethically sourcing certified organic materials, executing exceptional craftmanship and durability or reducing overproduction and waste.
Many consumers today seek products that not only embody elegance and quality but also align with their values regarding environmental and social responsibility.
With that in mind, what does the future look like for Procurall?

Where would you like Procurall to be in the next five years?
"Our goal is for Procurall to be regarded as a leading supplier in sustainable and responsible practices, with an innovative adaptability to identify trends and strategic partnership alignments. We hope to do this by continuing our commitment to Creating Impactful Partnerships with Purpose."
How has exhibiting at WTCE been and what has been your biggest successes?
"To be a true player 'in the game', you've got to be there. You have to have a presence. Its the networking event of the year with almost every airline globally in attendance."
Jennifer Green
President + Co-Founder of Procurall Solutions
"WTCE is a phenomenal show. It's a Who's Who in the world of Airlines and Suppliers. To be a true player 'in the game', you've got to be there. You MUST have a presence. Its the networking event of the year with almost every airline globally in attendance.
"WTCE offers the opportunity to continue building rapport while tuning into each airlines focus and learning what their goals + initiatives are. Being based in the US, making connections with International Airlines, is always top of mind. We typically average somewhere around 30+ meetings in those three days and always leave knowing more than when we walked in."
Find out more about WTCE: