Airline dining has developed to meet the needs of a variety of passengers by providing a wealth of choices across the various cabin classes. Airlines offer a variety of meal selection options, including buy onboard, pre-order, and complementary selection.
In addition to this, airline and suppliers are starting to shift to organic, seasonal and sustainable offerings. There are products and processes that passengers of all classes have come to expect onboard, such as:
organic food and beverages
transparency regarding labelling and product sourcing
However, the inflight catering industry continues to face obstacles. One of these is accurately forecasting the demand for meals, which can be difficult given the daily fluctuations in a flight's passenger load and people's unique preferences.
Despite that, these preferences offer room for growth in the inflight catering industry. Airlines are keen on leveraging this evolving landscape to distinguish themselves in a competitive market.
For instance, in 2021, the Asia-Pacific region accounted for approximately 34.1% of the worldwide Inflight Catering Services market and generated $8.45 billion in sales. This can largely be accredited to a strong growth trajectory for international tourism and aspirational vacationing, as well as a rebound in discretionary spending.
Surging inflight catering market and sustainability
As the global inflight catering market grows at 9.3% CAGR from 2022 to 2023, the rise in supplying personalised and organic meals on flights is one area driving growth.
With that, airline catering requires logistics and supply chain management. Airline cost-cutting has moved largely from food concerns to supply chain management.
Adapting to changing passenger demands, airlines, particularly low-cost carriers and select major airlines, have shifted from complimentary meals to more tailored services such as pre-ordering and buy-onboard options. This change has not threatened the survival of inflight catering but rather necessitated an evolution in service delivery.
To save costs and improve food quality, airlines are increasingly outsourcing their catering services. Airline catering firms handle logistics but outsource all food products and components to various vendors and manufacturers.
And to ensure that sustainability is ensured at every stage of the supply chain, it is important to implement green supply chain management (GSCM). This sustainable practice can:
reduce waste
conserve nonrenewable resources
and bring big cost savings
Special dietary offerings and meal alternatives
Sustainable, local, and seasonal sourcing across the onboard supply chain is important in catering to special dietary offerings and meal alternatives. These may include cuisines that are prepared according to a passenger's particular preferences, religious requirements, or health concerns.
Airlines are also catering to an increasing number of vegans as plant-based lifestyles become more popular. Some of the examples of these meals include:
Emirates' meat and dairy-free dishes
Some of the airline's sample meals include vegan mapo tofu, zucchini tart, and more. They also cater to special meals for those with religious or medical restrictions.
Singapore Airlines' vegan menu
Vegan meals are always available on Singapore Airlines, but they must be pre-ordered. A chef from the California luxury spa Golden Door also helped in curating a meal for the airline which is focused on vegetables.
Qantas' vegan vegetarian meals
Qantas offers a delicious assortment of vegan and vegetarian meals free from animal products, animal byproducts, eggs, and dairy for plant-based travellers.
Qantas' vegan and vegetarian meals are free of meat, poultry, seafood, eggs, milk, honey, dairy products, and peanuts to meet mindful travellers' dietary needs.
On the other hand, airline treats and desserts have also evolved from simple snacks to fascinating products that enhance the onboard experience. Some of the best sweet snacks and deserts on flights currently are:
Top 3 Economy class meals
Airlines' economy class meals have come a long way from mere sustenance to offer passengers a delightful gastronomic experience in the skies while also supporting sustainability.
Turkish Airlines' hummus and cheese pie breakfast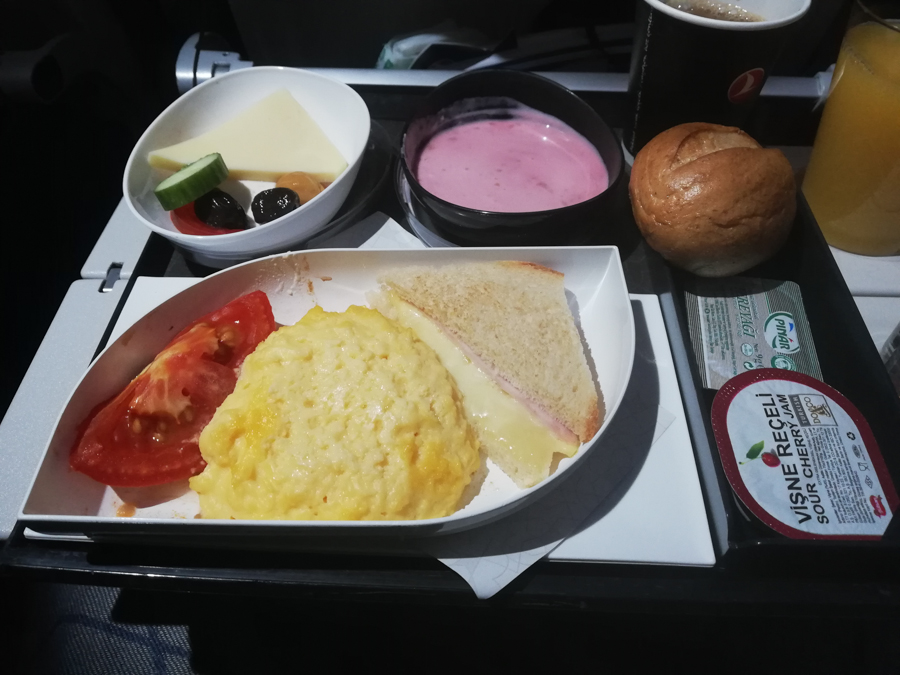 Credit: Turkish Airlines
Turkish Airlines serves big, tasty meals. One of the best breakfast options on this airline is a hummus and cheese pie accompanied by Turkish cheese and dried apricot mouse dessert. By focusing on local ingredients and Turkish flavours, the airline is winning hearts and minds in the sky.
Emirates' steamed vegetables and honey soy chicken with jasmine rice
Credit: inflightfeed
Emirates frequently ranks high on lists of the best meals onboard due, in part, to the fact that economy class guests get multiple courses.
With the airline distributing inflight menus whilst still on the ground, passengers can choose favourites such as steamed vegetables with honey soy chicken with jasmine rice.
Aside from being organic, this dish impresses by virtue of large portions and being halal-friendly.
Lufthansa's Mediterranean delights
Credit: inflightfeed
Lufthansa's Mediterranean cuisine is a stand-out offering from their aptly named menu of "Onboard Delights".
On long-haul flights, a three-course meal is served. And despite the prevalence of German classics, options include dishes like balsamic garden salad, king prawns and artichokes on spaghetti with a tomato and basil sauce, with tiramisu for dessert.
As part of their Mediterranean Delights and Healthy Options menus, passengers can upgrade via pre-order and select options like dean&david sustainable salads.
Top 3 Premium Economy meals
Meals in premium economy class are bridge the gap between business and economy classes, often with more varied options and proper servicewear.
EVA Air's plant-based lasagne with artichoke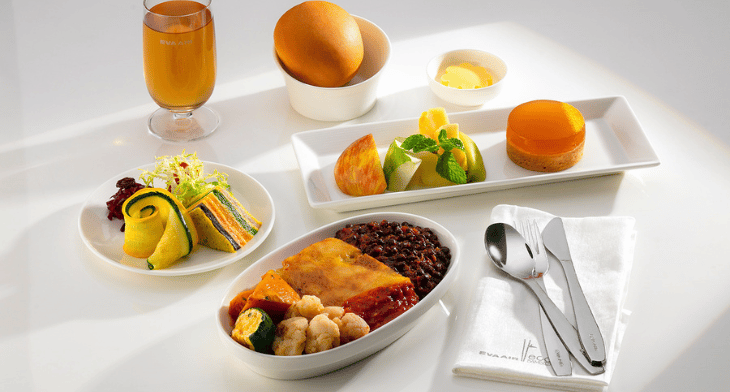 Credit: Inflight
Plant-based lasagne with artichoke is one of EVA Air's new meatless main courses. To accommodate dietary restrictions, there are layers of plant-based crepes with minced truffle filling on top, then an apricot tart and tea jelly for dessert.
The dish was created in conjunction with Evergreen Sky Catering celebrity chef Joe Huang to provide passengers with just one of many of the carrier's "post-pandemic travel flourishes". Lastly, these special meals are presented on tableware from Singapore luxury brand Luzerne.
Virgin Atlantic's premium breakfast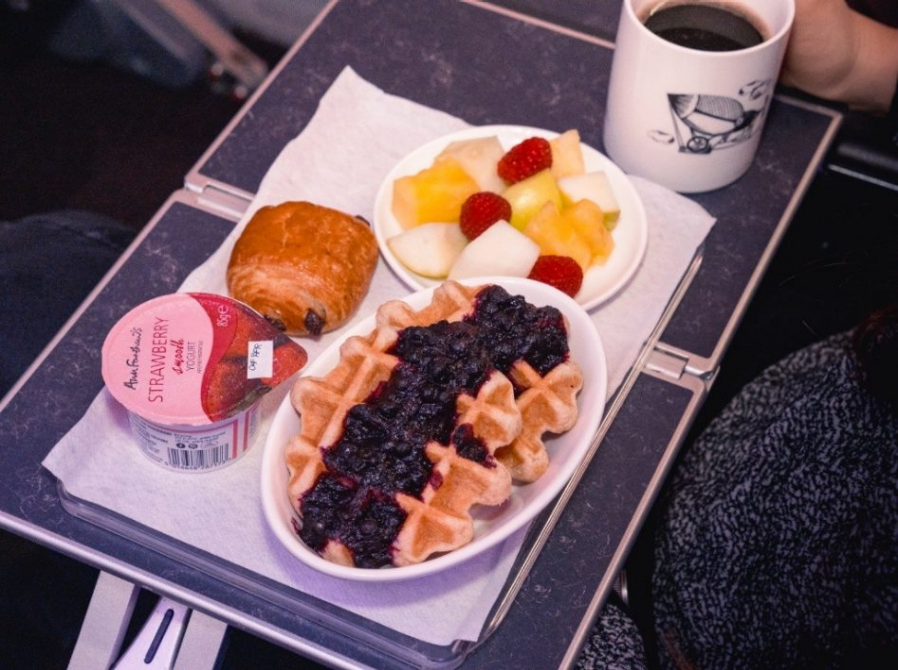 Credit: Virgin Atlantic
Virgin tops many lists of the best available premium economy dining. And their American-style waffles with berry compote, yoghurt, and fresh fruit are a stand-out. The airline also reportedly serves courses separately.
Allowing customers to pre-order meal items from the menu also allows the airline to cut down on food waste while still providing passengers with a high-quality dining experience.
Air France's seared tuna and roasted duck breast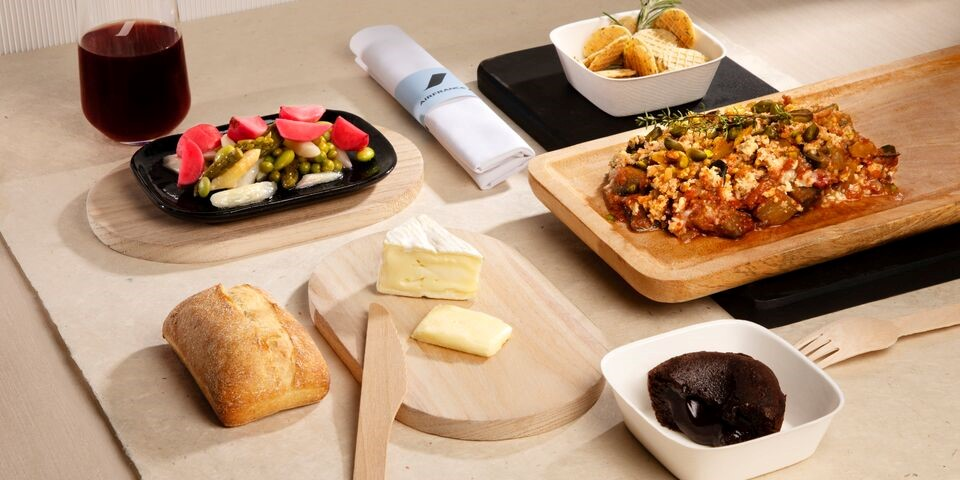 Credit: Air France
With accompanying wines selected by world-class sommeliers and complementary champagne, Air France is a carrier that exudes its national identity.
Some of the best French dishes served by Air France include their seared tuna and roasted duck breast, cooked with high-quality ingredients that prioritise a memorable dining experience.
Top 3 Business Class meals
Business class offers the finest cuisine in flight travel. Airlines create special meals for these discerning passengers, providing a unique gourmet experience and promoting wellness.
Emirates's kofta sweet and sour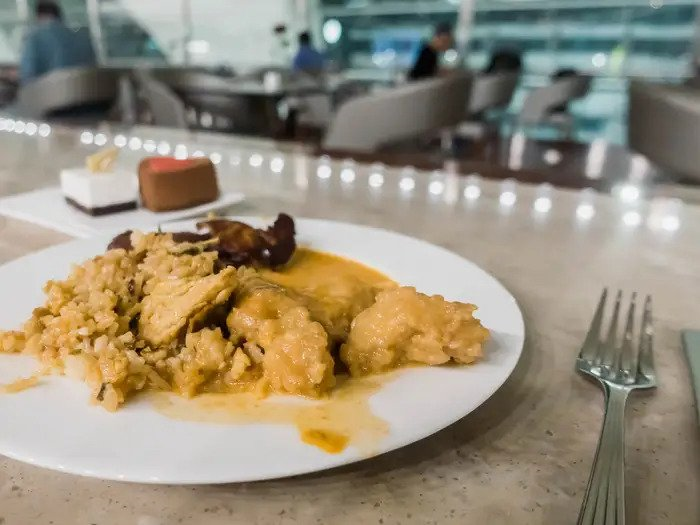 Credit: Insider
With award-winning chefs, Emirates' Business Class dining frequently ranks highly with sumptuous meals, sweet and savoury snacks, and free champagne. Available on long-haul flights, their Kofta sweet and sour is a popular meal, and for good reason: it's a "healtheir option" vegetarian meals that comes with fried tapioca-soy dumplings, tangy sauce, and sides like steaming rice, pak choi, and lotus root.
Moreover, meals on both short and long-haul flights are served on Royal Doulton fine bone china with silverware designed specifically for Emirates by Robert Welch.
Air New Zealand new Aotearoa menu
Credit: Business Traveler
All long-haul flights from New Zealand now offer Air New Zealand Business Premier's new menu, A Taste of Aotearoa. One dish highlighting the nation's Maori heritage is creamy kawakawa mushrooms on rye toast with sauteed spinach and grilled tomatoes, all of which are made with native ingredients.
Leanne Geraghty, Air New Zealand's chief customer and sales officer, has also said that the Air New Zealand's new inflight food and beverage offering is a celebration of Aotearoa's great culinary legacy and is influenced by manaakitanga, the Maori practise of hospitality.
With seasonal and superfood ingredients, the carrier's new offerings appear to be resonating with passengers.
SWISS' smoked fish terrine with eggplant caviar, and gazpacho mousseline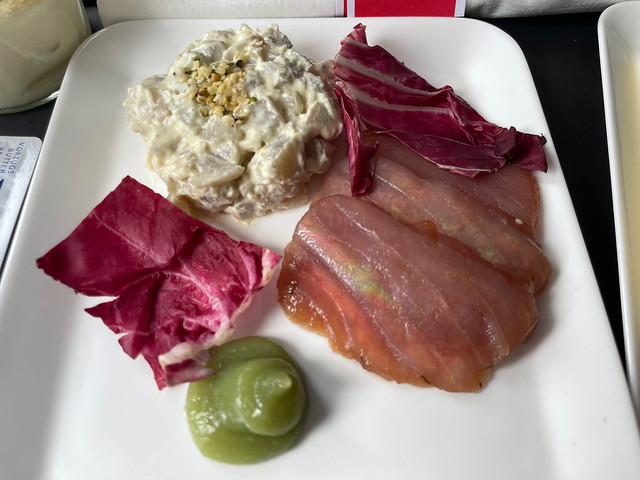 Credit: TravelGuys
Smoked salmon terrine with eggplant caviar and gazpacho mousseline are just some of the delectable dishes that have been served to SWISS Business passengers historically.
Additionally, the "SWISS Taste of Switzerland" menu is renowned for its high quality and has recently employed the help of a new Michelin-starred chef to focus on regional and seasonal specialities.
Adding to passenger favourites will be fusions of Swiss and Asian flavours and ingredients like poached char fish with lemongrass sauce, sesame sushi rice, sugar snap peas and roasted squash.
Top 3 First Class meals
First class meals redefine luxury in the sky. With passengers paying a premium, they rightfully expected that to be reflected in onboard service and quality. With less passengers in these cabin classes there is also more room for carriers and chefs to experiment with potentially fewer dietary restrictions to cater for.
Emirates' Persian caviar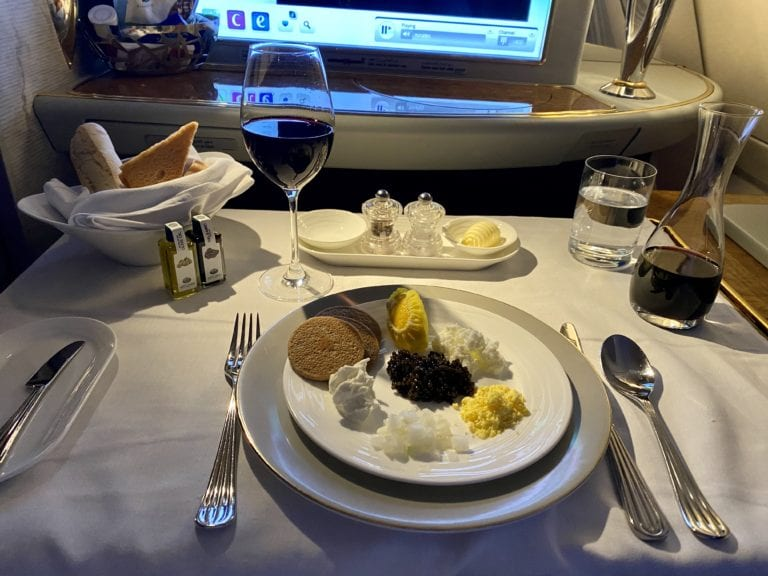 Credit: Thrifty Traveler
Frequently voted as one of the most luxurious first-class experiences in the world, Emirates' food service has quite a reputation to uphold.
And with unlimited portions of Persian caviar partnered with Dom Perignon as part of their "dine on demand" service, the carrier rises to the challenge.
The carrier also offers the ability to dine "whenever the mood takes" passengers as well as region-inspired gourmet dishes.
The airline's chefs have also designed foods with a commitment to vegan options onboard whilst encouraging healthy eating.
Japan Airlines' seasonal "five colourful delicacies"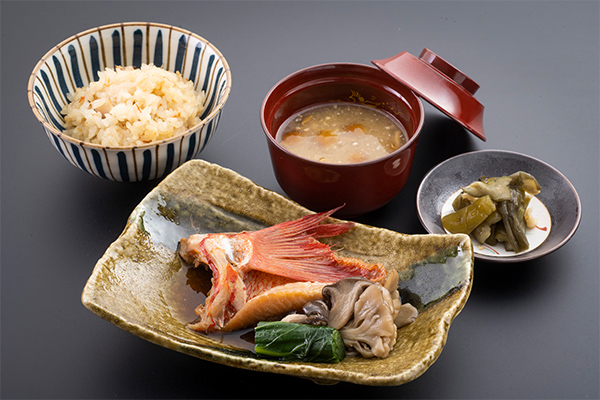 Credit: Japan Airlines
Crafted by Michelin-starred chefs Ishikawa Hideki and Koizumi Koji, JAL's seasonal five colorful delicacies are among the tastiest onboard. The menu includes Cherry Salmon & Green Asparagus with "Sansho" Pepper Sauce, Steamed Abalone with Liver Sauce, Sea Urchin and Beachwort with Soy Sauce & Rice Vinegar, Hard Clam & Udo Mountain Vegetable with Yuzu Citrus, and Greenling with Truffle Sauce.
The carrier also gets major points for offering Vegetarian Vegan Meal and Vegetarian LACTO-OVO Meals that don't compromise on flavour.
Alaskan Airlines' braised beef, jerk chicken, and quinoa bowl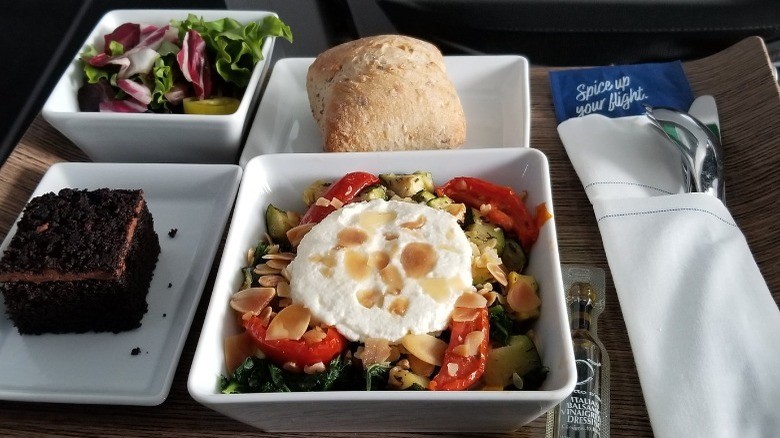 Credit: TastingTable
Rounding out many best dishes lists, the airline aims to add regional touches to their meals. Among Alaska Airlines' passenger favourites are braised beef with fennel, jerk chicken with cilantro lime rice, and quinoa bowl with roasted vegetables.
Western cuisine has served as inspiration for Alaska Airlines' inflight meal, which features a wide variety of fresh, bright flavours. So even on trips as short as 550 miles, Alaska's First Class passengers can expect a hot lunch that has been cooked just for them, which is complimented by their pre-order services.
Culinary innovation meets sustainability
These standard and gourmet offerings onboard not only redefine luxury, accessbility and comfort across all cabins but also showcase the intricate link between gastronomic innovation and efficient supply chain management. As the travel services and onboard catering industry continues to evolve, the focus is likely to be on embracing sustainability and optimal supply chain practices by selecting local and seasonal ingredients.
In the future, a delightful dining experience onboard will be one that showcases culinary artistry but that relies on efficient logistics and sourcing.