World Travel Catering & Onboard Services Expo (WTCE) welcomed the industry's leading airline and rail companies when it returned to the Hamburg Messe this month, with over 3,500 attendees from 88 different countries attending the three-day event from 6-8 June 2023.
As the leading global event for inflight catering, onboard services, and passenger comfort, this year's exhibition was centered around the three core themes of passenger wellbeing, sustainability and creating memorable experiences, with both visitors and exhibitors alike keen to bring the fun back to post-pandemic travel.
More than 250 exhibitors from across the catering and onboard services industry welcomed buyers from 150 leading global, regional and low-cost airlines such as Emirates, Virgin Atlantic and easyJet, as well as 35 rail operators and rail catering companies and buyers from over 50 airline catering companies, including dnata, Cuisine Solutions, SATS Catering, Foodfork Australia, LSG and specialist kosher caterer, Hermolis. Robin Padgett, CEO, dnata said:
"We love this show, it's a wonderful combination of bonhomie, camaraderie and competition."
Hari Ghotra, Senior Manager of Inflight Food and Beverage Development and Ancillaries at Virgin Atlantic, added: "It's nice to catch up with the people we work with on a regular basis, and it's been a really good show this year.
There is a nice span of suppliers in attendance. I'm more interested in the onboard food offerings, so it's been great to be able to set up meetings beforehand via the WTCE Connect tool to talk about this area of the business. There are both big and small suppliers here which wasn't always the case and is great to see. It is really easy and convenient to have everything in one place at WTCE."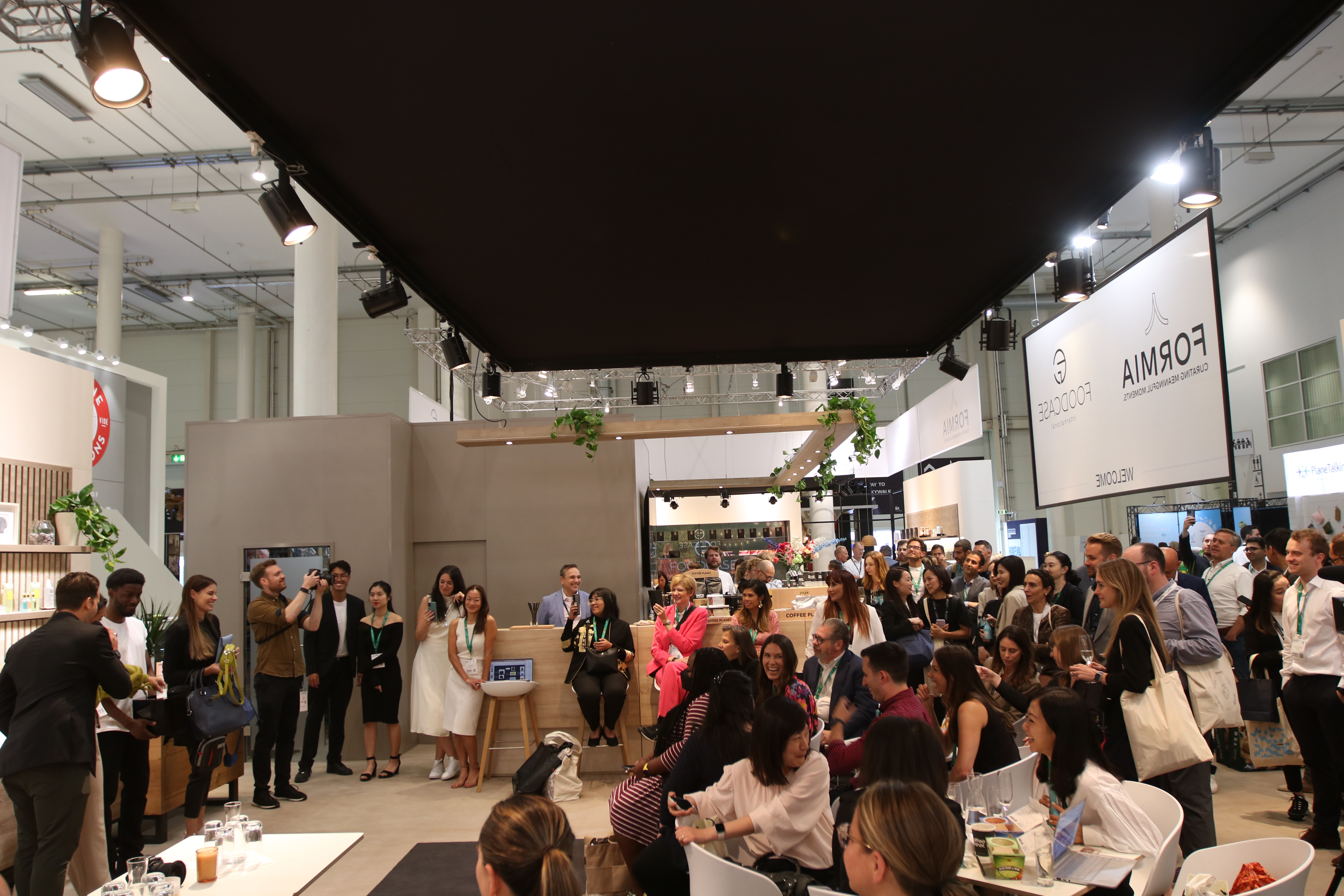 The show floor echoed with a resoundingly positive sentiment across the three days, with visitors and exhibitors celebrating the future of global travel. The array of new products and service innovations being showcased at the event, all geared towards improving the passenger experience, reflected this optimistic outlook.
Furthermore, insights from some of the industry's leading experts shed light on the forward-thinking steps that airlines and rail companies are taking, particularly where sustainability, wellbeing and bringing the fun back to travel are concerned.
Welcoming wellbeing
New for WTCE 2023 was the Wellbeing Walk-Through, a feature designed to guide buyers to exhibitors specialising in food, drink, beauty and amenity kit products that can improve a passenger's health and wellbeing whilst travelling.
The 30+ exhibitors that were part of the new feature gave visitors the opportunity to discover the latest innovations in the wellness space and tap into the growing trend towards improving mental and physical wellbeing onboard.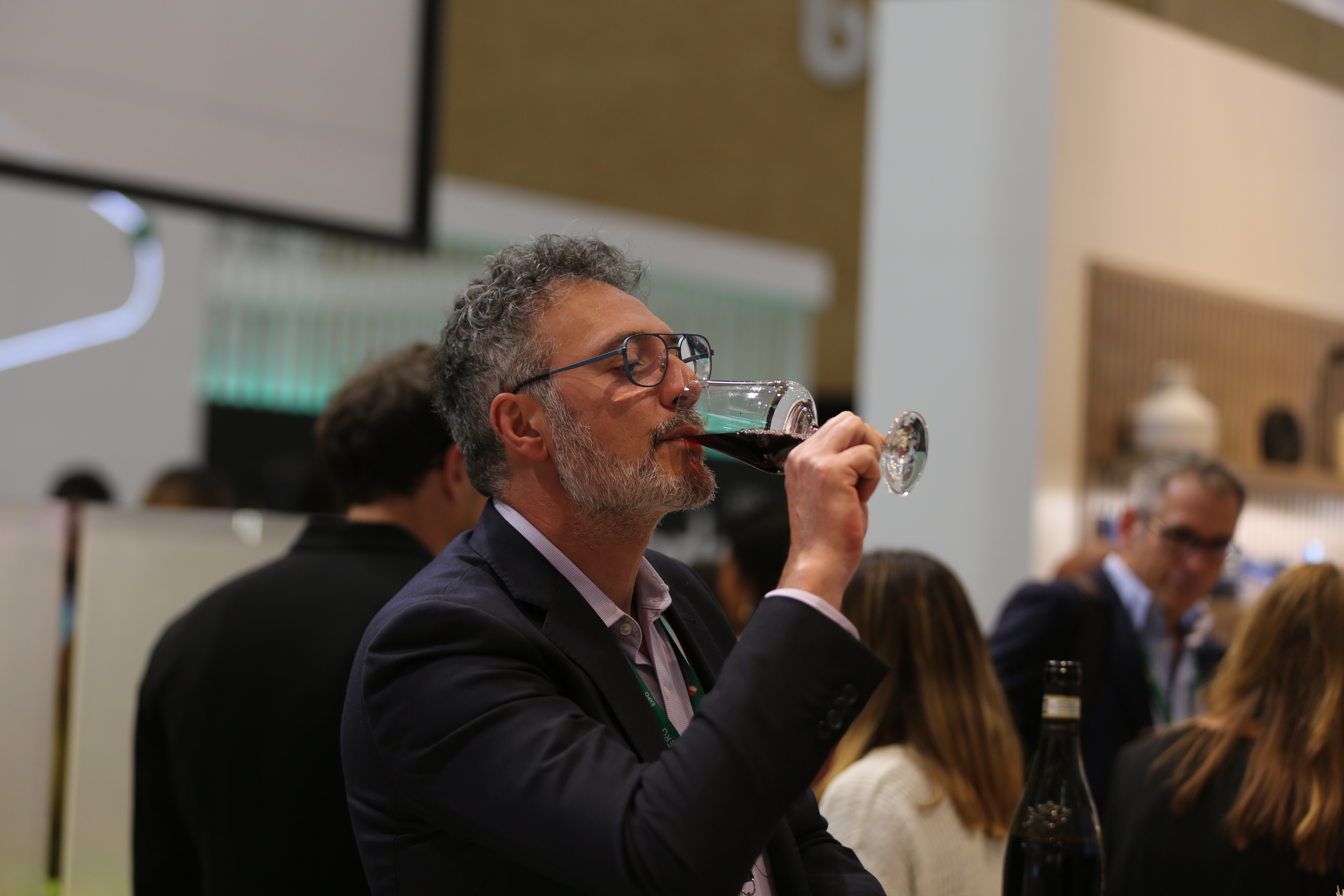 Included in the Wellbeing Walk-Through were new exhibitor Skinny Genie Gluten Free, with its halal, free-from and plant-based meal solutions, The Humble Co with its revolutionary high-quality beauty and oral care products made with eco-friendly materials, So Jennie, which piqued visitor's interest with its non-alcoholic sparkling drinks suited to those looking for an alternative to French sparkling wine, and Buzz Products which had a wide selection of luxury brands on its stand, including items from its latest collaboration with Giorgio Armani.  
81% of visitors and 80% of exhibitors said they were likely to return to WTCE next year
Samuel Blank, Director of Design at Buzz Products commented: "Wellness is a trend coming through in the amenities space, and skincare brands that have a strong focus on natural botanical ingredients are proving popular.
Sleep enhancing products, pillow sprays and vitamin supplements are all items that are being requested. We had two years where wellness was about hygiene and now, we're moving into a more holistic approach with a full sensory experience."
Making connections
Networking with contacts old and new is at the heart of WTCE and the event gave visitors and exhibitors the opportunity to meet in person to build those all-important relationships. To help with this, the WTCE Connect tool was available for attendees so that they could easily arrange meetings in advance.
More than 1,300 meetings were set up using the new tool alone as it matched onboard buyers with products and suppliers based on their registration responses, plus allowed them to search for and invite relevant industry associates to connect.
Speaking about how useful the tool was, Rachel Marsh, Commercial Manager, innocent Drinkscommented: "My favourite aspect of the show was the meeting function on the WTCE Connect app which has been useful to arrange organised time with buyers; it is definitely a unique concept and one which we've never experienced at other trade shows. I would say the best part of the event is meeting everyone, connecting with other brands, and taking advice. It's always better to speak in person."
The latest products suited to the onboard environment
As well as building meaningful connections, visitors were able to explore a show floor brimming with on-trend food and drink products, amenities, innovative technology, textiles and full-service equipment. From prepared meals and meal components, snacks, and beverages, to kid's packs, and buy onboard payment solutions, there was a distinct shift among exhibiting companies towards bringing the fun back to travel.
This was particularly present in the amenities space where exhibitors highlighted innovative new kits that are moving away from a post-pandemic focus on hygiene, towards products that make the travel experience fun again.
Among those returning exhibitors were Linstol, Frankenberg, Lily O'Brien's, SMiZE & DREAM, Formia and Amko. Plus, new brands made their debut at the 2023 show, giving air and rail buyers the opportunity to discover and sample new products that could crack the lucrative onboard market. These included Elevate Granola and its high-quality gourmet granola that's suited to airlines and rail companies looking to provide passengers with a healthy, yet satisfying snack, as well as Cocohagen with its award-winning plant-based chocolate truffles.
Product interest in healthy food increased by 25% at WTCE, year on year
Elsewhere on the show floor, visitors were delighted with the developments in sustainable solutions demonstrated by exhibitors and there was a real focus on eco-friendly products and services that not only meet passenger expectations but also offer ways to enhance their journeys and bring the fun back to travel too.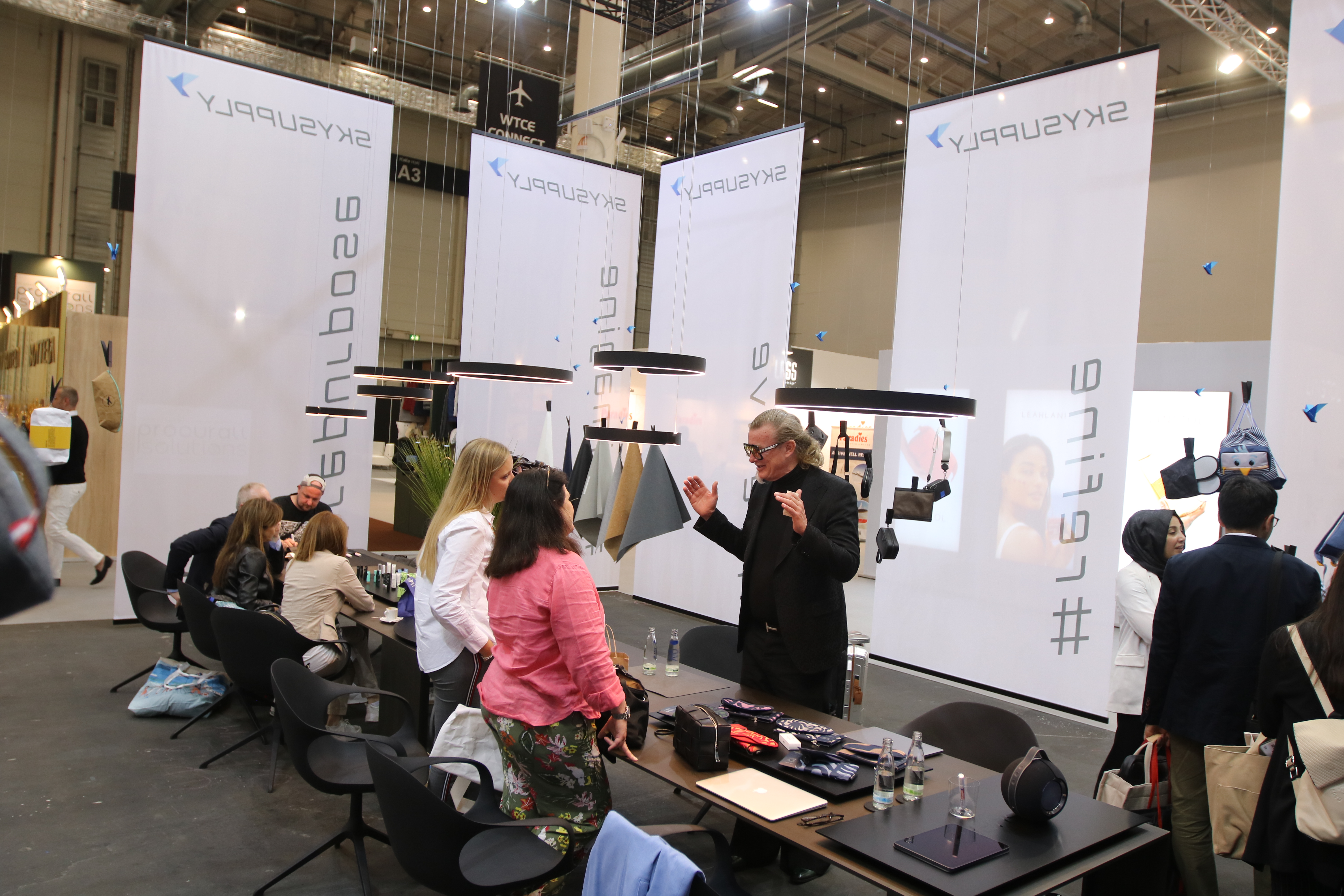 PLAYin CHOC introduced attendees to its allergen-free chocolates created specifically for children, all packaged in plastic-free materials while new exhibitor Sonisk showcased its eco-friendly battery powered travel toothbrushes. Bamboovement allowed visitors to discover an array of eco-friendly alternatives to plastic care products, such as cotton buds, dental kits, combs and much more.
Inspiring education
Alongside a show floor packed with innovation, the educational programme at the Taste of Travel Theatre – curated in association with Onboard Hospitality magazine – delivered thought-provoking discussions led by a line-up of top passenger experience professionals and sustainability experts.
Several Taste of Travel sessions highlighted waning airline loyalty among passengers, particularly among younger generations, and pinpointed ways to overcome this. From catering to special diets and allergies, to creating unforgettable experiences for parents of young children, visitors who attended these sessions were armed with practical advice from those leading the way in the industry.
'Anxiety at 35,000 Feet' saw Julianne Ponan, MBE and founder of Creative Nature, highlight the importance of catering not only for special diets, but for allergies too, and just how crucial it is to get this element of onboard catering spot on if airlines and rail companies are going to position themselves as inclusive for all.
Ponan explained how one in 12 passengers have allergies, and airlines should be doing everything they can to ensure these passengers feel valued in the onboard experience. She said: "If airlines share and communicate what they are doing for people with allergies, they will get customer loyalty."
Furthermore, the discussion around 'Bringing the Fun Back to Air Travel' led by Alison Wells of Plane Talking Products, saw a panel of experts from Virgin Atlantic, Icelandair, Singapore Airlines and Buzz Products come together to discuss how they are working towards a better in-flight experience.
Hari Ghotra, Senior Manager of Inflight Food and Beverage Development and Ancillaries at Virgin Atlantic pointed out that passengers now assume that airlines and rail companies are doing everything they can to offer a more environmentally friendly service and the industry has moved beyond having to communicate this.
The major opportunity now lies in injecting the wow factor back into the onboard experience and the companies that communicate this well will attract life-long customers, particularly where the discerning younger generations are concerned.
Þórunn Guðmundsdóttir, Onboard Service Implementation Specialist at Icelandair echoed this, saying that "Sustainability is part of all the decisions we make. We recently worked with the Icelandic government to change the regulations of onboard waste and we recycle about 60% of the total volume of waste that comes from our aircraft."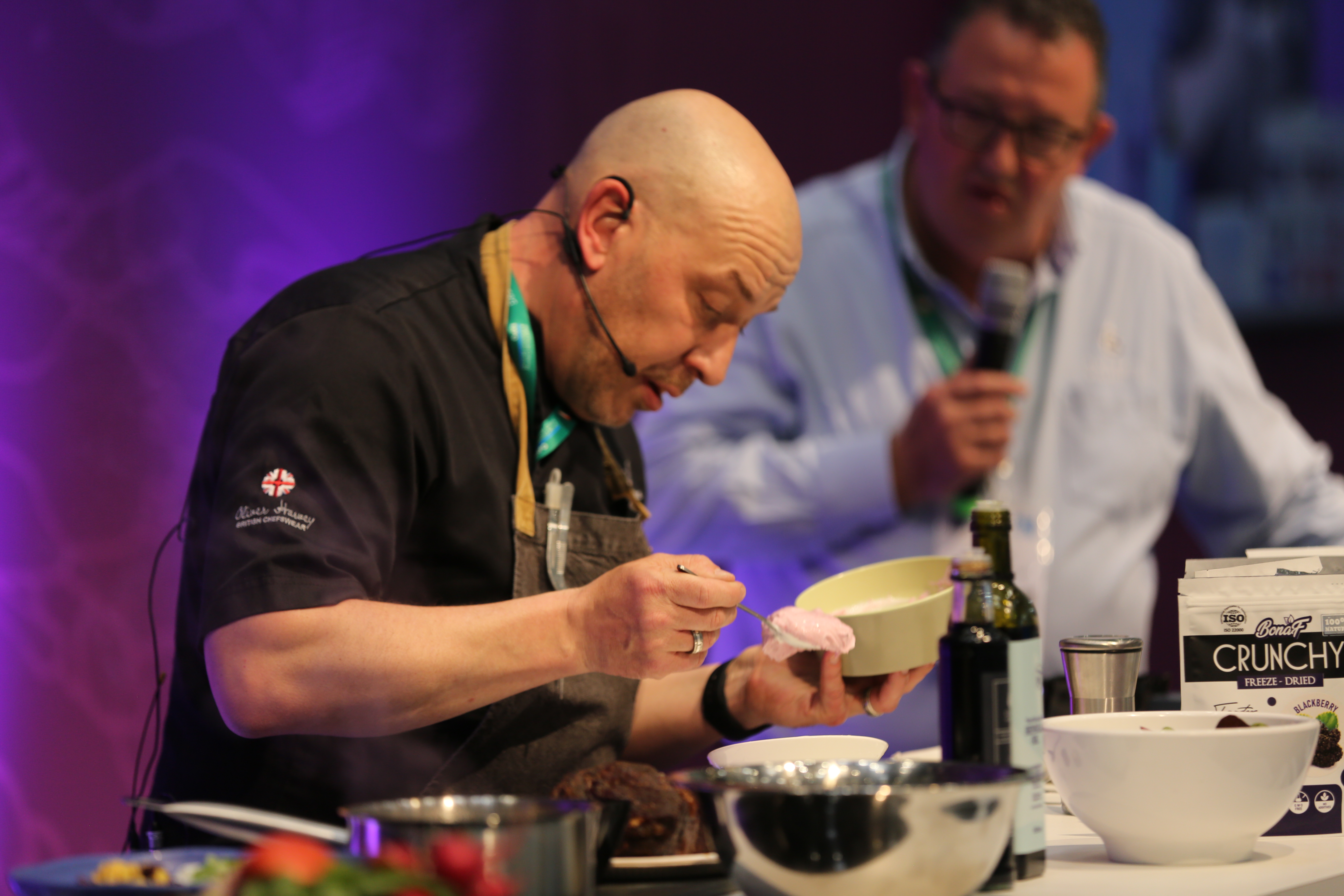 Visitors were also treated to interactive sessions at the Taste of Travel Theatre, including a live cooking demonstration with chef Steve Walpole, as he demonstrated conscious cooking, looking at culinary sustainability, biodiversity and natural foods.
The Ryder Cup of Wine session also filled seats as wine experts at Intervine led tastings from Californian sparkling wine and Napa Valley Cabernet Sauvignon to Italian Chardonnays and a growing category of non-alcoholic wines.
Multiple sessions over the course of the show examined sustainability in detail and it was touched on in some way in almost every discussion. With the topic remaining high on passengers' agendas, visitors were able to gain the latest insights into how the industry can come together to tackle issues around in-cabin waste.
Matt Crane, founder of the Aviation Sustainability Forum (ASF) uncovered the complexities of dealing with waste and improving circularity in a session entitled 'Innovating Supply Chains – How to Overcome Barriers to Embrace Circularity'. He brought to light the need for new, collaborative relationships in the aviation industry and challenged the panelists and audience members to rethink the way the industry builds relationships.
The co-located Passenger Experience Conference, taking place one day before the event, also offered WTCE visitors more sessions than ever before, geared towards onboard catering and passenger comfort. Attendees were presented with a real opportunity to immerse themselves in new innovations, ideas and discussion around the post-pandemic evolution.
What's more, the co-located Aircraft Interiors Expo (AIX) offered an educational programme running in parallel with WTCE, offering onboard services buyers with further expertise, case studies and insights into the wider cabin experience. Plus, AIX offered over 400 additional exhibitors for WTCE visitors to explore, including those specialising in airline seating, lighting IFEC and cabin enhancements.
WTCE Event Director Polly Magraw commented:
"It's always fantastic to witness first-hand the enthusiasm from visitors and exhibitors at WTCE, and really reassuring to see just how far we've come in the post-pandemic recovery process. One of our themes this year was bringing the fun back to travel and our exhibitors well and truly embraced this, to show how airlines and rail companies can create memorable experiences onboard.

This year, WTCE has certainly been a show to remember, and I'm delighted that the feedback from visitors and exhibitors reflects this."

---
---