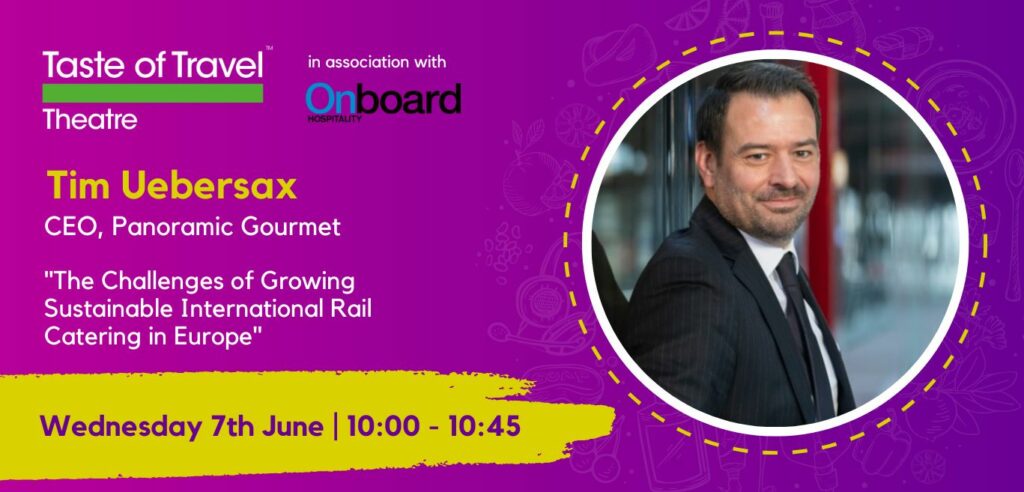 Tim Uebersax is CEO of Panoramic Gourmet plc. This year, at WTCE's Taste of Travel Theatre, he will join a panel featuring speakers from three leading rail caterers to compare how they are developing their onboard customer hospitality while complying with these evolving requirements.
Please can you tell us about your company?
"Panoramic Gourmet plc. is the caterer of the world-famous Glacier Express, the Rhaetian Railway, and the Matterhorn Gotthard Railway dining cars. Every year, hosts serve over 200,000 guests with culinary delights from the on-board kitchen on wheels and we accompany our guests with culinary delights on their journeys through the magnificent Swiss Alpine world. The rolling catering company also employs up to 150 people from over 15 nations."
What are the key focuses for Panoramic Gourmet and you in your specific role?
"The main focus of Panoramic Gourmet is to provide our guests with an indescribable Alpine railway experience and a culinary journey through our regions with a lot of passion from our staff."
What are your, and your company's, challenges?
"The biggest challenges are logistical. In Chur, at the Panoramic Gourmet site, all trains are loaded in all directions. This has to be planned very meticulously because we don't have any other logistical possibilities in the Alpine environment.
Also, the labour market is coming to a head. It is very challenging to find the necessary number of well-trained employees who are willing to do such a job (irregular working hours, overnight stays away from home, alpine altitude differences, etc.)."
Can you tell us more about the rail operators you work with and how you maintain good communication with them?
"We work with The Rhaetian Railway (RhB), also affectionately known as the "little red one", a fascinating railway experience on 384 kilometres of tracks across Graubünden. With around 1500 employees, the railway company transports 12 million passengers a year.
There is also The Matterhorn Gotthard Railway. The rail network is 153 kilometres long and stretches from Disentis in Graubünden over the Oberalp Pass to Andermatt in the canton of Uri.
And The Glacier Express is often called the "slowest express train in the world". In about eight hours, the train travels over 291 bridges, through 91 tunnels and over the 2033 m high Oberalp Pass near the source of the Rhine.
Communication among the companies is ensured through various "communication vessels" such as weekly and monthly meetings, as well as daily exchanges with our operational staff are crucial for a successful daily routine."
How do you discover and source new products, suppliers and customers?
"What ends up in our pots and on our plates is the best that the region we travel through every day has to offer. To achieve this, we work closely with producers from the region who make their products with care, enthusiasm and passion and who share our philosophy as passionate craftsmen.
Together we create a fascinating world of enjoyment, a wonderful mirror of the region our guests travel through. Certain suppliers are located right on the railway line, so customers can see where the products they are about to consume come from."
How does attending trade events like WTCE assist you?
"Attending WTCE helps me to keep up to date with the latest trends in gastronomy, food and catering. Also, products (digital, software, logistical inventory, etc.) are equally important to me to equip our staff with the latest support to make their job easier."
What advice would you give to other travel catering companies considering attending WTCE?
"Take advantage of the network that WTCE provides. Attend the events with curiosity, interest, without prejudice and with open eyes."
How do you prioritise your time when you're at an event like WTCE? What are your objectives?
"I make a list of our current challenges and look at how WTCE can help me overcome them. To ensure an efficient visit to Hamburg, the trade fair visit must be well planned, otherwise, you will quickly be distracted by many other suppliers and products."
You can hear more from Tim Uebersax by attending the following session in the Taste of Travel Theatre at WTCE 2023:
The Challenges of Growing Sustainable International Rail Catering in Europe
Wednesday 7th June
10:00-10:45

---
---