Travel catering is an essential aspect of the onboard services and passenger comfort industry. And, from the early days of basic sandwiches to modern culinary delights tailored to diverse tastes, onboard catering has evolved to suit consumer expectations and dynamics. But how are airlines continuing to provide the wow factor to a customer base that is increasingly conscious of spending?
"WTCE is great for networking, meeting new suppliers and looking at the innovation."

Head of Inflight Retail Operations
easyJet
During the global pandemic, airlines all over the world suspended meal services to reduce overheads and human contact. But the pandemic also gave airlines an opportunity to reassess their practices and enhance their meal service.
Every link in the in-flight supply chain, from caterers to suppliers, underwent scrutiny. But now, with the industry on the road to regrowth, airlines are back to experimenting with fine dining to improve their services and cater to consumers' ever-changing tastes.
With Statista forecasting the global airline catering market is anticipated to reach approximately $21.8 billion by 2027, now is the time to leverage culinary delights onboard.
The Beginning of Inflight Meals
In October 1918, aboard a Handley-Page flight from London to Paris, the first inflight meal was served. These airline meals were cold lunch boxes that were pre-packed and sold for three shillings each. Then, according to Richard Foss's book, Food in the Air and Space: The History of Food and Drink in the Skies, Daimler Airway (a part of British Airways) assigned a steward to greet boarding passengers with glasses of fruit juice four years later.
Later in 1936, United Airlines made history by creating the "world's first flight kitchen". Then during World War II, frozen foods were introduced to troops on long-haul flights. This wasn't available to the public at first, but TWA commercialised this method. The airline pioneered the use of:
quick-freezing
pre-cooking methods
new packaging
and shipping specifically for onboard catering services
Pan Am became the epitome of inflight dining luxury as they became active from the late 1930s through 1950s.
Celebrity chefs' participation in the travel catering industry has also been recognised as early as 1939. 40 years later, renowned French chef and TV host Raymond Oliver began working on UTA's inflight culinary dishes in 1973. Since then, several famous chefs have lent their culinary expertise to airlines, improving the inflight dining industry.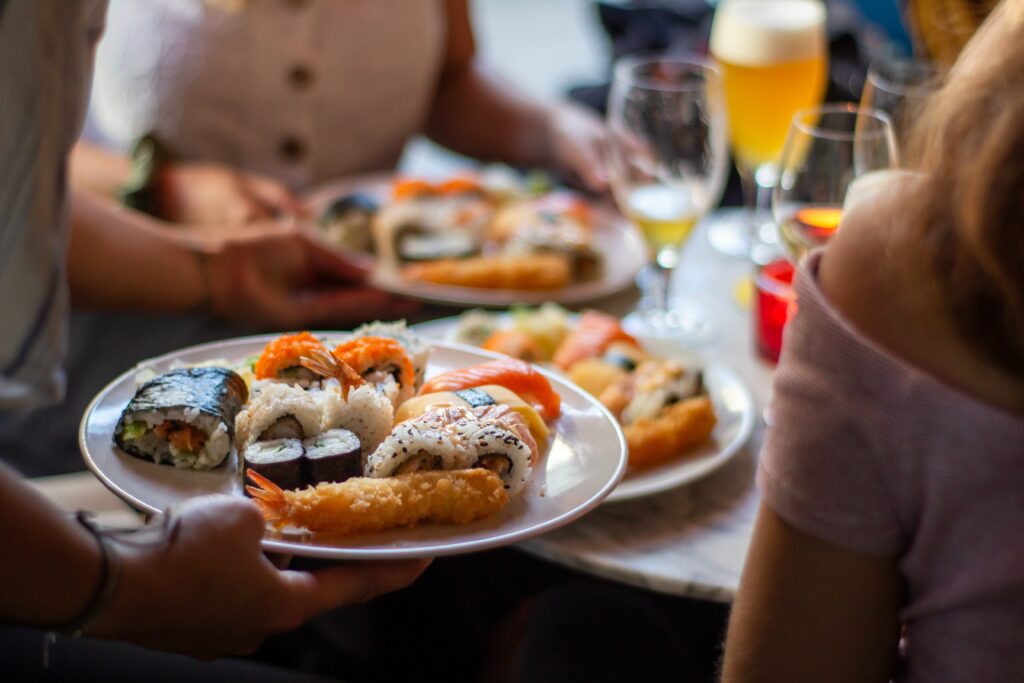 The Art of Fine Dining at 30,000 Feet
The airline business is striving to keep up with travellers' increasingly sophisticated tastes by offering plant-based meals, listing purveyors on menus, and even embracing fermentation on their cooking methods. To stay competitive, the inflight catering services industry must:
balance costs with quality
restrategise business practises
improve client relationships
and improve value chain processes
Advancements in travel catering have included the introduction of the world's first AI-powered robot to aid in culinary operations at dnata. Developed by Moley Robotics, the robot follows chef directions to make identical dishes. The novel solution offers consistent quality, great safety, and real-time parameter adaptability.
Another example is the construction of a $54 million, 120,000-square-foot facility at Hartsfield-Jackson Atlanta International Airport (ATL), which serves approximately 3,200 meals and flight boxes every day for Delta Air Lines. The Newrest kitchen receives Delta food orders 24 hours before flights, making timing crucial whilst allowing for the preparation of fresh meals.
Airline catering firms have become essential to their consumers. LSG Sky Chefs acquired Dublin-based Retail inMotion and UK-based Media inMotion, which provides inflight entertainment and retail software. The addition of Media inMotion, which makes IFE hardware solutions, shows how much LSG Sky Chefs value technology in the new catering and onboard retail environment.
Five-Star Dishes at 30,000 Feet
Singapore Airlines, Qatar Airways, and Emirates have already received multiple accolades for their five-star dishes, which are served in first, business, and coach classes.
With Singapore Airlines' International Culinary Panel, more dishes are being served on flights. Seven prominent chefs make up this panel, creating dishes for onboard fine dining inspired by their cultures and experiences. Passengers can choose from a wide selection of meals and book them at least 24 hours prior to their flight. There is also a diverse range of Special Meals to choose from for those who have special dietary requirements.
On the other hand, Qatar Airways also offered freshly prepared meals, focusing on the quality of the ingredients. These airline cuisines also cater to special dietary requirements. Passengers on business and First Class can also enhance their flight experience by pre-selecting their meals on Qatar Airways' webpage.
Emirates has categorised their menus into three categories: Short-haul flights, Medium-haul flights, and Long-haul flights so that passengers can choose depending on their flight. On all hauls, Emirates serves meals on Royal Doulton fine bone china and Robert Welch cutlery.
Air India's delicious new delights are another example of some of the best five-star dishes currently on flights. The carrier's newly presented menus blend flavour and healthiness flawlessly, making it ideal for vegans and vegetarians who want to enjoy a suitable meal in the sky.
"Umami-forward foods' are ideal – 'so tomato, anchovy, mushroom, aged cheese, and so on, all rich sources of umami, are likely to work well in the air. "

Professor Charles Spence
Oxford University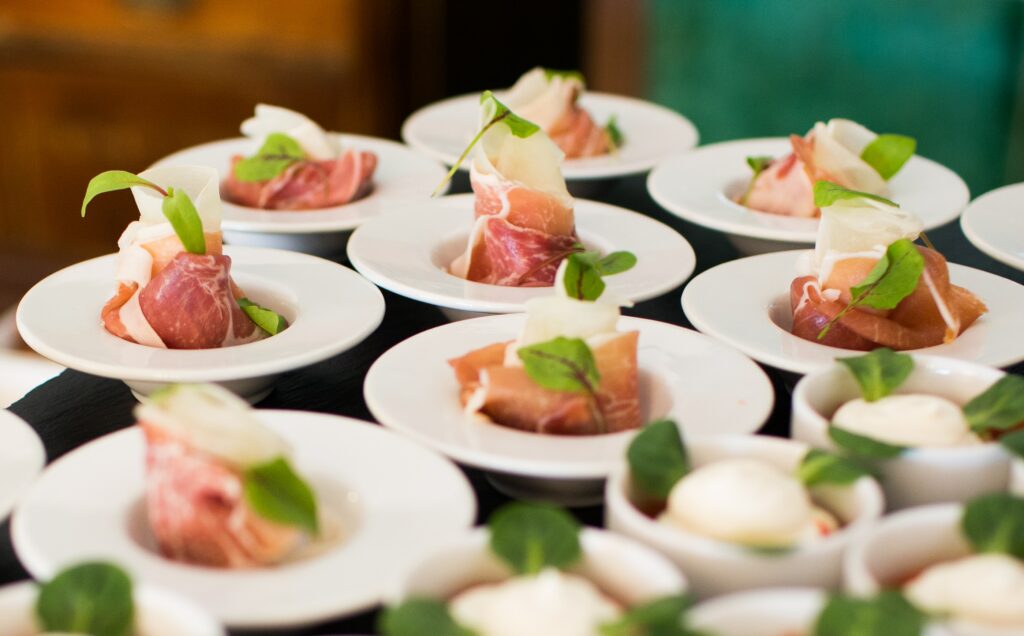 Popular Airlines for Great Flying Food
As cabin pressure and altitude in flights affect taste buds' sensitivity and causes dishes to taste blander, airline meals need to be prepared more meticulously. So, airlines are delivering regionally inspired food crafted by renowned chefs and environmentally friendly options for travellers. The following airlines have received recognition for their remarkable inflight cuisine, which transforms standard meals into memorable onboard catering experiences:
Singapore Airlines – The airline's menu is famous for its international gourmet cuisine, especially their Haiananese Chicken Rice.
Emirates – Offers a high-end dining experience to passengers that will make the flight more memorable. Lamb Biryani is their signature dish.
Turkish Airlines – Serves Turkish and international dishes which differ from other airlines. The Meze Platter is the carrier's specialty.
Qatar Airways – Serves their award-winning and varied menu to passengers. Their Grilled Salmon with Couscous is known as their best dish.
Cathay Pacific – Known for introducing Cantonese and international flavours to their menu, the most popular item on their menu is their Dim Sum Sampler.
Japan Airlines – Provides authentic Japanese cuisine, with Sushi and Sashimi as their best meals.
Air France – Gives passengers the exquisite taste of French culinary dishes, with Coq au Vin as their most popular dish.
Etihad Airways – Integrates Arabian flavours into their many regional and international dishes, the most well-known of which is Chicken Machbous.
Qantas – Provides a menu with Australian flavours and wines. Its best dish is its Barramundi with Quinoa Salad.
Thai Airways – Renowned for its traditional Thai cuisine, with Pad Thai being the passengers' favourite.
Swiss Airlines – Provides the passengers with traditional Swiss dishes, with Veal Fillet as their most popular cuisine.
These airlines have shown that travelling by air can be an enjoyable culinary adventure. As an alternative, customers are taken on a culinary journey that enhances their flight.
Airline and Celebrity Chef Partnerships: Elevating Inflight Dining
Airline and celebrity collaborations have brought together Michelin-starred chefs, restaurateurs, and television personalities with carriers. These collaborations usually involve creating special menus and gourmet dining experiences for passengers on specific flights or across an airline's network.
One example of this collaboration is Tom Kerridge's partnership with British Airways. British celebrity chef Heston Blumenthal also partnered with British Airways with Michelin-star chef Simon Hulstone to create the airlines' inflight Olympic menu.
The Ritz-Carlton Hong Kong has also been entrusted with developing a menu for Cathay Pacific after Michelin-star Pino Lavarra, from Tosca, was tasked to develop a menu for the airline's first-class passenger. Going further back, Joel Robuchon and Air France also made a collaboration in 2011.
Collaboration with celebrities helps airlines to enhance their brand across a large demographic as they can attract more people with their campaigns that they incorporate with the airline's advertisements.
Preparing for the Future of Airline Meals
Airline catering had to adjust to evolving sustainability standards and unpredictable demand in recent years. One of the unique challenges faced by the airline industry is finding safe food for passengers. With that in mind, airlines started to offer heat and serve meals that were affordable and delectable.
"This event serves as a platform to discuss the future of the travel catering landscape, and we are grateful for the chance to be a part of it."

International Key Account Manager
Barilla for Professionals
Aside from heat and serve meals, the three major themes in airline food and beverage are:
higher handling standards
and digitisation
Quality may focus on partnerships with local brands, improved food ingredient quality, expansion of healthy options, and transparency. Higher Handling Standards will value sustainability and sanitation. Lastly, digitsation will be focused on tech-based and mobile innovations such as F&B tracking & analytics, pre-order meals, buy-on-board demand, and contactless payment.
A World of Culinary Delights
In the ever-changing era of travel, carriers are looking to develop ways to revolutionise onboard catering. By balancing focuses on luxury, budget, diverse tastes, and passenger experience, culinary delights are more accessible and adaptable than before.
The future of onboard catering is set to embrace innovation, catering to passenger expectations with a focus on culinary diversity. Technical advancements and a greater emphasis on sustainability look set to continue to drive changes to industry.