Visitor registration is now open for this year's World Travel Catering & Onboard Services Expo (WTCE) and the co-located Aircraft Interiors Expo (AIX), which will take place from 6-8 June 2023, at Hamburg Messe, Germany. Registhttps://www.worldtravelcateringexpo.com/en-gb/lp/register-now.htmler today and join the global cabin interiors and onboard services community.
Bringing the industry together
Aviation and rail professionals from across the globe will be able to view the latest products and services from the cabin interiors and onboard services supply chain. Across the three-day show, attendees can taste, touch and test the latest products and services from across:
Inflight Technology
Beverages
Food
Food Service Equipment
Full-Service Providers
Hygiene
Logistics/Transport
Packaging
Passenger Comfort & Wellbeing
Toys/Games/Kid's packs
Uniforms
Airport Lounges
WTCE Connect
With the return of WTCE Connect, attendees can pre-schedule meetings with new or existing business connections, receive personalised matchmaking recommendations, discover new contacts, and arrive at the show with an organised schedule.
300+ Suppliers, 1000s of Products
Representatives from key airlines and rail service providers have already registered including Etihad Airways, Vietnam Airlines, American Airlines, Allegiant Air, SNCF, InterGlobe Aviation Limited "IndiGo", TUI fly GmbH, Spicejet Ltd., SAS and Deutsche Bahn AG.
They will be joined, among others, by TGV INOUI SNCF, Sky Chef, EVA AIR, Condor Flugdienst GmbH, EIH Limited-Oberoi Flight Services, Air Baltic Corporation AS.
Leading suppliers including AMI, Monty's Bakehouse, The Bamboovement, AMKO Group International, Diethelm Keller Aviation, ICHCS, Gispol, Plane Talking Products, Skypro, SATS and more will also be exhibiting.
They will be joined by a number of first-time exhibitors including 5th Season Fruit BV, &Stirred Cocktail Mix, Innocent Drinks, Sonisk, Wallsun Aviation Equipment Co., Ltd., La Robe du Vin and more.
Passenger Experience Conference
The Passenger Experience Conference (PEC), taking place the day before WTCE will return, hosted at CCH – Congress Center Hamburg to offer a programme of conference sessions covering sustainability, passenger experience, revitalised transport modalities and repurposing onboard materials and their effects on the industry.
VIP Programme
The VIP Programme will return to WTCE where onboard buyers can upgrade their badge for free to take advantage of benefits including:
VIP Sample Bag including 15+ samples from the most innovative WTCE exhibitors.
VIP Lounge Access with a place to relax, work or network away from the show floor. Lunch, snacks and refreshments are available throughout the event.
VIP Digital Gift Bag with exclusive deals, giveaways and promo items.
Discounted Rate for PEC to gain valuable insights into the industry and help shape the future of passenger experience.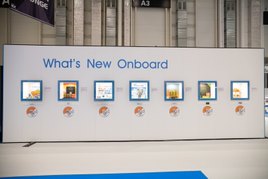 What's New Onboard
The What's New Onboard feature showcases newly launched products to the onboard market. It is a great starting point to see what's new and innovative in the industry.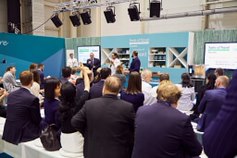 Taste of Travel Theatre
The popular Taste of Travel Theatre will also return, offering insight into the latest in catering and retail trends for the best possible onboard experience complete with chef demonstrations and new product launches. It will also feature an impressive line-up of expert speakers who will be examining the tools needed to enhance the experience operators provide to their customers.
A full programme for all three conference steams will be announced shortly.
Register today for WTCE
To register for your pass to attend WTCE, click the button below.
---
---