Welcome to our Products in Focus series. These articles will take a look at the latest and most exciting travel catering and onboard service products for airlines and rail operators in a variety of categories.
Looking at products from across the sector, including food, beverages, packaging and
amenity kits
, we'll be focusing on
a selection of the many products
that WTCE attendees will be able to taste, touch and test at the upcoming event edition.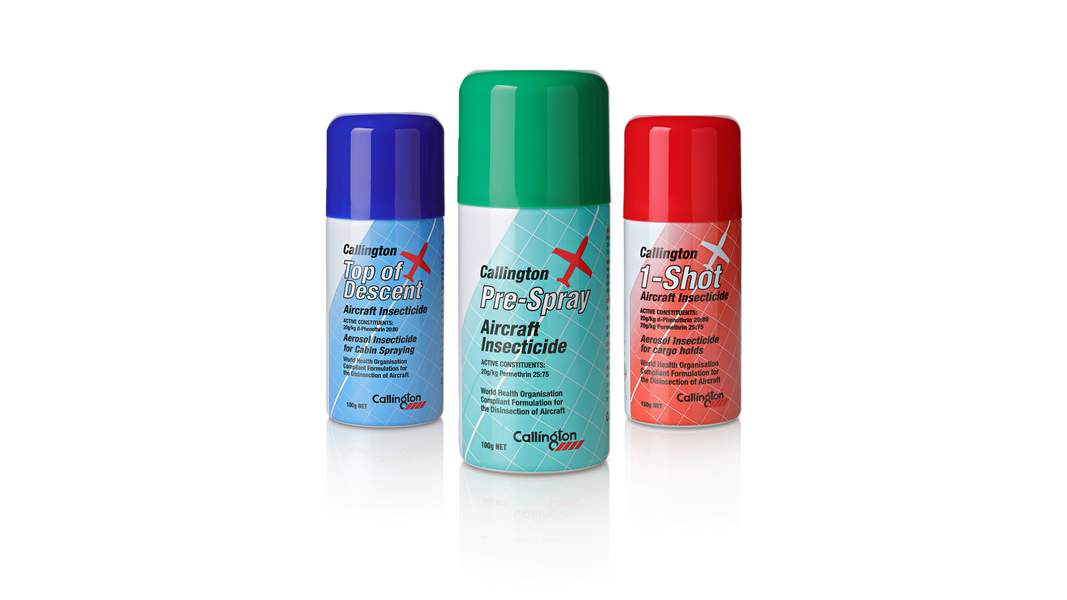 1) Aircraft insecticides by Callington
Callington produces specific compact kits dedicated to the safety and protection of passengers during their journey, especially in times of pandemics or regions with an outbreak or endemic risks. The components within the kit comply with international recommendations issued by the WHO, CDC, ECDC, and EASA. The Individual Protection kits can customised and adapted to your needs.
Callington aircraft insecticides are non-flammable and contain a non-CFC propellant. Approved for use in aircraft, their products meet the World Health Organization's recommendations for aircraft insecticides and can be used pre-departure and on-arrival for aircraft disinsection.
Callington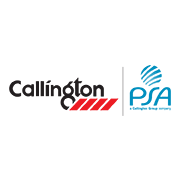 Callington produce new innovative solutions in aircraft cabin cleaning, disinsection, disinfection, passenger and cabin crew hygiene products.
The Callington Group (including PSA) manufactures and distributes a range of aviation products to over 300 airlines around the world. Their products are specifically designed to ensure compliance with aviation standards while maintaining high performance and cost-efficiency.
With offices, warehouses, and R&D facilities worldwide, they provide airline partners with the latest technology, from multiple stock locations, allowing for quicker response times together with full regulatory compliance.
See Callington's exhibitor profile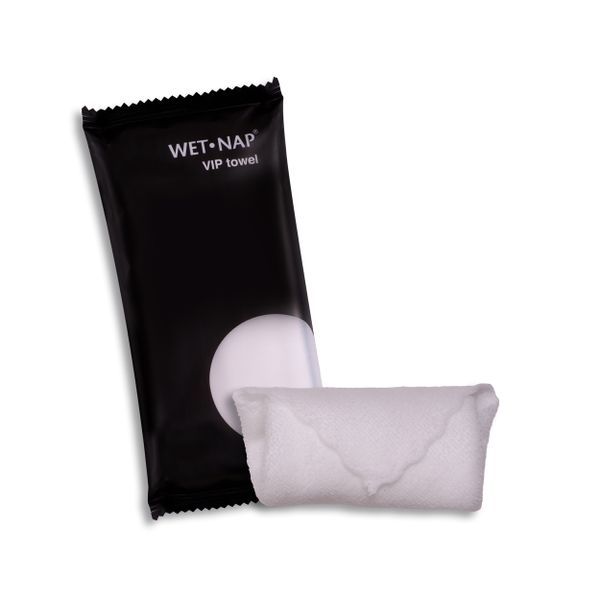 2) by Wet-Nap Europe B.V.B.A.
Wet-Nap Europe have multiple offerings for passenger comfort and hygiene products including ultra-soft microfiber towels that can be made wet onboard and are much softer to use than cotton towel.
Their also produce ultra-thick and large pre-packed microfibre wet towels to offer the ultimate comfort to passengers with a soft white lace fragrance. Their offerings also include biodegradable wet towels and packaging, wet-nap insect repellent wipes providing protection for 6-8 hours and wet wipes with antibacterial formulation that kills 99.9% of germs.
Wet-Nap Europe B.V.B.A.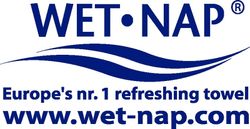 First started in 1998 as a division of Mariën NV, today Wet-Nap Europe has grown into a full, stand-alone company specialising in individually packed, luxury wet towels under the brand name Wet-Nap. Serving the catering industry, airlines, healthcare and more, they supply different sizes and towel types are available.
Their products are manufactured after the highest possible quality standards: ISO 9001, GMP Compliance, Cleanroom production Class K100. All towels can be produced to the customer's requirements or design.
See Wet-Nap Europe B.V.B.A.'s
exhibitor profile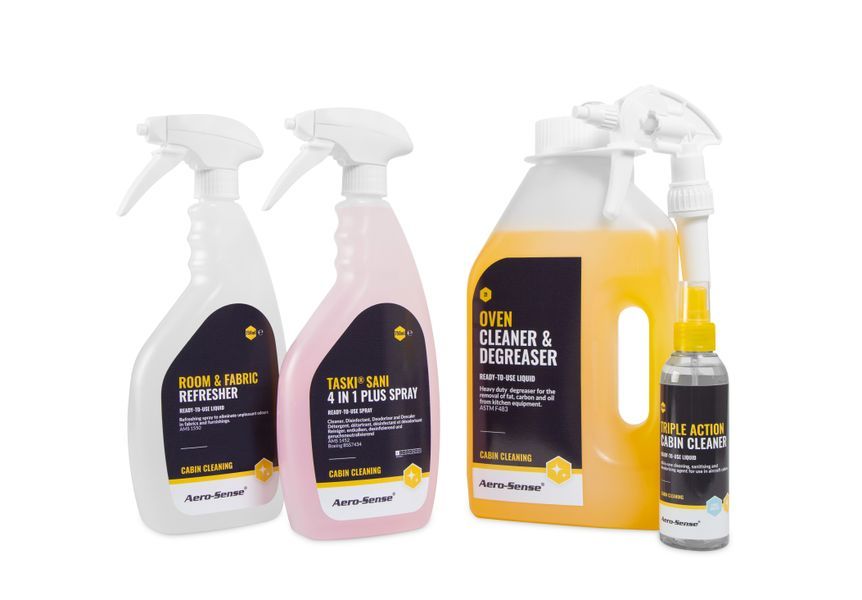 3) Cabin cleaning products by Aero-Sense NV/SA
Aero-Sense produce aircraft insecticide ASD, the first product worldwide with a valid biocidal product authorization in the entire EEA (EU + Iceland, Norway & Switzerland). It is formulated with an ultra-low Global Warming Potential propellant (GWP < 1) which results in a 99.9% lower impact on Global Warming and it also far exceeds the GWP<150 requirement under the EU F-gas regulation.
Aero-Sense's range also includes:
Triple action cabin cleaner
Sanitiser
Deodoriser (in linen breeze, fresh lemon and pine forest scents)
Taski sani 4 in 1 cleaner
Cabin disinfectants
Oven cleaner, degreaser & descaler
Room & fabric refresher
Cabin Disinfectant
Avionics cleaner for screens & instruments
Aero-Sense NV/SA

Aero-Sense NV/SA produce
EU-authorised and environmentally friendly aircraft insecticides, introducing new products within a cabin cleaning and disinfection range.
Aero-Sense is a Belgian company manufacturing inflight cabin cleaning, disinfection and disinsection products specifically for the aviation industry. They offer a range of certified and aviation approved products.
See Aero-Sense NV/SA's
exhibitor profile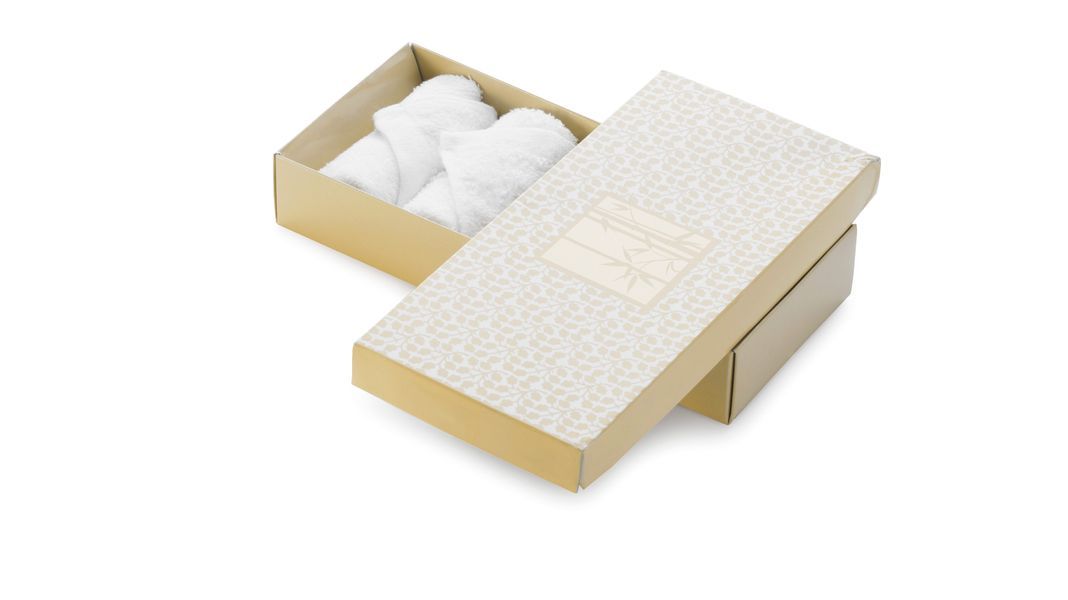 4) Hot and cold towels by Intex Company Ltd
Intext Company Ltd's range of hot and cold towels comes in cotton and non-woven, including towels in biodegradable corn starch trays. Towels can be plain or printed and they also produce airsickness bags that are available in side-fold or block bottom options with or without a perforated top.
Intex Company Ltd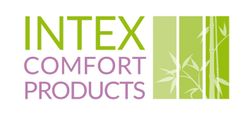 Intex Company Ltd help customers achieve their inflight product plans for the future. Based in China, with a UK sales and marketing team, Intex has been supplying passenger comfort products to the airline industry for almost 30 years.
They offer customers direct access to their manufacturing expertise and product development facilities, helping customers achieve their in-flight product visions. Their product range is vast and includes headrest and pillow covers, pillows, traymats, wipes, airsickness bags, duvets, mattresses, blankets, table linen and amenity packs. They take their environmental responsibilities seriously and are members of SEDEX.
See
Intex Company Ltd's exhibitor profile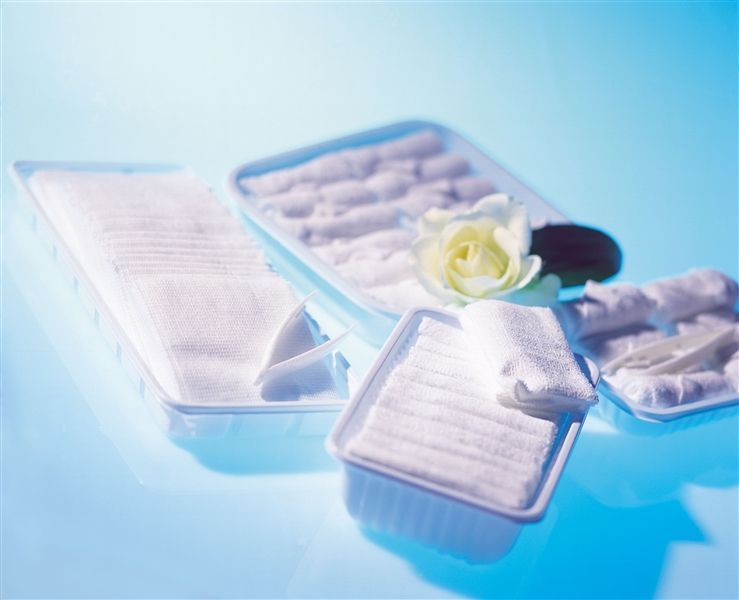 5) In-flight towels by Aire Inflight FZE
Aire Inflight FZE have a number of products to contribute to in-flight staff and passenger comfort and hygiene onboard including tissues, hand towels, security seals and rotatables.
They currently supply airlines including Kuwait Airways, Rak Airways, SriLankan Airlines, Qatar and Emirates.
Aire Inflight FZE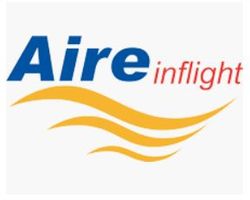 Aire Inflight FZE have been in operation for over Sixteen years in Dubai, supplying the Aviation Industry with complete Inflight Products. They have a diverse product portfolio which covers both premium cabins and economy class with Disposables, Rotables, Comfort items and Hygiene products.
They supply all the Middle East Airlines along with African and Asian Airlines including Emirates, Etihad, Qatar Airways, Oman Air, Kuwait Airways, Ethiopian Airlines, Air Astana and SriLankan Airlines.
See Aire Inflight FZE's
exhibitor profile
---
---
If you are an exhibitor, log into your dashboard to add your products now.
---