The Tower Airline Insulated Boxes enable airlines & train operators to carry food without dry ice or creating dedicated supply chain networks at each station. Providing return catering opportunities, reducing product loss whilst still maintaining food safety requirements for up to 24 hours.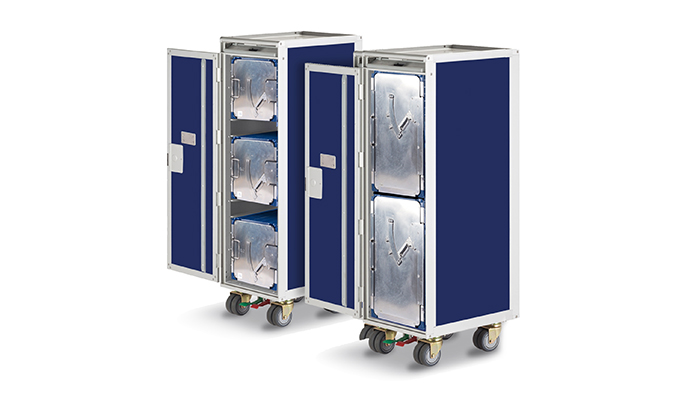 Onboard solutions for airlines & trains
Tower temperature-controlled insulated catering boxes simplify your supply chain by removing the need to create dedicated networks at each station.
A simplified supply chain using our thermal insulated food containers offers both an environmental and cost-effective catering solution. Removing the need to use dry ice provides a safer catering operation whilst maintaining food safety requirements. The longevity of Tower's insulated catering solutions enables you to provide return catering opportunities and multiple leg flights with a single catering uplift.
Find out more – WTCE Exhibitor 2022
Access to a global network means greater availability and flexibility for airline, rail customers and catering companies to lease insulated food containers to keep their food chilled at <+8°C for 24 hours.
· The Tower boxes enable airlines and train operators to carry food without compromising safety standards or creating dedicated supply chain networks at each station.
· Provides return catering opportunities and possibilities for the closure of down route stations thus reducing costs.
· Allows catering to be uplifted from base for short-haul routes where the uplift does not meet the airline food safety requirements.
· Provides product consistency.
· Our technology enables food to be stored for up to 24 hours within legal safety temperature requirements.
· Our AIBs are made of a unique lightweight durable polymer material and are 100% reusable.
· Eliminates the need for dry ice
· Our AIBs fit into Atlas airline catering boxes and carts.
· Drives food safety, integrity and innovation.
· Reduces the cost of product loss.
---
Take your place at WTCE 2022
---
What's New Onboard is where onboard services and travel catering companies can promote their products as a paid-for opportunity. If you'd like to showcase your product, get in touch with the WTCE Sales team.