Cocktail House is the innovative Italian mixed drink brand, among the first to believe in the ready-to-drink cocktails trend. It was founded in 2020 by Silvia Dusi, CEO of the Metalleghe Group, an international player in the steel sector with a turnover of more than 500 mln euros, who decided to invest in what, shortly thereafter, turned out to be one of the most felt trends of recent years: ready-to-drink cocktails. The vision is to offer people the chance to drink a Made in Italy cocktail wherever and whenever they want, simply by pouring it into a glass filled with ice.
Ready-to-drink cocktails
Tradition and innovation coexist synergistically in a union that perfectly represents the creativity and quality of Made in Italy good drinking. All recipes are formulated by mixologist Cristian Manassi, a professional with 20 years' experience in the mixology, who balances and harmonizes the flavors of each cocktail. Preparing a Spirito cocktail is very simple: shake the pouch, tear off the triangle, pour into a glass full of ice and enjoy your drink!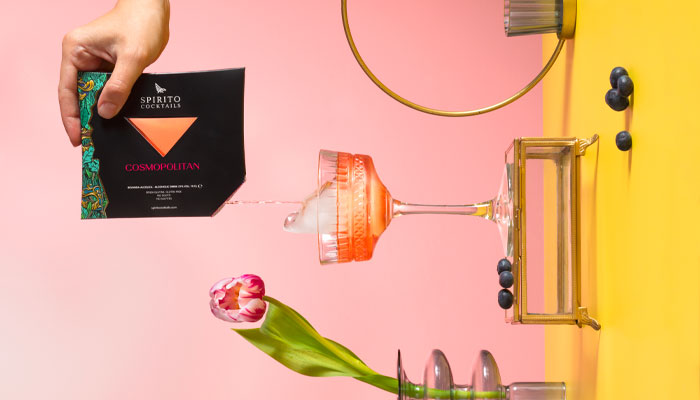 ---
Browse through the WTCE 2022 Exhibitor List. Cocktail House – Stand 1B61
---
SPIRITO COCKTAILS PREMIUM
The most authentic expression of the brand's soul: cocktails made of artisanal spirits produced in small traditional distilleries and expertly mixed by Italian artisan. Sophisticated cocktails enveloped elegant and refined packaging featuring illustrations created by famous Italian street artist Lucamaleonte.
VIBES BY SPIRITO COCKTAILS
More colorful, lighter and easy to drink, is the brand's newest innovation: VIBES by Spirito Cocktails. With packaging designed to pay homage to the birthplaces of each cocktail, VIBES is the perfect line for the summer, informal events, easygoing in appearance but definitely not in substance and taste. All premixed cocktails are enclosed in single-serving packages that feature careful research and selection of the best ingredients. Practical, lightweight, 100 percent recyclable packaging made with 4.0 technology that allows organoleptic properties to remain unaltered.
Both lines lend themselves to be declined in tailor-made projects: the pouches can be customized for different occasions, with creativity designed ad hoc by artists and designers.
Spirito Cocktails – Tel. +39 0307284907 | customer@spiritococktails.com – spiritococktails.com
---
Guarantee your place at WTCE 14-16Jun Hamburg
---