From the beverages, ranging from soft drinks to hot beverages (with our own coffee brand SERENCO), to the ingredients for your dishes, such as the cream cheese PHILADELPHIA perfect in sauces and sandwiches, ASIA EUROPE TRADE OFFERS EVERYTHING YOU NEED.
Coffee beans or NCC capsules
Are you looking for an affordable faitrade UTZ certified coffee? SERENCO is the brand to go for. Available in Espresso and Lungo, we can offer beans or NCC capsules. Our coffee is a blend of 70% Arabica (for the aroma) and 30% Robusta (for the body and strength).
Sizes can vary upon your needs with for example, 250g, 500g or 1KG bags of beans. While our capsules range comes in boxes of10 caps, 24 caps or 50 caps.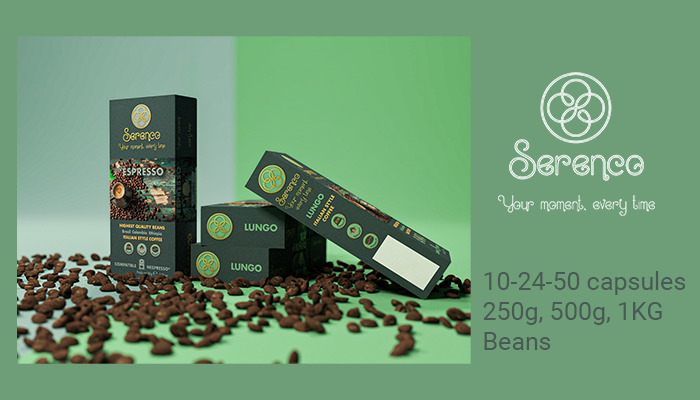 With beans coming from Brazil, Ethiopia and Colombia and processed in Belgium, our coffee is only waiting to travel more with you. Looking for more information on our coffee, visit our website and reach out to our sales team.
Chocolate to match to a cup of coffee
With multiple references of Belgian chocolate, we are sure to meet every palate. The MIGNONNETTES (a 10g chocolate tablet) are the perfect match to a cup of coffee. Available in milk or dark flavours, in boxes of 1.2KG (1200 chocolate), 2.2KG (2200 chocolate) or 3KG (3000 chocolate), it's the perfect match for onboard experiences. Looking for something your passengers can share at home? We have assorted pieces of 30 chocolate that is perfect to share around a cup of coffee.
---
You might want to read> Products for your breakfast tray from Asia Europe Trade
---
If you are more interested in pralines, our BOUCHÉES will be perfect for you. A milk chocolate praline filled with a praline cream will melt in the mouth and make the trip even more enjoyable. We have boxes of 1KG or 5KG (200 bouchées) and we also have sizes to bring home.
If you are looking for a Belgian traditional chocolate, CHOKOTOFF is what you need! A chewy caramel coated in chocolate will go perfectly with your coffee tray. Available in bags of 1KG or 2.5KG.
Looking for more chocolate products? We also have MINI ROC (a milk chocolate praline with a hazelnut in the middle) and MINI NOUGATTI (a hard nougat coated in milk chocolate).
If you are looking for more chocolate, check out our online catalogue or reach out directly to our sales and they'll be more than happy to help you meet your perfect match.
In need of cream cheese for your sandwiches, sauce or pastry? PHILADELPHIA is exactly what you need! In single portions of 17g, perfect to put on your breakfast tray and available in 3 flavours: Original (classic cream cheese), Light (low-fat cream cheese) or the Garlic & Herbs (cream cheese with a light taste of garlic and fresh herbs). There are 60 single portions of 17g in one pack. They also come in tubs of 1.65KG for the prepared beforehand meals (all 3 flavours available too), PHILADELPHIA will fit all.
Are you looking for more products? Have a look at our online catalogue or tell us how we can help you on more specific requests.
---
Take your place at WTCE
---