To celebrate the World Travel Catering & Onboard Services Expo's (WTCE) 10-year anniversary, the event is shining a spotlight on 10 companies that have exhibited at the show every year since 2012.
Coolike have been experts and full-service provider of innovative products in the fields of cosmetics and wellness for over 40 years. Its high-end premium guest amenity items have been a staple on airlines since the early 1980s and the company was one of the first to introduce moist wellness towels to the passenger comfort sector. Over time, Coolike products have become popular across the globe, and it was at the first WTCE event in 2012 that Coolike introduced its OSHIBORI wellbeing towels, popularly nicknamed the 'pocket shower'. Made for people on the go, the OSHIBORI wellbeing towels were, and still are, Coolike's signature product. The reusable moist cotton terry towel, which comes in a customisable sachet with a zip fastener, has created such great awareness and demand in the travel and hospitality industry that it has reached high recognition and a benchmark status when it comes to first class service events.
Recognised by airlines across the world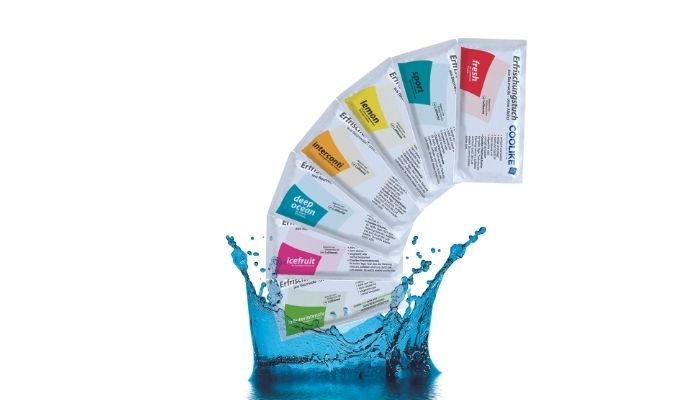 During the past decade, Coolike's production has grown significantly and the introduction of new products to the range, such as its highly effective disinfection solutions, wipes, refill packs, dispenser boxes and flowpacks, have resulted in the business becoming a market leader in Germany, and recognised by airlines across the world.
The German company is very proud of the strong brand recognition it has among the world's leading airlines and believes it can largely attribute this success to its presence at WTCE every year for the past decade. Airline buyers congregate at the exhibition year-on-year to uncover the latest innovations in onboard catering and passenger comfort and Coolike has consistently introduced visitors to exciting new products over the past 10 years. This year, the business is unveiling its answer to the demand for more environmentally conscious products, catering to the demands of airlines and passengers, who are calling for a more sustainable future for travel.
Speaking of the role that WTCE has played in the company's growth, a Coolike spokesperson said: "The number of airline suppliers at WTCE has noticeably increased since 2012, and with that has come greater innovation and more opportunity for buyers looking for positive purchases. Getting together at WTCE in Hamburg allows us to meet both business friends and new customers, and introduce airline buyers to our products, as well as understand their specific needs."
WTCE Event Director, Polly Magraw added: "Coolike's story is one of great innovation and we're proud that WTCE has been part of its success over the last 10 years. I'm particularly looking forward to discovering what new products the team has to offer that cater to environmental needs, as I know it is an area that the business is heavily focused on."
Visit Coolike's on stand IF88 at WTCE 14-16 June 2022.
---
Attend WTCE at Hamburg Messe
---