The passenger experience community was preoccupied with responses to digitalisation, personalisation and sustainability even before 2020. However, the events of the past year have pushed aside any inertia arising from economic sensibilities. Going forward, epidemics and climate worries are the driving imperatives of today, and the future, that demand meaningful change from airlines.
An indication of how onboard travel services are shaping up to these challenges can be gauged from recent experience innovations focused on personal meal choices, packaging, storage and delivery. Furthermore, the aggregated picture suggests a route to deeper engagement between airlines and consumers is just a few years away.
Take out at 30,000 feet
The type of on-demand choices available to us in the wider world, from the likes of DoorDash or Uber Eats, is now starting to become part of the airport offer. Boston Logan International in the USA and Beijing's Daxing International are among those recently in the news for enabling travellers to order food from their onsite restaurants via a mobile app for pick-up and/or delivery to the gate.
AtYourGate has been trialling food-delivery robots at several airports. (AtYourGate)
This model potentially offers the perfect storm of digital efficiencies, choice and personalisation for passengers, reducing food waste onboard and delivering a potential revenue-generating service for airlines – particularly if it is delivered to the seat.
From last autumn, Transavia passengers flying out of Amsterdam's Schiphol Airport can use a 'Takeaway' app to pre-order inflight meals and snacks up to an hour before boarding, with their selections delivered to the aircraft before departure. This solution is powered by a partnership of global inflight retailer dnata, technology leader iFLEAT and food delivery provider Thuisbezorgd.nl (part of Just Eat Takeaway.com).
Technology to produce new efficiencies
Talking with Robin Padgett, Divisional Senior Vice President at dnata catering, he acknowledges that technology will largely dictate inflight retailing successes in the future, and underscores that for many airlines COVID-19 has fast-tracked innovation onboard and investment in technology.
"The customer journey from pre- to post-flight will be one of the more visible areas of change – increased and more efficient paths to purchase, modes of payment and delivery options," he predicts, adding, "I think we'll see a continued focus on broader and increased ancillary offers, whether it be hygiene, food or comfort-focused, which will make the on-board experience a more central part of the consideration process."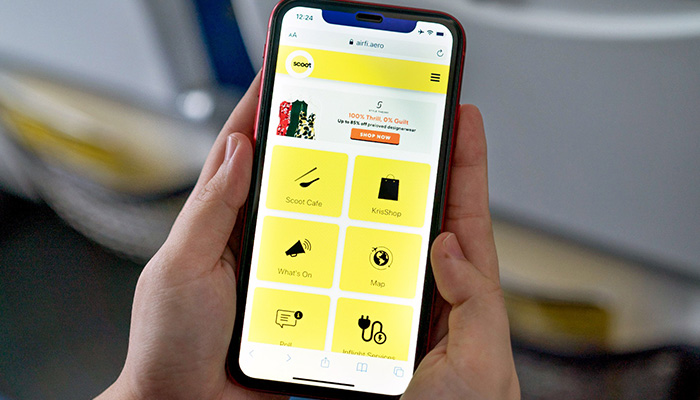 A further offering is a low-touch experience for food and drinks ordering as well as duty-free shopping inflight. Passengers on Singaporean low-cost carrier Scoot can order or shop at any time using their own mobile device to access the inflight portal ScootHub, thanks to a partnership between the airline and SATS the Asian food solutions and gateway services provider. SATS uses the data from these transactions to better predict customer demand and to work with Scoot to refresh offers more frequently to reflect the latest F&B trends.
Digitalisation will help sustainability
Digitalisation is an enabler for environmental sustainability onboard according to Anne De Hauw, Founder of IN Air Travel Experience. Primarily it enables food and other waste reduction by carefully managing requirements versus loadings and not boarding unnecessary items that contribute to aircraft weight and therefore fuel burn. She also highlights its potential in minimising the number of human touchpoints in a post-COVID world, while providing more responsive, personalised engagement with passengers.
She goes on to observe: "The pandemic has accelerated consumers' desire to seek out organisations that support social and environmental progress, organisations that walk the walk and not just talk the talk…Airlines will have to carefully curate their product and solution offerings, putting health and wellbeing first to extend passenger confidence to travel comfortably and with peace of mind."
All about the packaging
An aspect of inflight service that visually addresses these new consumer imperatives is meal packaging and delivery. Requirements for evidenced hygiene to reassure passengers, combined with the need for more sustainability, is driving innovation around boxed meals. A range of boxes plus cutlery made from natural materials such as paper and bamboo, introduced in December 2020, has enabled SATS to reduce the use of single-use plastics on meal trays by 80% in weight on selected Singapore Airlines short-haul flights.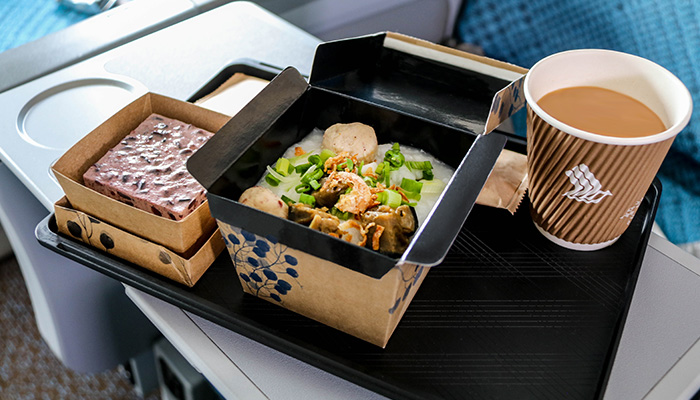 Meanwhile, the Project Refresh suite of meal boxes and cutlery devised from sustainable materials, including plates made from sugar cane, offers the same safety advantages as shrink wrapping and closed packaging. The packaging designed by LSG to help airlines save on equipment and reduce waste can accommodate hot and cold food and has improved handling characteristics.
The need for boxed meals and the pressure to be more sustainable will inevitably impact the galley requirements. The ARCA concept from AIM Altitude (a 2020-21 Crystal Cabin Award finalist) was originally developed to make inflight meals more eco-friendly and customisable. However, it also offers significant hygiene benefits. Hot meal packs and accompanying boxed cold meal packs nest securely together, with boxes doubling as waste containers, helping to recycle and reducing crew contact with left-over food and used utensils. More densely-packed carrier boxes on the galley-ends also create space-saving efficiencies. In an aircraft with 300 economy passengers, this would amount to a whole extra row of seats.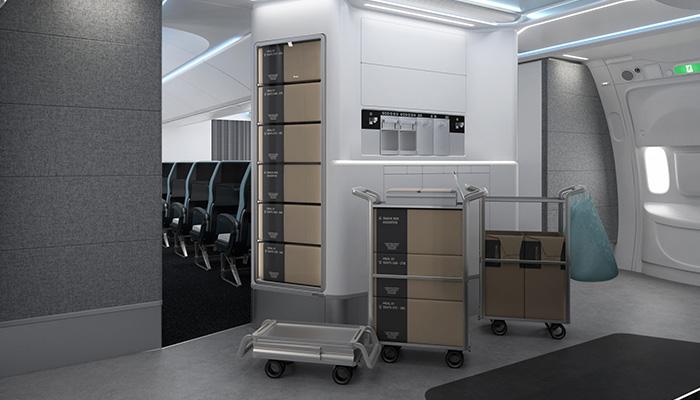 Digitally-powered process innovations raise the opportunity to review the airline business as a travel platform. Low-cost carrier AirAsia's unabashed ambition is to become a fully-integrated one-stop lifestyle platform. Recognising that online grocery shopping and home delivery have become ingrained in everyday life, in February 2021 AirAsia launched customisable fresh grocery selections at a flat price for customers in Malaysia via its AirAsia Asean super app and its website. This service leverages the AirAsia group ecosystem that includes its own farm, a B2B platform connecting farmers with business owners and a logistics arm.
AirAsia continues to extend its lifestyle platform ventures. In March 2021, capitalising on its logistics business, as well as the strong consumer database in its ecosystem, AirAsia unveiled a domestic food delivery service in Singapore. This service offers menu items from popular local restaurants into a potential market place of 2.7 million active online food delivery users.
Airlines with the best Onboard Services set to succeed
All the evidence suggests that the most successful airlines in the future will be those embracing digitalisation, new processes and new sourcing for their onboard services now, rather than putting a sticking plaster on what already exists.
---