Award-winning brand of gourmet, gluten-free noodles in a 14oz, travel-sized cup, Mr Lee's noodles are crafted to authentic recipes using the finest freeze-dried ingredients.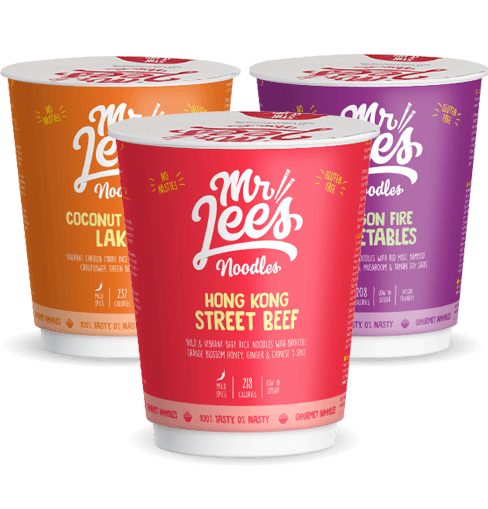 Mr Lee's noodles are crafted from authentic recipes using only the finest, freeze-dried ingredients. They contain market-leading portions of real veggies and meats including generous chunks of 100% chicken and beef. They also use absolutely nothing artificial, are low in calories and fats, certified gluten-free by Coeliac Society and low in sugar by Sugarwise. With a Vegan option available, you are guaranteed to delight every passenger.
New Congee Rice Porridge for 2020
But we don't stop there! After our successful launch with multiple European airlines in 2019 and Whole Foods Market in the USA in 2020, we are bringing a new product to the table – instant Congee Rice Porridge. Our unique three-grain blend will be available in 2 delicious flavours on three continents by Q4 2020.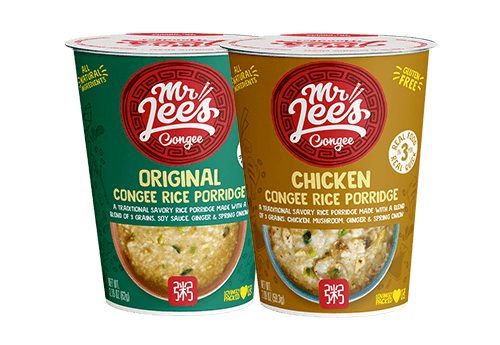 More about Mr Lee's Noodles
Mr Lee's Pure Foods is an award-winning, innovative food tech company and producer of gourmet instant noodles and congees in a cup – perfect for travel, food service and retail industries across Europe, Australia and the USA.
Founded by four-times cancer survivor Damien Lee, our mission is to improve the convenient, ready meals category through the introduction of premium products made with absolutely no nasties. Find out more on the Mr Lee's Noodles website.
---
Related Products