The world of onboard catering and services has changed forever due to the COVID-19 pandemic. As airlines paused their food and beverage offerings, they quickly worked to find new and safe ways to deliver snacks and meals to passengers. Now though, as travel looks to begin again, new trends from on the ground will also make their way into the air.
To discover what airlines will need to focus on in 2021 and beyond, we looked over the pressing consumer trends found within reports by trendspotters at Mintel, Springwise and LSG Group.
An increased focus on health and wellbeing
Public discussion about the importance of mental health has been on the rise for several years. The global health crisis has brought that debate much closer to home as we have all had to actively take care of our mental and emotional health to ensure continued wellbeing. Going forward, psychology-based approaches to healthy eating are expected to be part of the solution.
Mintel's 2021 Global Food and Drink Trends notes that the rituals of food and drink preparation, presentation or consumption help to lift mood and create moments of respite. It expects a boom in product formulations to 'feed the mind', predicting: "In the coming years, multisensory and functional formulations will be created to enhance stress relief activities, such as watching TV, gaming, or meditating."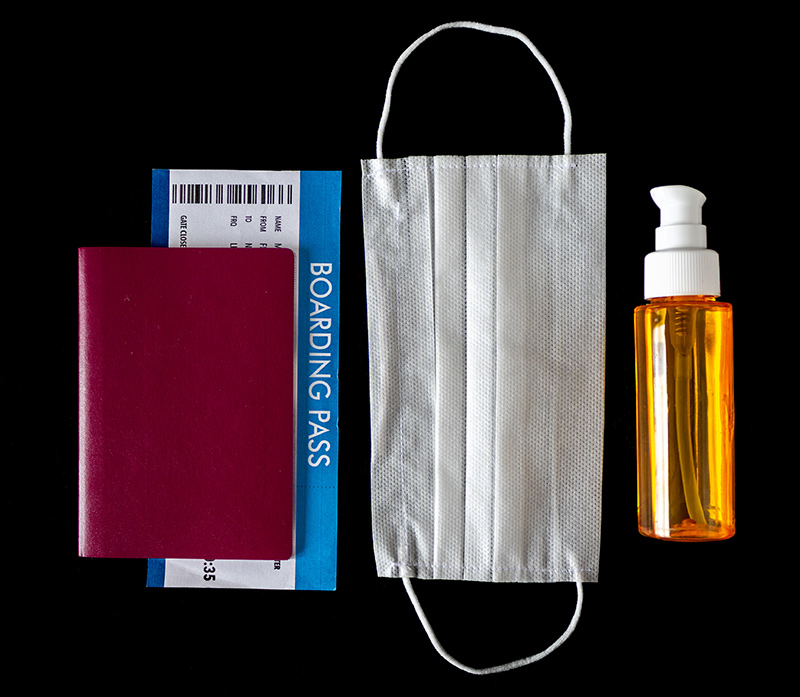 This shift is echoed in LSG Group's #trending 2020+ Upcoming Culinary, Consumer and Industry Trends, which observes that a previously identified trend of people making mindful choices about their food has been amplified by the pandemic. Being able to identify product ingredients is now more important both for health reasons and sustainability; and there is growing interest in products rich in vitamins, nutrients, probiotics or other ingredients to boost the immune system.
Brands need to be transparent
However, consumers will expect brands to be upfront. Transparency is a growing topic according to LSG, and Mintel cautions that people will come to expect validation that mental and emotional health ingredients are effective.
Before the pandemic, we undervalued enjoying a coffee, snack or meal with other people. It has taken a global emergency for us to realise that sharing these occasions enhances our appreciation of the food, forges personal bonds, and innately reduces stress.
While those opportunities seem a little distant, Mintel is confident people's understanding of community has been strengthened by COVID-19 and that food and drink will create new opportunities to unite us in the future.
"In the next 12 months, food, drink, and foodservice companies will encourage people to use their brands
to express themselves and to reconnect with their pre-pandemic identities," it predicts. "Food, drink, and foodservice brands will create communities of brand fans that provide consumers with new ways to socialise and meet new people."
Sustainability is still a pressing concern
Making a positive contribution to the sustainability of our planet, and therefore our societies, was high on the agenda for many before the current emergency. Now there is a popular recognition that we have a chance for a green reset and the sustainability of food and drink products, supply and production are already key elements of that debate.
What we eat represents the single largest carbon footprint we have on earth according to Springwise. Its report, 7 Food and Drink Trends to Look For in 2021, predicts more plant-based and alternative meat proteins will be on the menu in future, citing examples such as kelp jerky and kelp burgers from food start-up Akua and pork sausages made from plants by Impossible Foods.
Airlines are starting to pick up on this trend. Last autumn, Singapore Airlines included Impossible Meat satay on its SIA@Home home dining experience menu and Qatar Airways introduced its first range of fully vegan dishes to its business class à la carte menu.
Talking through the implications for inflight meals with Ariane van Mancius, Owner of Now New Next, the agency specialising in the future of food and packaging, she says; "Plant-based will be a trend we will see more and more in the aviation sector – due to infectious diseases and the environmental awareness."
Pre-COVID sustainability initiatives to eliminate plastic waste have been temporarily sidelined by the stringent hygiene requirements of the pandemic, but all is not lost. The team at Now New Next has identified single-use plastics free, bags, boxes and never-touched-before concepts as critical trends for onboard. "At the moment it is very difficult to cater a plane properly. But with boxed concepts you can deliver a great look and feel without too many contact moments," says van Mancius.
A touchless delivery
As a result of the need for stringent hygiene, 'evidenced touchless' throughout the delivery chain and at the point of delivery is the new norm. In our everyday lives, card and mobile payments dominate shopping experiences and digital technologies that help bridge physical distancing is accelerating. This also includes foodservice and hospitality, where LSG notes the 'digital food' trend has led to a sharp rise in-home delivery services, Click & Collect and ghost kitchens that prepare meals solely for delivery.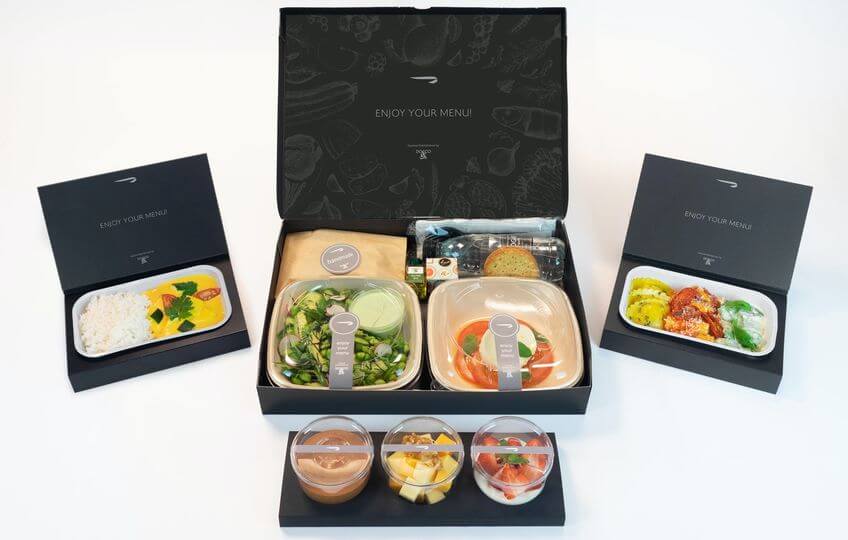 LSG forecasts digitalisation will extend its influence in onboard services, saying airline demand for pre-order solutions is increasing. Director Customer Insight, Sunbul Dubuni explains this is "driven not only by cost pressure but also as a means to improve customer experience. Airlines will move towards more customisation with preorder and preselect offerings."
Joining the dots, the underlying message of all these trends is that consumers have a renewed appreciation for things that are real, tangible and meaningful. Aligning food and beverage services with those values will enable airlines to forge stronger relationships with travellers. Onboard hospitality that genuinely comforts and alleviates passenger stress has got to be good for repeat business.
As digitalisation increases across the business, we will have to ensure that the very technologies which first created connections do not become the means by which we accidentally eliminate the human touch. Nonetheless, there is a real opportunity here to use digital tools to put hospitality centre stage and revitalise the onboard experience.
A chance for a reset
Airlines now have the chance to make the hospitality experience more central to the journey and by recognising the value of food and beverages to create empathy with travellers, offer comfort and relieve stress. This is a chance to reset the passenger experience in the coming years and airlines should take it.
---
---