For more video insights, sign up to the WTCE channel.
Speakers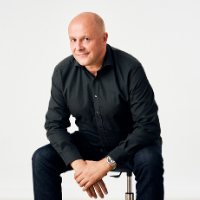 Having worked in the aviation business for many years, Bernd Knobe has increasingly focused on both passenger connectivity and future digital services.
Getting the quality of connectivity services constantly improved has been one of the major objectives. umlaut customers also like to choose the right digital concepts and technologies to offer a seamless journey and the best experience to their passengers. Viable solutions, efficient network architectures as well as a decent connectivity performance and data management are key enablers for more economic flight operations in the future.
As a versatile senior manager and graduated engineer with an extensive experience, Bernd has been engaged with umlaut for almost five years. Bernd spent more than a decade on Airbus long haul development programmes, primarily focusing on A350 cabin and systems. His engagement with in-flight connectivity already started in the early days of commercial broadband services, having been introduced by "Connexion by Boeing" Ku-band.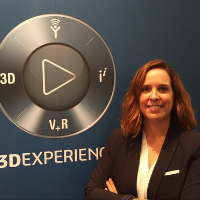 Aurélie Germain was appointed Airlines & MRO Industry Value Expert at Dassault Systèmes in February 2019. She is an aerospace professional with more than 16 years' international experience. She previously served as Marketing Director at Air France KLM for Engineering & Maintenance, Sales Director North-East Asia at Stelia Aerospace and Sales Director at Airbus Group.
Aurelie has been working in the avionics maintenance activities most of her career, starting by providing automatic test equipment to airlines, maintenance information systems and flight ops IT solutions, component support solutions. In addition, she has also developed her knowledge of the cabin experience.
Through her experiences, Aurelie has developed the ability to understand and make a difference in the global aerospace and defence environment from the manufacturer to supplier and operator. She earned a Master in Optronics from Polytech Paris Sud (France) in 2003.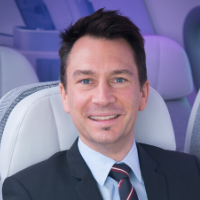 Roland Naudy works in the Aircraft Interiors Marketing team at Airbus, where the main missions are to support sales campaigns and to contribute to cabin product developments. He has been very engaged in several successful sales campaigns in Europe and Asia, bringing extensive cabin knowledge and market understanding.
His experience has been consolidated in the past on A380 and A350 XWB cabin developments, feeding the programme with customer views and market needs.
Today, Roland is very active on innovation activities with a customer-centric approach, including support to bring passengers back to fly via the Airbus "Keep Trust in Air Travel" initiatives.