Airline uniforms
display a carrier's identity, image, cultural attributes, and distinctiveness. And with the onboard industry continuously innovating everything from
menu options
to inflight entertainment, how much importance does the industry give to
uniforms onboard
?
Cabin crew uniforms
represent the face of airlines. But not only are cabin crews frontline employees, but they are also the backbone of the airline industry's operations.
It is the flight attendant who has the longest face-to-face time with passengers
and their uniforms play an important role directly related to the airline's image.
Their uniforms are studied and tested to ensure that all cabin crew members will be able to do their jobs well while wearing them. Because of this, it's only
fitting
that they wear a uniform that best represents their respective carrier whilst being practical.
But what do cabin crew think of their uniforms?
The History of Cabin Crew Uniforms
Uniforms onboard
have constantly evolved since the 1920s. Cabin crew members are required to wear a uniform wherein they can do different types of tasks without compromising their or the passengers' safety.
The
first flight attendant or air hostess uniforms
 were designed to be durable, practical, and to inspire confidence in passengers.
 Clothing was
durable and
heavy during the late 1920s and early 1930s and demonstrated more of a military style, often complete with white gloves, muted hues, and matching hats.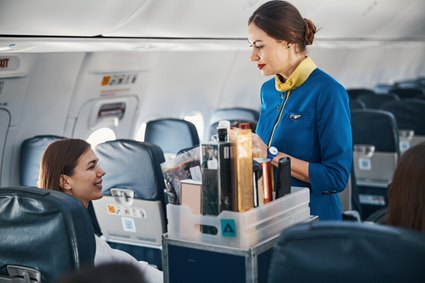 For women, skirt length would fall below the knee often accompanied by capes and large caps that covered their ears.
Capes were eventually phased out after the 1930s because they were impractical. In the 1940s and 1950s, flight attendants'
uniforms
 included midi-pencil skirts, tailored blazers, and small-heeled shoes.
Cabin crew members still often wore hats to give an affluent look that resonated with wealthy customers on board.
By the late 1950s and early 1960s, airline management had been almost exclusively employing unmarried women with a particular height and weight criteria to appeal to a largely male clientele, which they saw as an opportunity to boost profits.
Flight attendants embraced bouffant hairstyles, while some added pillbox hats to airline uniforms. Funky mod fashion was also popular at the time, and it was incorporated into
uniforms onboard
.
In creating an aesthetic for the
uniform of air hostess', carriers encouraged them
 wear belts to accent their curves. Also,
airline uniforms
at the time were made of brightly coloured materials to draw more attention.
At the time, most of cabin crews were female. Many flight attendants were also former nurses.
" There were very strict standards for hair, make up, footwear and appearance in general and weight gain was definitely not an option. The uniform was designed to show off the female figure and to look glamorous." Simple Flying 
But not every airline followed this agenda. These cabin crew outfits didn't last long and were eventually replaced with knee-length skirts and less restrictive items of clothing. In the 1980s, waistcoats and sleeveless jumpers were added to the uniforms.
Oversized ties and shoulder pads were also staples for cabin crew uniforms in the 1990s.
Eventually, airline carriers began to add their own style to
cabin crew uniforms
. Although some airlines' standards have not changed to this day, uniforms are still undergoing continuous development and change.
Airline Uniforms of Today
Uniforms onboard
embraced higher-end fashion in the 2000s, with an increasing number of major airline carriers collaborating with couture designers to create fashion-forward uniform collections.
Air France
, for instance, tapped French designer Christian Lacroix in 2005 to revamp its line of airline uniforms
.
Lacroix designed wrinkle-resistant airline uniforms made of yarn-dyed fabric and other materials that can stand up to 12 hours of flight time. 
He also added the new Air France logo and a "Jacquard" lining to the uniforms. The tiny details convey chic features.
Skirts and dresses were once a strict requirement for women. As skirt length was relaxed, though, this mode was generally phased out.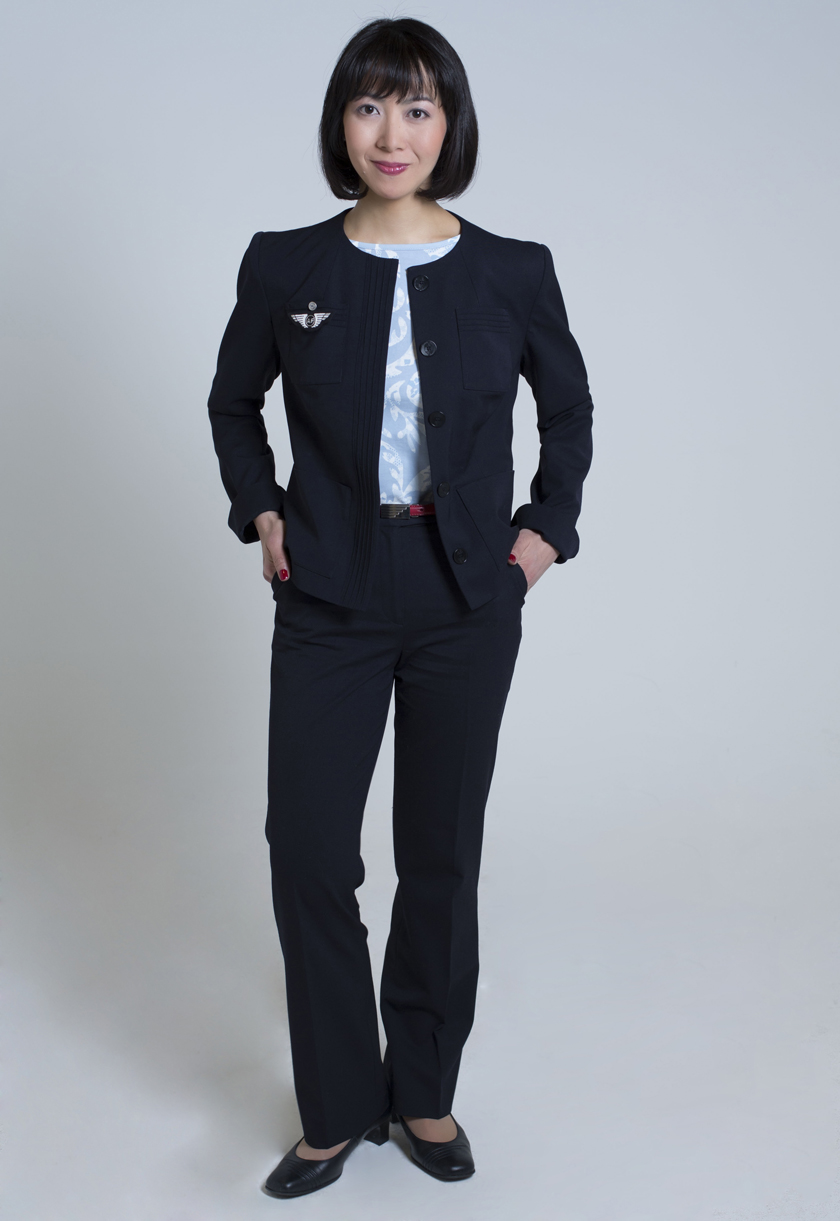 As such, some carriers have permitted female crew members to have the option of wearing trousers as part of their
airline uniforms
.
One example of this is Japan Airlines. For the first time in the company's history,
Japan Airlines
allowed female cabin attendants to have the choice of wearing trousers
.
Aer Lingus
also added a new trouser option for its female crew in 2020.
It took a long time to overcome the stigma that women wearing trousers went against the image of "typical female flight attendant uniforms", hence the extended timeline to implement this change.
And as airlines have strict rules about
cabin crew uniforms
, this includes the practice of wearing jewellery and makeup or the displaying of air hostess tattoos.
Policies also differ per airline, and some accept tattooed flight attendants so long as they can cover the tattoo with makeup, a scarf, or other parts of their cabin crew uniform. Most European airlines, like
easyJet
, permit tattoos among cabin crew staff, as long as they are concealed with makeup.
This is also permitted as part of the Ryanair uniform and Wizz air uniform.
Makeup is not required among flight attendants, but they are
required to always look well-groomed.
Makeup suggestions and guidelines will once again depend on an airline's specific policy.
Some airlines
simply ask their flight attendants to wear mascara and lipstick. Others have particular guidelines on how and what colour should be used in cosmetics.
There are airlines that ask their flight attendants to wear makeup according to their skin tone, while others are urged to wear various shades like nude.
When it comes to jewellery,
flight attendants are usually allowed to wear a pair of earrings
. Small and discrete studs and earrings are permitted since these pieces don't easily attract attention. Studs or earrings should be gold, silver, pearl, or diamond, and they must be matching.
Almost all airlines forbid their flight attendants from having piercings on the lips, tongue, nose, eyebrows, and wrists. However,
United Airlines has revised their appearance standards
, allowing customer-facing employees to have visible tattoos or nose piercings to create a more inclusive culture.
In 2022,
Alaska Airlines launched new gender-neutral guidelines
for airline uniforms for flight attendants, permitting crew to have more flexibility in personal expression.
Virgin Atlantic
also followed suit, updating its uniform policy and enabling cabin crew staff to wear uniforms that allow them to identify with, or present themselves as, their gender. In addition, staff and customers at Virgin Atlantic have the option to request a badge indicating their preferred pronouns.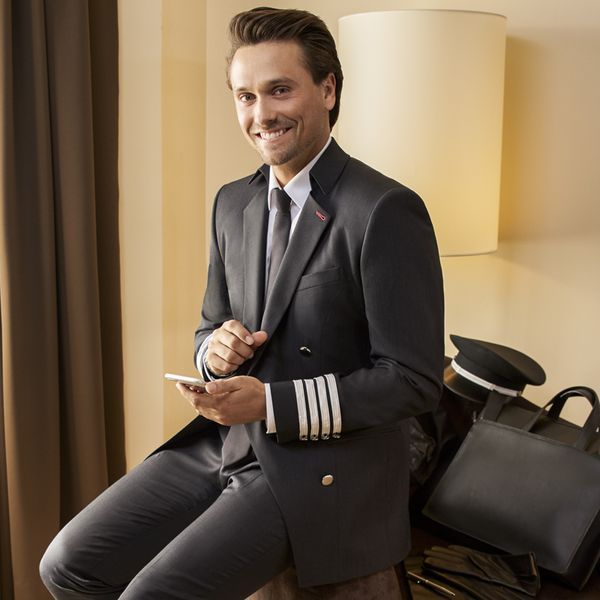 The Impact of Airline Uniforms
Cabin crew uniforms
play an important role in the airline industry. Uniforms provide pilots with identification as the captain of the aircraft, and wearing one makes them look competent and trustworthy. The same goes for flight attendants, with the addition of making them look more approachable.
In the past,
airline uniforms
were influenced by militaristic modes or nurse-inspired attire that used materials like cotton, polyester, vinyl composites, or acrylics. Over the course of time, airlines have asked the help of fashion designers to give their uniforms a more modern look. And this had resulted in the use of different types of materials.
easyJet
even produced uniforms that are made from 100% recycled plastic bottles.
This initiative led to the airline
s
winning the "Sustainability Award" at the 2021 Professional Clothing Industry Association Worldwide Awards.
Some airlines also don't allow the cabin crew to wear trousers because they are made of nylon, which is a
fire-retardant material
.
Delta Air Lines consulted a podiatrist to determine suitable footwear for flight attendants that could be both fashionable and comfortable. Instead of the standard one to three inches,
the airline opted to allow attendants to wear a minimum half-inch heel
.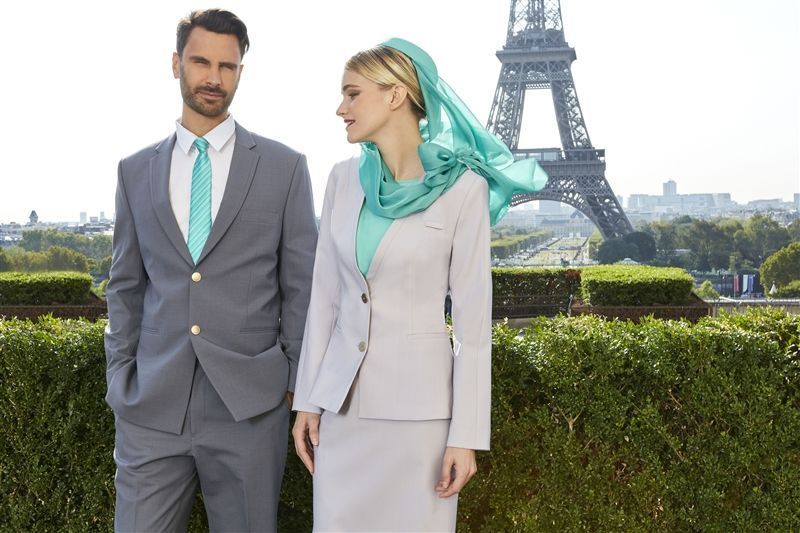 Female British Airways crew members also had no choice but to wear skirts, unless exempt on medical or religious grounds. They fought for two years and eventually
were granted the right to wear trousers to work
if they chose.
Meanwhile,
the low-cost Ukrainian airline SkyUp has totally ditched heel and skirt requirements
for its flight attendants.
This is all good news for flight attendants because wearing skirts or high heels can be uncomfortable, let alone while you must attend to passengers and do other types of work.  
Often stringent requirements have resulted in complaints
such as backaches and bunions on feet, as well as inappropriate behaviour from passengers.
Professor Binna Kandola of Leeds University Business School adds that highly feminine uniforms can provoke derogatory behaviour from some customers. Allowing airline staff to wear a uniform that they are comfortable with can help them do their jobs better.
"Should we have an emergency evacuation, one of the first things we're supposed to do is take off our nylons and heels…why not just get rid of them entirely?" Native American flight attendant working for a low-cost U.S. airline
But what do passengers say about this?
Matthew Klint, an aviation industry worker and travel consultant
, is one of the many who have applauded the movement for airlines to loosen their dress and appearance standards for front-line employees. He says that all he cares about is getting kind, caring service, which has nothing to do with how the cabin crew members would like to dress or identify themselves.
On the other hand,
a survey was conducted at a major university in Sydney to learn about people's attitudes toward
airline uniforms
. Results showed that
uniforms
are likely to have a positive impact on consumer behaviour.
However, there are certain factors that affect their choices, including whether the cabin crew uniform reflects how they see themselves, fosters distinctive brand personality, or appears to be the work of a famous designer.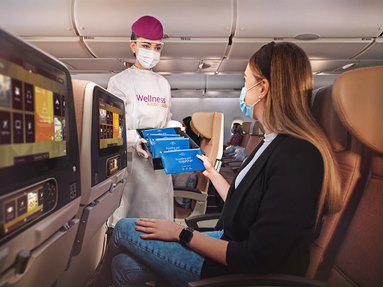 If the uniform has a desirable look, consumers are also likely to recommend an airline to others.
To add to this, the choice of uniform colour plays a vital role in establishing brand identity.
The uniforms on full-service airlines (FSC) generally have a bright, calm, neat, and heavy-handed feeling, while low-cost carriers (LCC) have a distinctive, dynamic, energetic, and cheerful feeling.
This is the result of one
study
which shows that passengers have different perceptions and attitudes according to the colours of the
uniforms onboard
.  Airlines should be particular in choosing uniform colours as these go with the company's brand. Choosing the right colours can help them survive the competition in the aviation service industry.
Overall, cabin crew uniforms are not just simply outfits. They serve a number of purposes including aligning with an airline's brand and identity, encouraging inclusivity and being comfortable for crew members.
Airline uniforms
are just one part of a multi-faceted approach that may influence a passenger's airline of choice.
And with developments to 
cabin crew uniforms and rules
, such as new gender-neutral guidelines, greater freedom of expression and more modern styling, this represents a fruitful area for both airline buyers and suppliers to innovate.
WTCE Uniform Exhibitors
Creation & Image
The company has been producing uniforms since 1985. The bespoke uniform specialist designs and creates elegant, iconic, and modern outfits for clients of all sectors, including aviation, hospitality, retail and events, and other institutions. It has worked with airlines such as Oman Air and Singapore Airlines.
They have also worked on Air France uniforms.
See Creation & Image's exhibitor profile
Skypro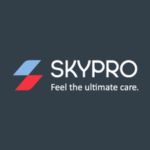 SKYPRO offers end-to-end uniforms solutions worldwide: design, production, uniform management system (mySKYPRO) and sustainable initiatives to reduce uniforms carbon footprint.
See Skypro's exhibitor profile
---
---
If you are an exhibitor, log into your dashboard to add your products now.