As travel looks to rebound in 2022, it should be no surprise that airlines and their passenger experience partners are making new adjustments to meet changing consumer sensibilities. The accelerated digitalisation that helped airlines to support their passengers is showing no sign of slowing down. In fact, it promises to further enhance connections between airlines and their passengers over the coming years.
Consumers want to travel
A key message within the Global Consumer Trends 2022, from Mintel, November 2021, is that consumers are now eager to break out of their confines, to explore and have new experiences. Travel is therefore an opportunity to elevate our lifestyles and consumers will be prepared to splash out on holidays. The report goes on to say that nearly half of all people from the UK who are planning a trip in the next three years expect to spend more than they previously did.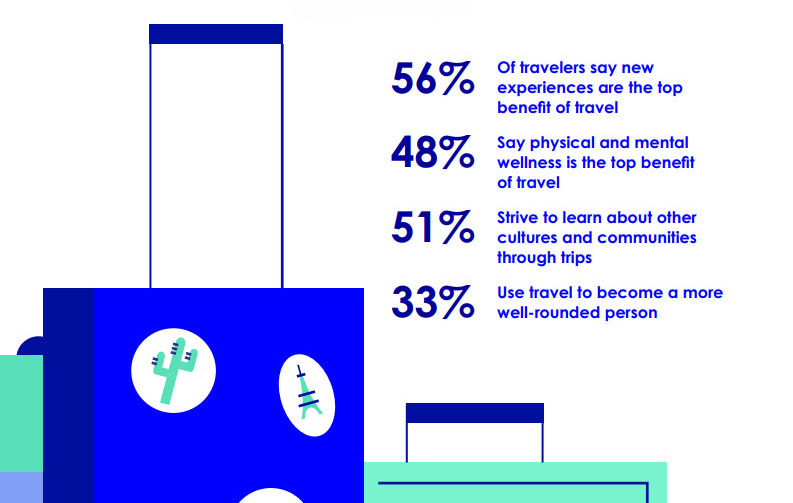 This willingness to spend is in line with Expedia's findings when it took the temperature of people's attitudes towards travel in summer 2021. A third had larger budgets compared to 2020 according to the Expedia Traveler Value Index. Furthermore, almost three-quarters of people surveyed by Expedia are planning to take a trip in the next 12 months. Around half say new experiences and physical and mental wellness are the top benefits of travel.
Environmental concerns are driving decisions
However, the upcoming trends are not only about escapism. Faced with the complexity of climate change issues, consumers are looking for brands to help them mitigate their impact on the environment. While cautioning that "environmental anxiety will worsen", Mintel says the opportunity for brands is "to partner with consumers to help them make purchase choices that align with their climate goals".
Mintel makes the point that it is no longer enough for brands to be ethical. Consumers are now demanding "measurable, transparent and consistent actions" from the brands they choose to support. Furthermore, people are longing for a sense of control over their lives. They want clear, readily available information, plus flexibility and choices so they can make decisions that will suit their needs.
The new initiatives onboard
The emerging trends from returning travellers is already driving initiatives by airlines and their onboard experience partners in the amenity, food and retail sectors.
For Roland Grohmann, Chief Executive Officer and Managing Partner at guest amenity and hospitality specialist FORMIA, the future of amenities is "less focused on the product itself and more about the experience the consumer has with that product, such as after-trip usage, sustainability and collectability." He adds: "Across airline projects and according to consumer feedback there is a growing requirement for experiences that not only offer aesthetic appeal, but a true mission, vision and values centred around environmental and social sustainability."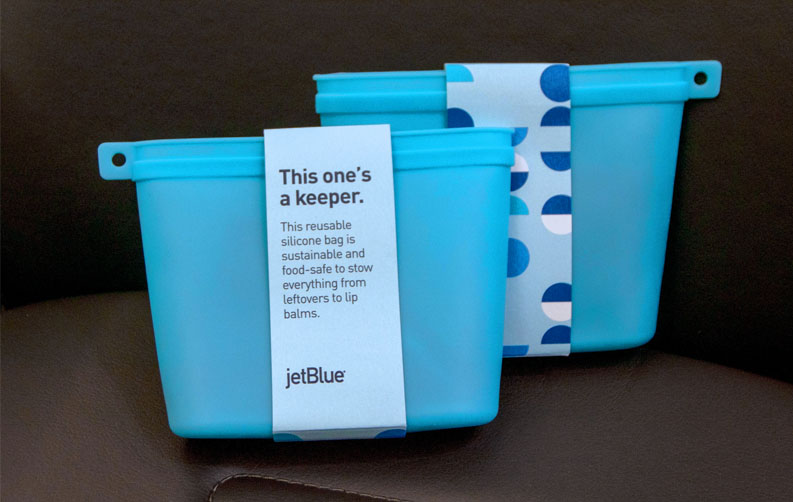 A case in point is the reusable travel kit FORMIA developed for JetBlue's transatlantic service launched at the end of August 2021. The inflight necessities come in an endlessly reusable durable platinum silicon pouch that is easy-to-clean and microwave, dishwasher and freezer friendly to encourage use beyond the flight, be it for travel essentials or food storage.
Digitalisation continues at a pace
Airlines are already leveraging advancements in digitalisation to deepen the conversation with their customers. "With advancements in technology and increased digitalisation across the passenger journey, we foresee changes in the way amenities will be offered to passengers… with personalisation and choice becoming key to providing a more customised, relevant and sustainable experience," predicts Grohmann.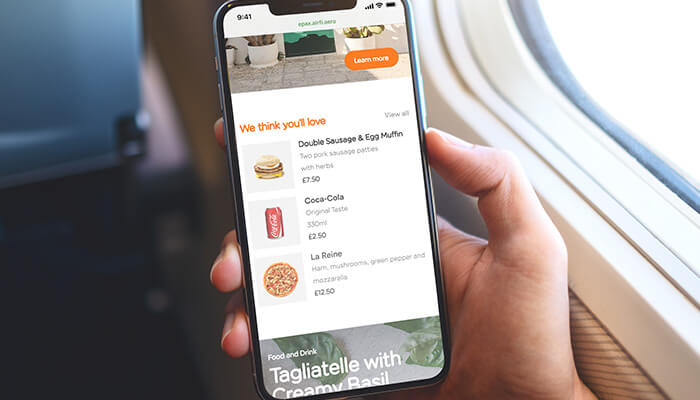 When it comes to onboard food services, the pressure for greater sustainability is focused on reducing catering weight and stock amounts. However, thanks to the adoption of digital pre-order solutions throughout the pandemic, there is the opportunity to provide passengers with more choice and a better sense of control over their experience.
Pre-order is here to stay
Benoit Vignon, Vice President of retail onboard development, Newrest, a specialist in out-of-home food services, explain that digital pre-ordering allows airlines to personalise their offer and adapt that offer to passengers' needs. Vignon views digital solutions as the key to future inflight experiences. "Personalisation of the travel experience through digital means will be a key trend in 2022," he says.
Travellers on the new Spanish leisure carrier World2Fly can pre-order food thanks to Newrest Digital Lab's Fly'Eat system, which is integrated into the airline's own ticket purchasing process. The menu provided by Newrest is focused on sustainability, featuring seasonal products and using sustainable packaging and cutlery. Hot meals and cold breakfasts for economy class passengers as well as the optional premium dishes are included in the services.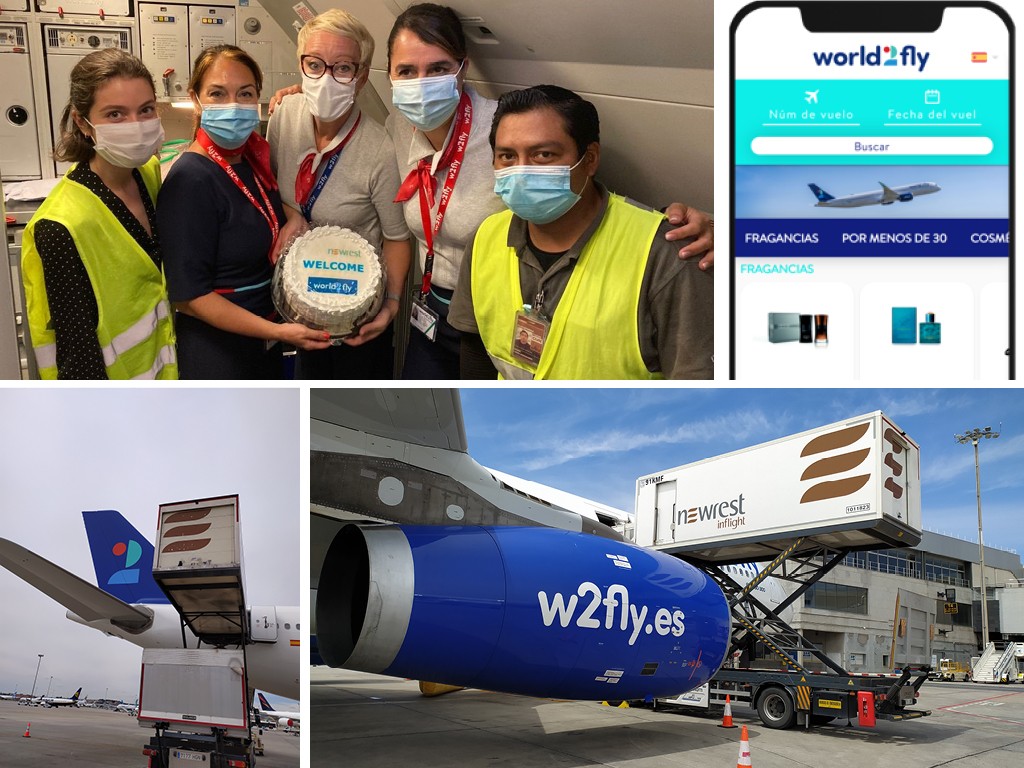 Behind the scenes, the Fly'Eat system enables pre-ordering, control and order flow management, traceability and interconnection with onboard sales systems through QR code identification. Newrest has since gone on to adapt this solution to a tailor-made VIP catering offer for private aircraft flying out of several European airports.
Personalisation will create ancillary revenue opportunities
This personalisation will continue onboard with passengers able to select from a host of services and pay from their smartphone. "An aircraft is a marketplace like any other. It will be possible to extend the travel experience even at home. Passengers will be able to get their favourite products from food to perfumes directly at home," Vignon predicts.
Onboard experiences that integrate digital ordering with other digital technologies and content platforms are in their infancy at the moment, but they suggest that a much richer, more responsive experience is on the horizon for passengers.
---
Related articles
In July 2021, onboard retail and technology specialist Retail inMotion (RiM) partnered with Eurowings Discover to launch a digital boutique. Brand and product information can also be integrated into the fully-immersive digital inflight magazine, thereby enabling passengers to interact with the content and explore product and brand information via videos.
RiM's Head of Business Development Europe, Tim Noack says: "Customers demand digital, intuitive and easy-to-use functionalities, but they are also eager to explore digital content in the form of digital magazines or menu cards with integrated videos and animations."
More innovation onboard to be expected
According to Noack, more innovation is likely in short order. "We expect the digital trends to continue and more innovations to be launched in 2022 such as flexible Pre-Order/Pre-Select tools, as well as Order2Seat solutions that are combined with smart payment options on passengers' smartphones and augmented reality (AR) solutions to increase the passenger experience."
In November 2021, RiM launched an AR shopping app, "Virtual TryOn", on Eurowings long haul flights that enables passengers to try on products virtually from the on-board boutique selection, with sunglasses and watches included in the AR range.
Noack predicts: "We could imagine that topics such as digital innovations along the passenger journey will become more and more important. Augmented reality solutions, for example, are able to provide the look and feeling of services and products in advance."
Airlines and passengers as partners
2022 is likely to be a transitional year for the aviation industry as it comes to terms with the many changes that are affecting the business. The new solutions will form part of a movement towards engaging with passengers as partners to create the new future of the aviation business.