Welcome to our Runway to Recovery series. These articles will take a look at how the catering and onboard services of airlines can start to accelerate their recovery.
The last 12 months have seen an unprecedented impact on the airline catering industry, transforming the face of onboard services and how food is served in the air. Prior to the pandemic, the top five airline caterers were producing nearly five million meals per day, with a turnover of nearly €10bn – and that's before factoring in the rail and cruise catering industries.
With airlines prioritising the safety of their passengers, many have chosen to suspend or scale back food and beverage services in a bid to reduce contact with cabin crews during the flight. As flights resumed, they began to look for ways to bring back inflight services, offering limited pre-packaged selections and sealed beverages for onboard consumption.
A mixed bag of restrictions
Many of these restrictions varied from airline to airline and often based on flight times. For example, first-class passengers flying on American Airlines flights under 2,200 miles or less than 4 ½ hours, were provided with pre-packaged snacks and beverages, with alcohol available on request. Main cabin customers also had the same options but could not purchase additional food during the flight. For longer flights, over 2,200 miles, the main cabin meal service was limited to long haul international flights (more than 3,000 miles) – with first and business class customers served a meal on a single tray instead of in multiple courses.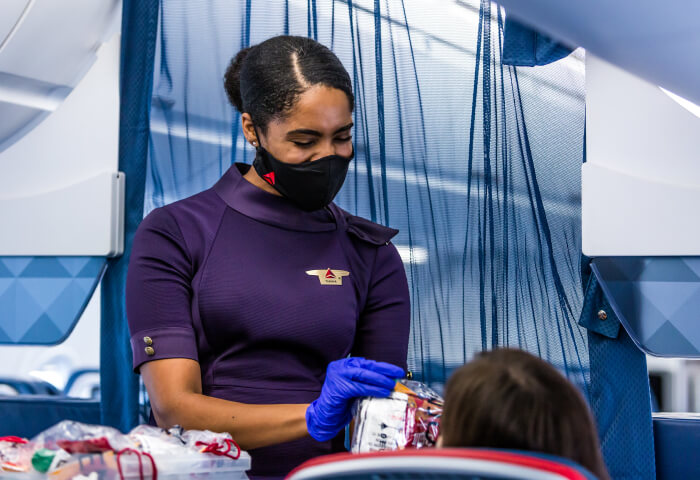 Similar options were adopted by other airlines, such as JetBlue, Delta and United, who all decided to offer pre-packaged or 'all-in-one' snack bags to passengers, replacing the complimentary in-flight service. However, with the vaccine roll-out and a focus on the industry's recovery, will these changes be temporary, or can we expect to see a return of the popular and often lucrative in-flight meal and buy-on-board options?
Early indications demonstrate a positive outlook for the industry, with many airlines already resuming and expanding in-flight menus. Alaska Airlines, for example, has resumed limited food and drink services on flights longer than 350 miles; American Airlines is offering varying levels of service on nearly all flights; JetBlue continues to offer a selection of complimentary food and beverages, as well as some for-purchase items, but at a limited capacity, while Singapore Airlines is rolling out new food offerings on short-haul and regional flights in Economy Class.
The waste conundrum
With an increase in pre-packaged goods used onboard, airlines are faced with the ongoing dilemma of how to reduce single-use plastics and packaging waste. While single-use items will inevitably offer improved protection and reduce the risk of contamination, the packaging materials used will play an increasingly important role in the ongoing waste conundrum.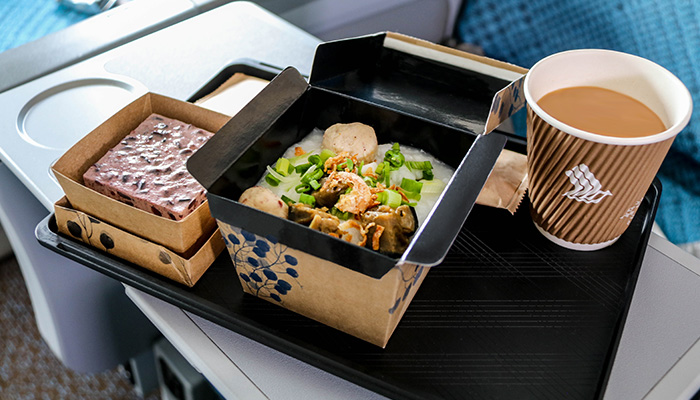 Efforts to reduce the use of plastic packaging can already be seen across the industry. The new 'SWISS Saveurs' items onboard SWISS airlines will be packaged in PaperWise material. The material is "made from agricultural waste using only renewable energy and is thus entirely carbon-neutral". Items that cannot yet be offered in PaperWise packaging will be packed in FSC-certificated cardboard or kraft paper.
Redesigning the inflight service
Reducing single-use plastic will continue to be a focus for the aviation sector as operations resume. Here technology, which is helping to reduce the touchpoint for both passengers and crew, is also facilitating the reduction of food waste, and aiding the convenient and safe delivery of food options onboard.
In fact, many airlines are turning to technology to manage passenger needs in an efficient and safe way. The benefits of a digital and omnichannel offering onboard have long been recognised by airlines and passengers, and this is another trend that had notably increased in popularity prior to the pandemic.
As airlines now look to reduce contact points onboard, many are turning to technology and the new 'touchless' experience to revaluate their onboard proposition. In fact, the SITA 2020 Air Transport IT Insights report revealed that while airlines slashed their IT investment plans in 2020 to mitigate the revenue drop caused by the pandemic, many quickly reprioritised investments to ensure safer, automated processes were available. The report found 97% of the respondents had apps for passenger mobile devices among their top investment priorities.
Although much of this investment is focused on improving touchless boarding and the journey through the airport, significant developments have been noted in the cabin. Prior to the pandemic, pre-ordering options were widely available for passengers, with Singapore Airlines announcing its 'Book the Cook' service back in 2019. The service allows passengers to enjoy an unforgettable dining experience, with dishes selected by passengers 24 hours ahead of a flight.
Pre-order to become more prevalent
However, the pre-ordering trend has since accelerated. In January 2021, Lufthansa announced passengers would be able to order items from its new buy-onboard menus for short- and medium-haul flights.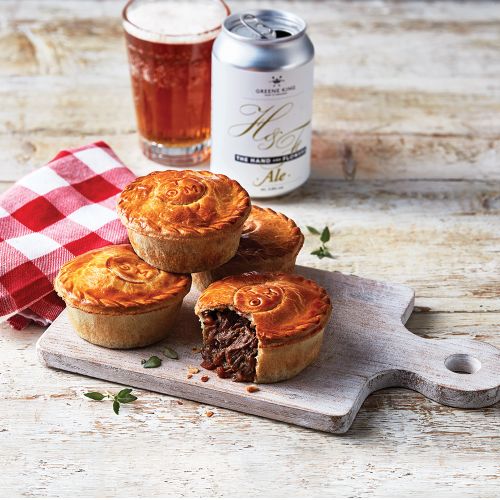 It was shortly followed by the announcement of the Speedbird Cafe as well as the British Airways Highlife shop. Here, passengers can pre-order a selection of dishes crafted by Michelin-starred chef, Tom Kerridge.
The move to pre-order is anticipated to reduce waste and make the onboard service more efficient and has also been extended to the airline's Highlife Shop, in partnership with Tourvest Retail Services.
Speaking about the platform, Clive Jones, Chief Executive Officer at Tourvest Retail Services, said: "We are excited to launch a new online retail platform with British Airways, a key component of our omnichannel digital strategy. Customers can now secure their first choice of product and have these conveniently delivered straight to their seats. The new food and beverage – as well as Highlife Shop products – offer choice, quality, and some good value for money deals, all at the click of a button. We are both proud and humbled to be associated with British Airways together with Tom Kerridge."

With a heightened focus on pre-ordering technology, suppliers have been mobilising to develop and market solutions to help mitigate the restrictions and respond to the new demands in a touch-free environment. In October 2020, Bluebox Aviation Systems and dnata Catering Australia signed a Memorandum of Understanding to support each other in product customisation and processes. Here, the collaboration between the two companies will help to deliver joint solutions for customers across Australia, New Zealand and other Pacific Ocean territories.
"COVID-19 has changed the landscape for in-flight catering and logistics, and by partnering with Bluebox we'll be able to help our customers mitigate some of the restrictions required in this new touch-free world. This means allowing airlines to minimise contact and dialogue between passengers and cabin crew but still delivering an excellent service and a full range of food, drinks and retail goods that are such an essential part of the ancillary revenue income for many airlines," said Peter Edwards, Retail Technology Manager, dnata catering. "Aiming to appear seamless to passengers, integrating complex systems – in this case, an IFE platform and catering logistics – can actually be quite complex technically, and in the present climate our customers need solutions that are simple and quick to deploy."
Driving personalisation onboard
While there is continued uncertainty on a timeline for the industry's recovery, what is clear is that the future of the onboard catering industry will see an increased use of personalisation, aided by technology. Pre-pandemic trends will continue to be accelerated, enabling airlines to meet passenger expectations and needs more efficiently and safely. By turning to technology, airlines can reassess their onboard strategies, resume important revenue streams and the onboard services that delight and satisfy passengers in flight.
---