'in-flight' is an innovative line of natural, healthy snacks from Merzdorf Fine Food Ltd. Designed with the traveller in mind, their range of Chicken Breast flavoured crisps are the perfect snack to eat onboard a flight.
'in-flight' snacks can easily satisfy passenger hunger
It's a great solution, for when passengers are searching for a bite to eat and want to choose something healthy and nutritious. Chicken breast crisps are delicious, super crunchy and ready-to-eat. They are also low in carbs and high in protein, and apart from chicken meat and spices, there are no other ingredients in these snacks – no preservatives, chemical additives, GMOs, or gluten.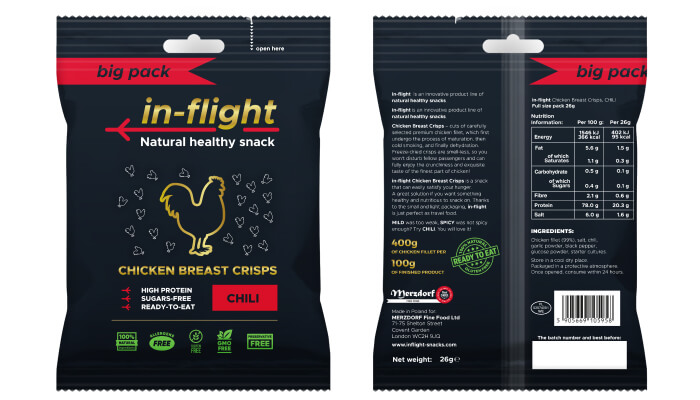 'in-flight' snacks uses a unique production process
The Chicken Breast Crisps are the flagship product of the 'in-flight' snacks family. The cuts of carefully selected chicken fillet first undergo the processes of maturation, then repeated cold smoking and finally lyophilisation, also known as freeze-drying. This captures the unique taste of chicken breast without the need for deep frying or baking that you find when making 'traditional' crisps.
The product is then transferred to a foil-seal pack that keeps the crisps fresh, crunchy and smell-less, so it is ready to eat directly after opening.
Thanks to the taste and unforgettable aroma of this chicken snack, everyone will like it. What's more, thanks to the small and light package, it makes for a perfect travel food that can easily fit into existing onboard services or passengers hand luggage.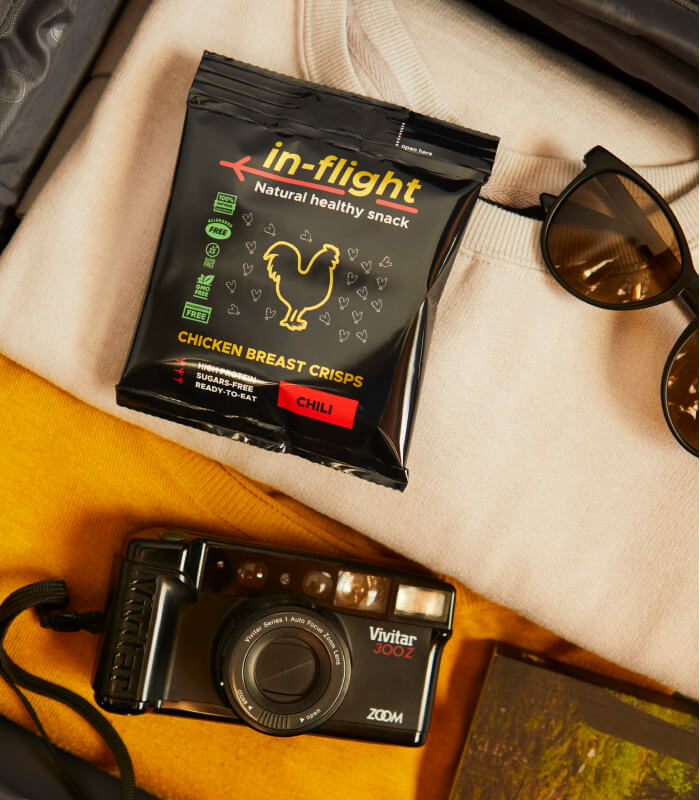 Why are 'in-flight' snacks better than anything similar in this market?
'in-flight' is a truly natural, healthy snack. What makes it unique on the market is the simplest composition possible – 99% is the chicken breast fillet and the remaining 1% is the spices and starter cultures. Furthermore, thanks to the freeze-drying process the snack is four times condensed. That means that in every 100g of finished product there are 400g of chicken fillet.
The high-quality and natural 'in-flight' products do not use any chemical preservatives or artificial enhancers in our snacks. 'The Healthy Way of Life' is their motto and we want to raise awareness about the importance of healthy eating.
The 'in-flight' snacks family has been praised by international juries and customers: Innovative Product of the Year Award (Stamegna Retail Management), Buyer's Choice Award (ECRM), finalist of SIAL Innovation Selection (France and Canada) and Food Matters Live (London).
Find out more about the 'in-flight' range of crisps on their website.
---
Latest Products