Welcome to our Products in Focus series. These articles will take a look at the latest and most exciting travel catering and onboard service products for airlines and rail operators in a variety of categories.
Looking at products from across the sector, including food, beverages, packaging and amenity kits, we'll be focusing on a selection of the many products that WTCE attendees will be able to taste, touch and test at the upcoming event edition.

1) Healthy snacks by 5th Season Fruit BV
5th Season Fruit provide the fruit snack for everyone with a healthy appetite. 5th Season Fruit's freeze-dried fruits are fresh, tasty, nutritious in-flight snacks with a long shelf life to upgrade airline catering. Products are:
100% natural
full of minerals and vitamins with NOTHING added
Each bag is:
equal to 80g of fresh fruit
high in fibre
high in vitamins
low in calories and tasty
5th Season Fruit BV
5th Season Fruit's freeze-dried fruits are your ticket to juicy, delicious, and nutritious snacking on the ground or at 30,000 feet! 
5th Season Fruit's freeze-dried snacks are a game-changer for catering. Packed with flavour, nutrients, and a seriously long shelf life, their fruits offer a fresh and delicious snack option. Their state-of-the-art preservation methods lock in all the freshness and nutrients, so that passengers can enjoy juicy and tasty fruits even at cruising altitude. With a variety of flavours to choose from, and a shelf life of 18 months, their products are a convenient and healthy option for airlines. 
See 5th Season Fruit's exhibitor profile
2) Fresh sandwiches by Qizini
Qizini specialise in making fresh sandwiches, wraps, baguettes and rolls whilst working to create innovative and new concepts in food. The company uses sustainable ingredients to reduce their 'environmental footprint' and produce sandwiches, wraps and paninis with love. They are then filled  and garnished by hand.
Their product offerings include:
filled Italian paninis (in flavours including: pesto chicken, spicy chicken and Proscuitto. 
pre-prepared meals
sandwiches including hot Foccacia, Croque and Bretzel & Panini's 
Qizini
With over 20 years experience in airline catering Qizini's specialise in making handmade meals, fresh sandwiches and hot snacks that fit perfectly within airlines' workflow! The company is always exited to work on new concepts that increase passenger appreciation and (brand) experience.
See Qizini's exhibitor profile
3) Savoury snacks by AAB-Inflight/Royal Smilde
AAB-Inflight/Royal Smilde provide in-flight sweet and snack solutions. Producers know how to make their products; airlines know exactly what they want. And AAB-Inflight/Royal Smilde bridge the gap between the two.
They match their products to the dimensions of trays and trolleys, ovens and chillers and ensure that everything fits perfectly within the specific airlines' workflow. They can also customise products to take into account culinary, cultural and religious preferences.
For hot snacks they offer – savoury snacks in various flavours, packed in heatable boxes. Frozen to be reheated in the oven and ready to serve.
For snackboxes they offer – solutions for breakfast, lunch and everything in between.
AAB-Inflight/Royal Smilde
As a specialist in onboard snack & food concepts, AAB-Inflight deliver products which help airlines distinguish themselves among their passengers.
Alongside cakes and tarts, AAB-inflight supplies bread, savoury snacks and drinks as well as ice and hot snacks such as pizzas and savoury tarts. They match their products to the dimensions of trays and trolleys, ovens and chillers and ensure that everything fits perfectly within the airlines' workflow. AAB-inflight works continuously to serve their customers effectively with new products that match their flavour preferences but, nevertheless. offer something a little different.
See AAB-Inflight's exhibitor profile

4) Nuts for pairing by SHATOH
SHATOH produces hand-picked and extremely limited delicacies that taste great and give passengers the strength and energy and have a positive effect on their health. They contain important nutrients and are gently roasted in their manufactory and refined with the finest sapphire salt. Enjoy pure as a little snack or with your favourite drink.
Their product offering includes:
Cashews with lemon & chili pairs with Sauvignon Blanc
King Pistachios with Negin saffron champagne
Pecans with date, lemon & chili pairs with Rosé dry
Pistachios with cherry & smoke pairs with Pinot Noir
Pecans with pomegranate pairs with Riesling Kabinett
Macadamia with rosemary & smoke pairs with Rioja Reserva
Pistachios with orange & smoke pairs with Chardonnay 
Macadamias with maple syrup pairs with Shiraz/Syrah
Wild pistachios roasted with sapphire salt
Sword almonds roasted with sapphire salt
Wild pistachio, sword almond and green raisin
SHATOH Gourmet GmbH
Nuts love wines. And Shatoh's RENDEZ-VOUS collection of nuts is meticulously matched to specially selected wines to balance the aromas and complement the complex flavours. In their boutique manufactory, they take care to roast nuts to perfection with a special invented process to bring out their delicate natural flavours. Each process is curated with only four complementary ingredients to bring passengers unforgettable moments of delight.
See SHATOH's exhibitor profile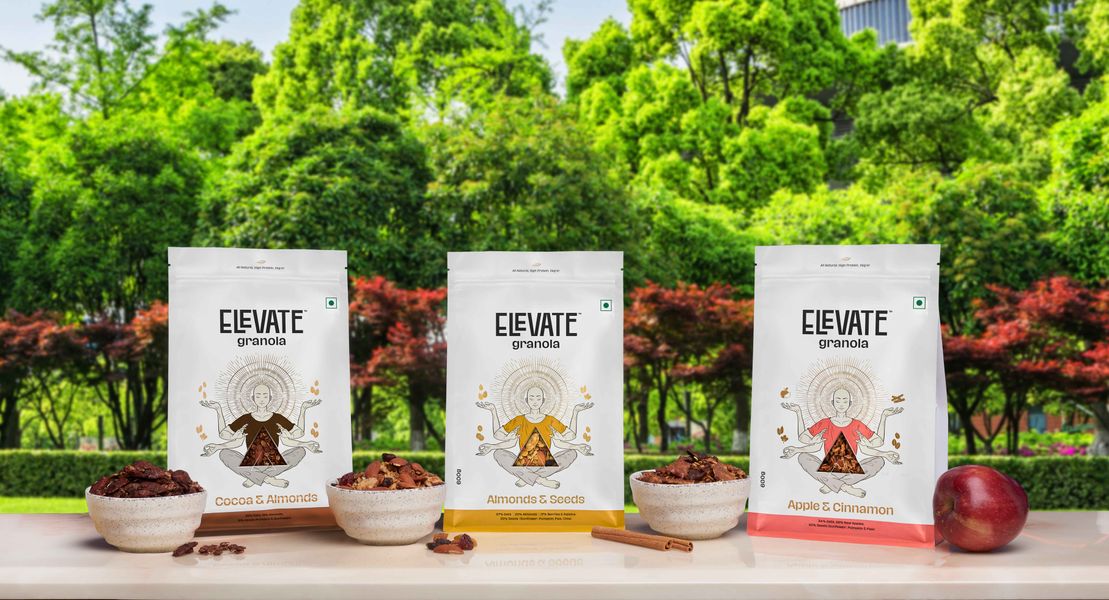 5) Elevate granola by Crunch Cereals Private Limited
Elevate granola is a healthy mix that combines natural ingredients like oats, almonds, seeds and berries. It is a versatile product for all age groups, from being a complete breakfast cereal to a mid-day snack or to carry along for a workout or rejuvenating after sports. All our granolas are vegan, natural and are high in fiber and protein. The unique and earthy taste is on account of making our products in small batches and without any preservatives or processed sugar.
Elevate granola contains:
37% oats
20% almonds
17% berries & raisins
20% seeds (Sunflower, pumpkin, flax chia)
Crunch Cereals Private Limited
Crunch Cereals Private Limited believe in selling a product that they ourselves would love to eat with friends and family. They have created a product that has all-natural ingredients and each ingredient selected for ELEVATE granola is of a very high quality.
They do not use any processed sugar or preservatives. They believe that the ingredient list of their granola is easily understandable unlike those of many similar products. And come passengers recieve is a pure, healthy, nutritional and tasty product.
See Crunch Cereals Private Limited's exhibitor profile
6) Branded offerings by Portfolio Partners
Portfolio Partners work with leading global brands for the supply of confectionary and snacks. Their offering includes products from brands such as:
Joe&Sephs Gourmet Popcorn
Pringles
Kellogg's breakfast cereals and snacks
Ribena (250ml carton)
Starbucks (cold coffee can)
Real Handful (trail mix)
Nestle (KitKat)
Portfolio Partners Ltd
Acknowledged as one of the world's leading providers of premium branded food and drink products, Portfolio Partners have over fifteen years' experience in supplying major airlines with snacks, breakfast treats and refreshing drinks to enhance customer satisfaction and drive revenue growth from ancillary products and services. We have built an unrivaled reputation for effectively representing leading food brands to move successfully into the airline and wider travel industry. Say Hi at stand 1E51
See Portfolio Partners' exhibitor profile
---