The sustainability case for tackling food waste is increasingly hard to ignore. Unconsumed food, including losses at pre-consumer levels, is associated with 8-10% of greenhouse gas emissions according to United Nations calculations.
Arguably, the single greatest burden to our planet is food production, food handling and waste management. The airline industry necessarily shares this burden. And if the climate crisis is not enough motivation to tackle inefficiencies in the system, the business implications surely are. The forward-thinking airlines are turning to innovative tech tools that harness artificial intelligence and data analytics for solutions.
Food for thought
Around 931 million tonnes of food or 17% of all food sold to consumers went into the waste bins of households, retailers, restaurants and other food services in 2019, according to the Food Waste Index Report 2021. The report was issued in March 2021 by the UN Environment Programme (UNEP) and WRAP, a global NGO and environmental charity.
Six years ago, all UN member states adopted the 2030 Agenda for Sustainable Development, which includes the goal of halving per capita food waste by the end of this decade. With just nine years left to realise this target, the pressure to make a difference is ramping up.
Food waste is business waste
The business case to reduce food waste in the cabin is compelling. The IATA Cabin Waste Handbook, published by the International Airline Transport Association (IATA) and WRAP in 2019 reveals that up to 5.7 million tonnes of cabin waste was carried up into the air and brought back down again in 2017. Up to a quarter of that waste was untouched food and beverages. Taking into account that the inflight catering services market was worth about US$15.5 billion in 2017, IATA reckons up to $3.9 billion worth is landfilled or incinerated.
An ongoing challenge, as IATA and WRAP highlight, is the lack of visibility around cabin waste composition and the costs applied to airlines and their service partners, although anecdotal evidence mentioned in their report suggests it can be over $600 per tonne simply for handling and disposing of cabin waste.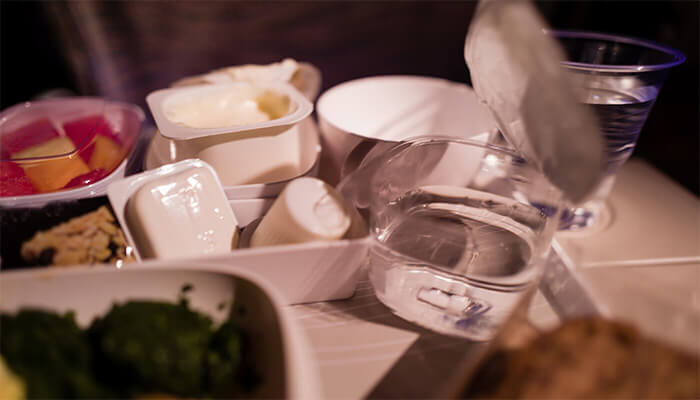 A mutual problem shared by airlines is biosecurity concerns, which have led a number of countries to strictly regulate what happens to international catering waste, making re-use and recycling difficult, if not impossible.
Digital options to provide solutions
Nonetheless, accelerated digitalisation in response to the COVID-19 crisis is starting to help airlines gain a better understanding of food wastage. An idea of how data can be applied to the problem can be seen at China Eastern Airlines, which is using big data and just-in-time methodologies at its Shanghai inflight catering facility. The airline revealed last summer that its catering team monitors the company's enterprise resource planning system for real-time flight information and changes to passengers' seats to make timely adjustments to onboard food before delivery.
On World Food Day 2020, Emirates Flight Catering (EKFC) committed to achieving a 35% reduction in food waste across its central operations in Dubai which serves the flights of over 100 airlines and, at peak, can prepare up to 225,000 meals per day.
To help meet this target, EKFC is working with Winnow to roll out an advanced food waste management system that leverages AI and machine learning to automatically monitor and control food waste. Using a camera and a set of smart scales, the system 'learns' to recognise different foods being thrown in the bin and calculates both the financial and environmental cost, enabling EKFC to adjust its purchasing accordingly.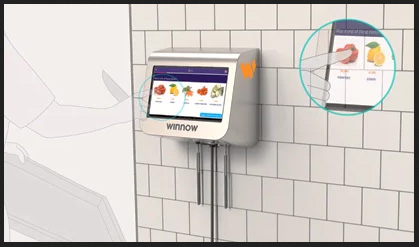 Additionally, EKFC has been working closely with its airline customers to analyse consumption trends and harness predictive data to optimise the loading of food and beverages for inflight catering.
Top airlines to tackle food waste
In a bid to get to grip with food consumption and wastage patterns across its network, Etihad Airways is tracking uneaten economy class meals. It has teamed up with Lumitics to trial the use of computer vision and machine learning to lower food waste on its flights. The technology differentiates and identifies the types and quantities of uneaten meals, without manual intervention, based on the design of the meal foils, allowing Etihad to track unconsumed food when an aircraft touches down at an airport.
When the initiative was announced, Etihad Aviation Group's Chief Operating Officer Mohammad Al Bulooki noted that this trial was part of the airline's commitment to drive sustainability through all of its operations. He stated, "We believe that this project will have the potential to support the drive to reduce food wastage and, at the same time, improve guest experience by enabling Etihad to plan inflight catering in a more relevant, effective and efficient way."
Data will unlock savings
While innovations in onboard retail platforms are primarily aimed at improving passenger experience and helping airlines to meet their commercial targets, the technology also has the potential to support environmental goals.
In Spring 2021, gategroup and its partner, Black Swan, will escalate the trial of their Epax e-commerce platform for, among other things, food on easyjet flights. Epax removes the need for paper menus and brochures, as passengers browse, order and buy inflight via their own mobile devices on a local wireless network.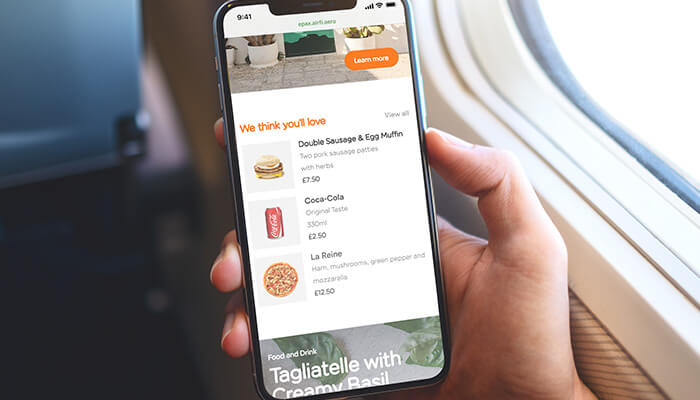 Epax will result in travellers being offered more relevant choices, based on factors such as destination, duration and time of day, plus insights generated from a wealth of inflight retail data. From an airline perspective, the onboard menu is no longer static, allowing easyJet to serve promotions dynamically and manage pricing. For the easyjet onboard menu, the platform has the potential to remove hundreds of tonnes of paper from the cabin, saving natural resources, reducing waste across the airline. This streamlining of the easyjet onboard food will contribute to fuel efficiency through weight reduction.
Our partner show, Aircraft Interiors Expo, recently looked at new composite materials that will also help to reduce weight in the cabin. Read more on the AIX Hub.
Speaking with David Parry, Managing Director of the gategroup-Black Swan joint-venture, Epax is a final piece of the jigsaw puzzle that will ultimately allow the partners to provide a full end-to-end retail journey that also includes pre-order.
Parry acknowledges that if the offer is limited, pre-order will be of no interest to passengers. "But if we can…create that end-to-end journey, unlock the value that's inherent in that, we can actually push more people into pre-ordering, because there will be more choice of product and delivery options," he says. "And the more people we can push into pre-order, that is really how we can make some serious dents in those waste numbers."
AI to improve onboard efficiencies
Thinking bigger picture still, AI-based systems to help airlines predict and track food waste will be even more effective when they are part of a wider support system.
Andrew Wilson, Executive Director of the International Airline Waste Management Association, explains: "To make such food-waste tracing system investments cost-effective over the next 18 months or so, airlines will first need to have integrated strategic alliances with solution-based programs supported by the markets in which they operate."
For Wilson, market-based or intra-national programmes can help stem food waste by overcome existing international policy constraints. "Without these alliances and advocacy efforts, however, food will continue to be wasted, essentially defeating the technology's purpose." he cautions.
Airlines need to reduce food waste onboard
Undoubtedly, there are significant savings and resourcing improvements to be made across inflight food processing and onboard offers. Some initiatives, such as food waste disposal, will require close collaborations within the aviation industry and with external stakeholders, which brings its own challenges.
But to not address the issues around food waste would be a failure to compete and, importantly, a failure to take responsibility for aviation's part in the climate emergency.
---
Related articles
---
Registration Now Open for WTCE 2023

Visitor registration is now open for this year's World Travel Catering & Onboard Services Expo (WTCE) and the co-located Aircraft Interiors Expo (AIX), which will take place from 6-8 June 2023, at Hamburg Messe, Germany. Registhttps://www.worldtravelcateringexpo.com/en-gb/lp/register-now.htmler today and join the global cabin interiors and onboard services community. Bringing the industry together Aviation and rail professionals from across…

Voting goes live for Onboard Icons competition

World Travel Catering & Onboard Services Expo (WTCE) has opened its Onboard Icons competition to the public vote, which will see 10 people in the industry crowned the most influential, as voted for by their peers. Over the last two months, those in the industry have been nominating friends and colleagues who deserve to…

Silver Ion Face masks from Bayart Innovations

A unique combination of nano technology and silver has come together in these new face masks from Bayart Innovations. Bayart Innovations accelerated its development of environmental hygiene projects just after the pandemic outbreak and reallocated its current production centres to cover airline and passenger expectations. Hygiene and PPE products are generally made up of plastic materials and can only be used once.…

WTCE 2024 returns to shape the future of onboard and the passenger experience

World Travel Catering & Onboard Services Expo (WTCE) returns to Hamburg for the twelfth edition of the show from 28-30 May 2024. Taking place at the Hamburg Messe across three days, it promises to unite buyers from the world's leading air and rail operators, with exhibitors showcasing the very latest onboard product innovations and services.…
---
---