As travel looks set to be restricted around the world, train travel could be one beneficiary of smaller and more local trips. Recently we had a chance to talk with Roger Williams, Chairman, International Rail Catering Group (IRCG.) The IRCG represents the global rail catering market and includes members from privately owned catering companies, retail franchisees, culinary and logistics experts, independent rail catering professionals and product and equipment manufacturers and suppliers
In the first part of our interview with Roger, we asked him how rail can come back stronger after Covid-19, the positive environmental impact of rail travel and how train companies can start to advertise their services. Read on to see his insights.
---
Do you think that rail companies need to come together at this time?
"Just take the UK for the moment, the UK government has put in Emergency Management Arrangements. What they've basically done is instead of franchising out, they've given management contracts to the companies to keep trains going and the government through the Department of Transport (DfT), has effectively taken control of the railway, not nationalised it, it can't be confused.

"This is still a commercial arrangement between the train operators and the government, but I think in the fullness of time, over the next year or two you will see synergies between train companies because without that I think the industry is in great danger of collapse."
Do you think train companies should be lobbying the government?

"In the UK, you have The Rail Delivery Group (RDG) which brings all the train operators together in the UK and agrees on a strategic approach to the industry. Steve Montgomery, the First Rail Managing Director, has been made the leader of the RDG. First Group also has a majority of the UK rail; they're partners with Avanti on West Coast, they run Great Western Railway, they run Southwestern railroads and they run TransPennine Express.
We're working hard to make sure you can #TravelWithConfidence. This includes:
💧 increased cleaning, especially in high-touch areas
▶️ improved signage to help with social distancing
👍 more staff to assist you on your journey

Find out more: https://t.co/zMEHEhDoiu pic.twitter.com/w1bLkP1EEA

— Rail Delivery Group (@RailDeliveryGrp) November 10, 2020
RDG has been highlighting cleaning efforts onboard trains in the UK

"RDG seems to be the organization that is driving rail strategy, advising the DfT on the way that the train operating companies think the railway should go. It's quite an influential position and I would hope in the same way as the premier league lobbying the government to allow ten thousand people into Wembley, into a 90,000 stadium, that the railways will be pushing now to reinforce their position as the method of choice in terms of long-distance travel throughout the UK."
What would IRCG suggest that train companies do to get passengers back onboard?
"What IRCG would suggest is really show the people that do travel, show them great hospitality.

"An example of which I found from Rail Business Daily, was the managing director of Cross Country Railways, Tim Joyner, and he met a couple on their staycation honeymoon and was pictured serving them with glasses and a bottle of champagne to celebrate.

"I thought 'that is an amazingly good story, how people should be and how they should act' and we need more great stories like those that bring people back to us."
What other advantages do you think train travel has?

"When you compare it to cars, you have a lot less pollution, when you compare it to cars you have a lot less road maintenance (because the rails still have to be maintained.)

"You have all the knock-on effect on emergency services dealing with additional accidents when you get mass car travel and so on so forth

"The whole environmental message as far as railways are concerned it is an under-told story in many ways"
Related articles
Do you think some of the messaging needs improving?

"Some of these overarching messages within the industry need to be brought together to convince the general public or remind the general public how great intercity travel has actually become.

"You only have to look at Eurostar in terms of the success that they've had over the last 25 years. I was there at the launch of Eurostar and I remember thinking 'this is amazing, this is going to grow.' Now they're moving 10 million passengers a year between three cities, and have recently added Amsterdam.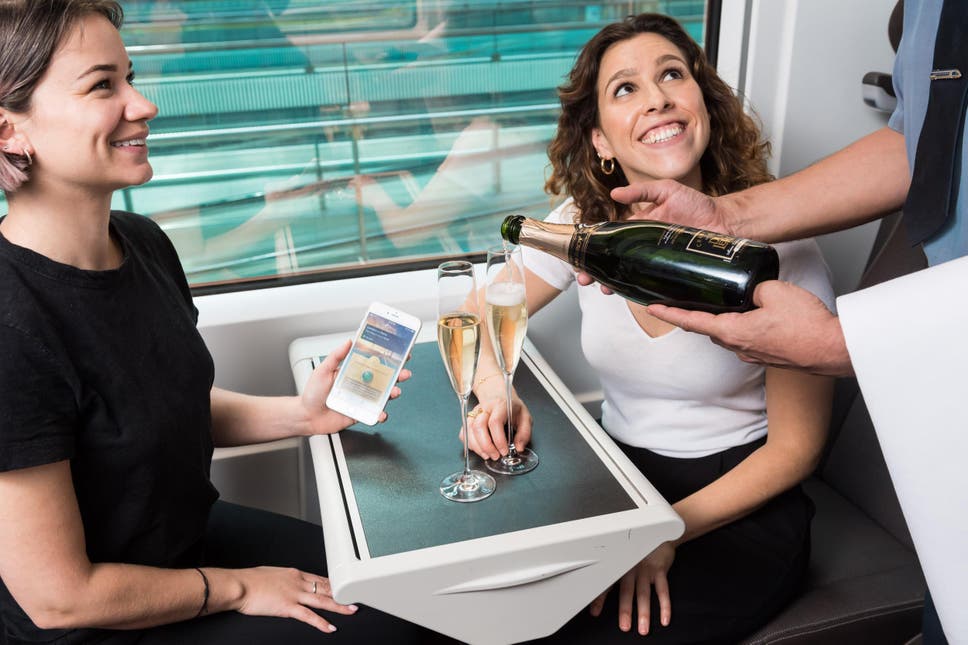 "The potential to move large numbers of people safely is definitely there. The public need to be reminded how lovely it is to go and have a weekend away in Paris or a joyful week by the canals of Amsterdam.

"Of course, what we can't do is change government policy in terms of lockdowns and things like that. That, unfortunately, is a new fact of life and we're just not going to get away from it."
---

Next month, you'll be able to find out what Williams has to say about digitalisation onboard and how train companies can improve their online service.