Welcome to our Products in Focus series. These articles will take a look at the latest and most exciting travel catering and onboard service products for airlines and rail operators in a variety of categories.
Looking at products from across the sector, including food, beverages,
packaging
and amenity kits, we'll be focusing on
a selection of the many products
that WTCE attendees will be able to taste, touch and test at the upcoming event edition.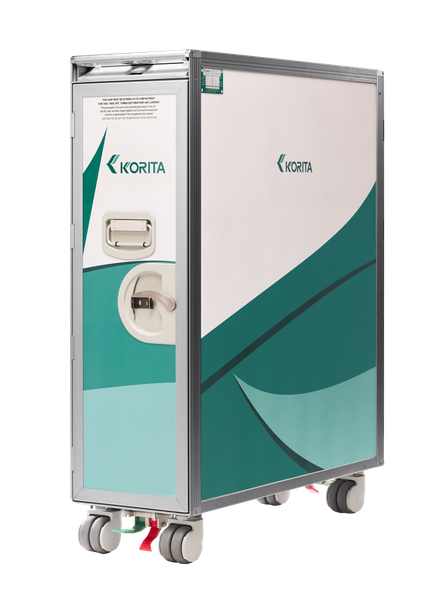 1) Aluflite range by Korita Aviation
Korita Aviation's offerring includes a number of Aluflite ATLAS products including as well as oven racks and aluminium draws and ice containers, as well as:
Standard containers: designed using a high-grade aluminium alloy that makes it strong and durable and gives a great return on investment.
Half and full-size trolleys: featuring an innovative design matched with a lightweight construction, durability, and strength.
Available in a range of options, all trolleys feature a standard push-to-close locking system, a low-maintenance four wheel braking system, a recessed pull handle, and a choice of exterior finishes.
Half-size waste trolleys: featuring an innovative lightweight design that delivers durability and strength. Our lightweight design ensures optimum fuel-saving efficiency.
Standard sales containers: engineered to provide a high-level security container with a reinforced door, two-point door latch, padlock, and custom seal provision to ensure your inflight duty-free items are stored securely.
Korita Aviation
Established in 2006 in Suzhou, China, Korita Aviation is a world-leading manufacturer of high-quality galley insert equipment. They design, engineer, and deliver galley insert equipment to airlines, lessors, catering companies, and rail operators all over the world. Their manufacturing facility produces rotable and Buyer Furnished Equipment (BFE).
See Korita Aviation's exhibitor profile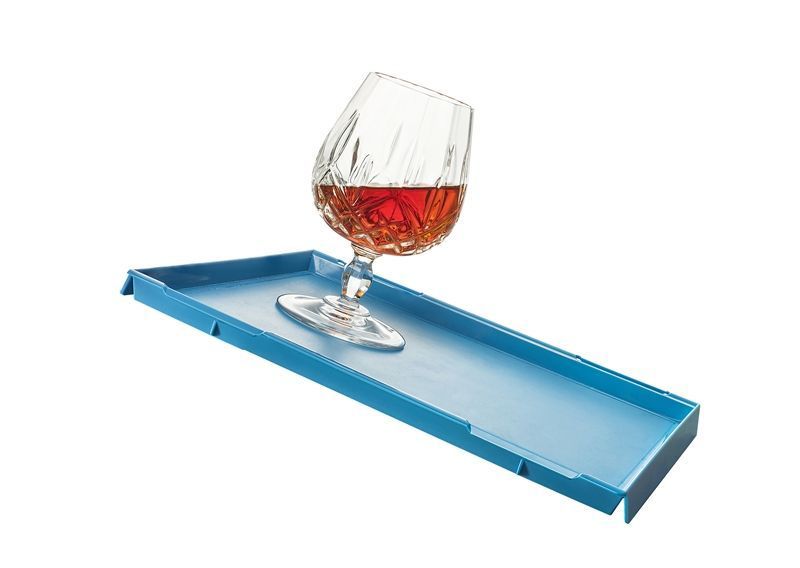 2) Anti-slip trays by Gem Airsupply
Gem Airsupply's product offering includes:
12 & 18 divider glass racks: available in multiple colours, for different glasses
ATLAS drawers
ATLAS trays and non-slip trays
Gem Airsupply
Gem Airsupply Ltd. are a manufacturer of civil aviation products, such as drawers, glass racks, trays, jugs, tamper seals, blankets, oven racks, trolleys and more. We ensure high R&D, manufacturing and quality control capacity, with highly skilled human resources and low-labour cost to add to the competitiveness of their products, thus contributing greatly to the world in-flight market.
See Gem Airsupply's exhibitor profile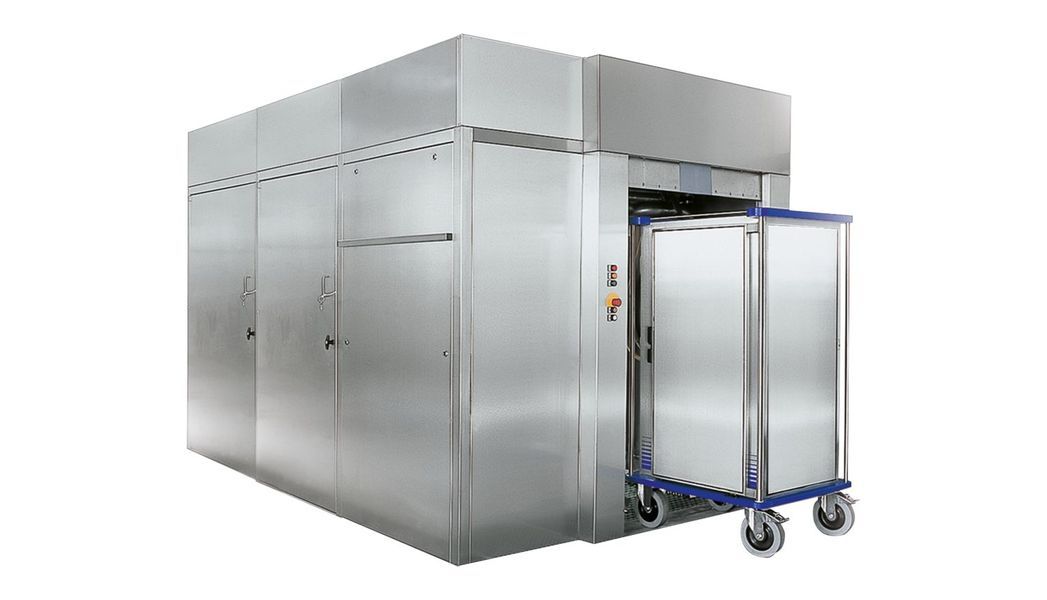 3) Cart washing solutions by Hobart
Hobart specialise in engineering and manufacturing high-quality warewash systems, waste technology, food preparation and cooking equipment. Their product offering includes:
PREMAX FTPi: sets new standards in terms of performance and washing intelligence. With SENSOTRONIC – a washing intelligence that enables you to make savings on usage and, therefore, operating costs.
HOBART ACW: the ideal solution for high volume capacity requirements. Up to 300 full size trolleys per hour can be washed. Even higher capacities can be provided if it is required.
ELRO 2300 kettles: from 40l to 500l and multifunctional pans 2GN/3GN (90l/170l) offers maximum flexibility for irregular workloads and highest production safety, thanks to a life span of 20+ years and minimal failure rates.
ELRO mixer kettle: with optional chilling function combined with the ELRO multifunctional pressure pan enables effective large-scale production and regeneration in the proportioned needed without endangering food quality or create food waste.
Hobart
Being part of Illinois Tool Works, Hobart promises premium quality products. The company specialises in the planning, design and installation of warewash-systems in the worldwide airline catering industry. The company concentrates on innovative, customer-oriented warewash solutions and their major aim is to develop and engineer ecologically-friendly products. Due to the experience and know-how in the airline market Hobart is a perfect partner for the industry.
See Hobart's exhibitor profile
4) Serving trays by August Lundh
Combined with their premium serving sets for onboard, Swedish manufacturer August Lundh's product offering includes:
Black Line anti slip premium quality serving trays Ergonomic serving trays (for service of their cream jug and sugar bowl) Ecological mini wave serving trays (available in 32cm x 21cm) Atlas drawers and glass racks
August Lundh
August Lundh are showcasing some of the industry's most sustainable alternatives for inflight catering. They are a Swedish manufacture of quality travel catering products, active since 1921. They provide a comprehensive range of quality food service and transportation products to the airlines, rail travel and cruise ship market sectors. Their ambition is to offer the best quality, sustainable products matched with a highest level of quality service.
5) Drawers & inserts by Egret Aviation
Egret Aviation offer a product range including waste trolleys, carts and oven racks. Their polypropylene (PP) drawers suit most airlines which use ATLAS equipment. Their standard PP drawers come in a translucent milk white colour, while customised colours can be opted for.
Egret also offers high-quality aluminium drawers in ATLAS, KSSU and customised dimensions. Their aluminum drawers are anodized in a natural colour. Customers are able to choose embossed or engraved logo in place. They also have weight-reduced aluminium and perforated drawers.
Moulded or silkscreen logos are available at customers' choice. Aluminium and plastic glass drawers are also available for certain sizes of glasses.
Egret Aviation
Designing and manufacturing of galley equipment for aircraft and railway train onboard service is the core business of Egret Aviation. Their product range includes standard and customised in-flight meal carts and beverage carts, waste carts, duty-free sales carts, standard containers, oven racks, trays for oven racks, aluminium and plastic drawers, folding trolleys. Egret Aviation is a holder of EASA Production Organization Approval (POA) under EASA 21G.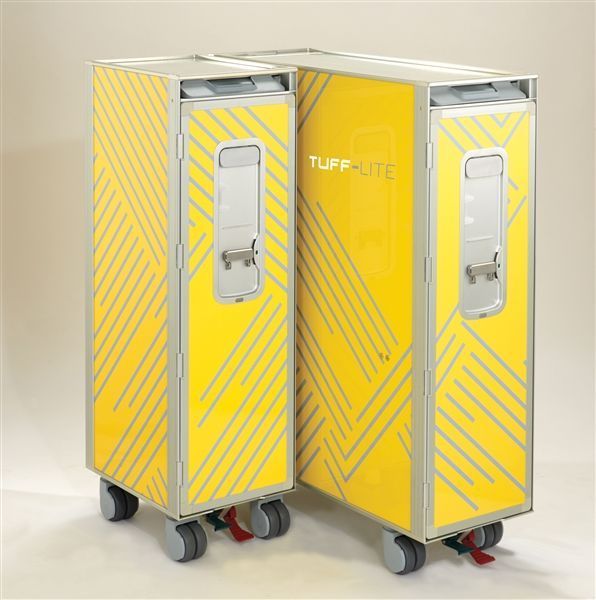 6) Lite by Diethelm Keller Aviation
If you are looking for a class leading lightweight cart that has minimal contamination, ease of maintenance and low cost of ownership, look no further than Diethelm Keller Aviation's TUFF-LITE!
The company has also designed and developed the industry's first ultra-lightweight EcoLite carts and standard containers (in 2009 and 2015 respectively). They include:
The EcoLite GEN2 Full and Half Size trolley
The EcoLite GEN2 standard unit (lightest and certified in the industry)
Diethelm Keller Aviation
Diethelm Keller Aviation is one of the world's leading designers and manufacturers of galley carts, indoor and outdoor mobility equipment as well as other related products for aviation, rail, healthcare and hospitality. The company has over 30 years of experience partnering aircraft makers, airlines and lessors on various programs; BFE, SSBFE, SPE, SFE, fleetwide replacement and special projects. Their core competencies are in its design, engineering and innovation.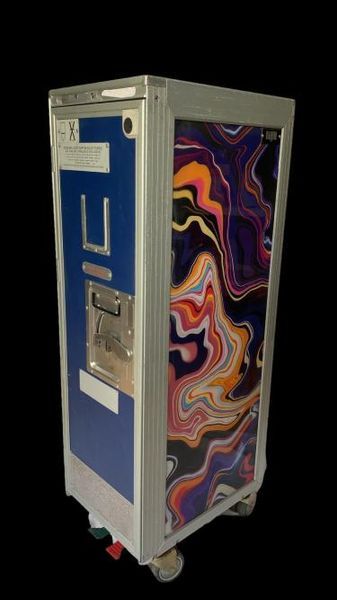 7) MRO & galley equipment by Enmak Group
Originally founded 60 years ago and still loyal to its manufacturing roots with more than 30 years of industry experience, Enmak Group and its subsidiaries offer end-to-end solutions for a wide range of products including:
Travel comfort items Meal service concepts & products Food & non-food packaging Galley equipment (both production & MRO services) Trolley & galley equipment customisation
And more specifically:
Meal trolleys Waste trolleys Foldable trolleys Ice containers Standard container units Drawers Oven racks
Enmak Group
Enmak Group has taken its place in the business World with the foundation of Enmak Textile in 1988 , it continues to add value to Turkey's and the economy for the last 30 years. ENMAK GROUP, thanks to all its experience, flexible structure, simple management approach and effective team work; reflects its commitment to quality and customer oriented production and after sales-services. They are committed to reducing carbon footprint with recyclable and composite products.
---
---
If you are an exhibitor, log into your dashboard to add your products now.
---