Welcome to our Products in Focus series. These articles will take a look at the latest and most exciting travel catering and onboard service products for airlines and rail operators in a variety of categories.  Looking at products from across the sector, including food, beverages, packaging and amenity kits, we'll be focusing on a selection of the many products that WTCE attendees will be able to taste, touch and test at the upcoming event edition.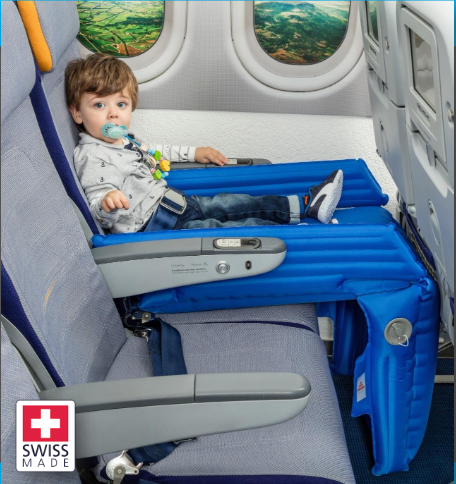 1) Junior comfort seat by Diethelm Keller Aviation
This junior comfort seat by DKA features material that's tested and approved for inflight use. It's easy to clean and disinfect and is customized to fit all long-range economy seats.
The product is lightweight and comes in a small package that fits easily into overhead bins. It is also easy to use and takes less than one minute to inflate/deflate. Supplied with a handheld, battery powered inflator (>100 inflations per charge).
Diethelm Keller Aviation
Diethelm Keller Aviation are at the forefront of engineering innovations.
They are one of the world's leading designers and manufacturers of galley carts, indoor and outdoor mobility equipment as well as other related products for aviation, rail, healthcare and hospitality.
They have over 30 years of experience partnering aircraft makers, airlines and lessors on various programs; BFE, SSBFE, SPE, SFE, fleetwide replacement and special projects. Their core competencies are in design, engineering and innovation. They have also designed and developed the industry's first ultra-lightweight EcoLite carts and standard containers (in 2009 and 2015, respectively).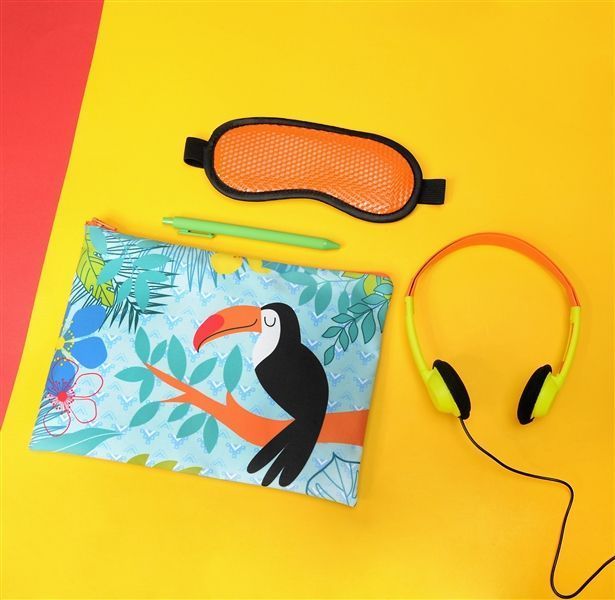 2) "Kid Sets" by Bayart Innovations
With Bayart Inoovations, flying becomes a playground experience for kids. "Wanna have fun" is the key word. Their team develop creative, playful, educative activity sets, toys, interactive games to surprise kids onboard.
They also produce amenity kits and all their products which are used in the cabin are developed for all classes and for all types of airlines, available with an unlimited choice of accessories. Passengers can wrap themselves in their textile range made for wellness and comfort aboard; designed with care. Their range includes: blankets, duvets, pillows, headrests, pillow covers, table linen, towels and washable or disposable bags.
Their designers create fashionable pyjamas set and warmth slippers with conscious materials. During the night flight passengers feel at home ready to fall asleep peacefully in their soft pyjamas and trendy slippers; here the watchword is "just relax".
Bayart Innovations
Bayart specialise in supplying high-quality airline items including amenity kits, blankets, linen, children's gifts and tableware.
They also supply headsets, including noise cancelling and galley equipment. Their dedicated in-house creative team can design and develop bespoke inflight items in partnership to create products which will enhance the passenger experience and keep cabins looking good. They are known for supplying the right item, at the right price at the right time.
See Bayart Innovation's exhibitor profile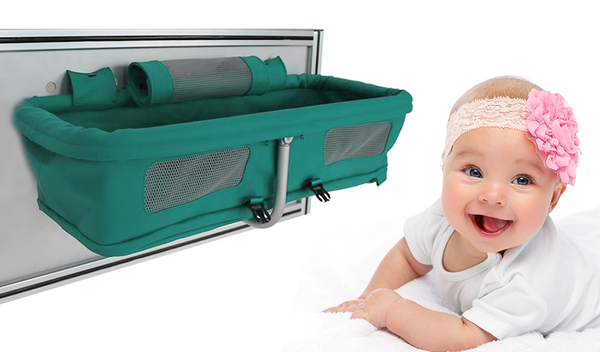 3) Aluflite baby bassinet by Korita
"Aluflite wishes your baby a good night inflight!"
A lightweight design that provides comfort to newborns on the long haul flights, the Aluflite baby bassinet by Korita has been designed to include a three-point anchor system, a removable fabric basket or vinyl basket, and a safety kit to prevent unexpected access to the locking system.
Aluflite baby bassinets are designed with a removable fabric basket. A vinyl basket can also be offered if preferred. Empty weight start from 3.5 kg and can be customised so that the design matches airline branding.
Safety first 
Removable basket
Customisable to match airline branding
Lightweight
Protective bag
Korita
Established in 2006 in Suzhou, China, Korita Aviation is a world-leading manufacturer of high-quality galley insert equipment.
They design, engineer, and deliver galley insert equipment to airlines, lessors, catering companies, and rail operators all over the world. Their manufacturing facility produces rotable and Buyer Furnished Equipment (BFE).
Aircraft manufacturer approvals include: official supplier of NELI for Airbus, all programs: A320/A330/A350/A380, quality system approval issued by the Boeing company, quality system approval issued by COMAC, approved supplier for Bombardier.

4) Various popcorn by 4700BC Popcorn
4700BC produce popcorn for all ages of passengers including exotic gourmet popcorn flavours: himalayan salt caramel, Hawaiian barbeque cheese, sriracha lime cheese, Belgian choco caramel and sour cream and wasabi cheese.
Products come packaged in their premium pouches which are convenient to carry and easy to use.
Or, passengers can indulge in healthy and guilt-free snacking with their signature protein pops coated with heavenly caramel flavour balanced to perfection with Himalayan salt.
4700BC Popcorn
4700BC's range promises a world of premium, healthy, clean & flavoursome snacking with a wide range of indulgences ranging from Gourmet Popcorn, Gourmet Crackers & more.
4700BC is a premium snacking brand from India with a wide range of gourmet snacks, which are perfect for in-flight snacking and as a companion to meals and beverages.
Their products are Gourmet Popcorn, Protein Pops, Microwave Popcorn, Sweet Corn, and Corn Chips and are available in small handy packs which are easy to store and convenient for the passenger to carry.
Their clients include: Qatar Airways, American Airlines, Vistara, Go Air, Spice Jet.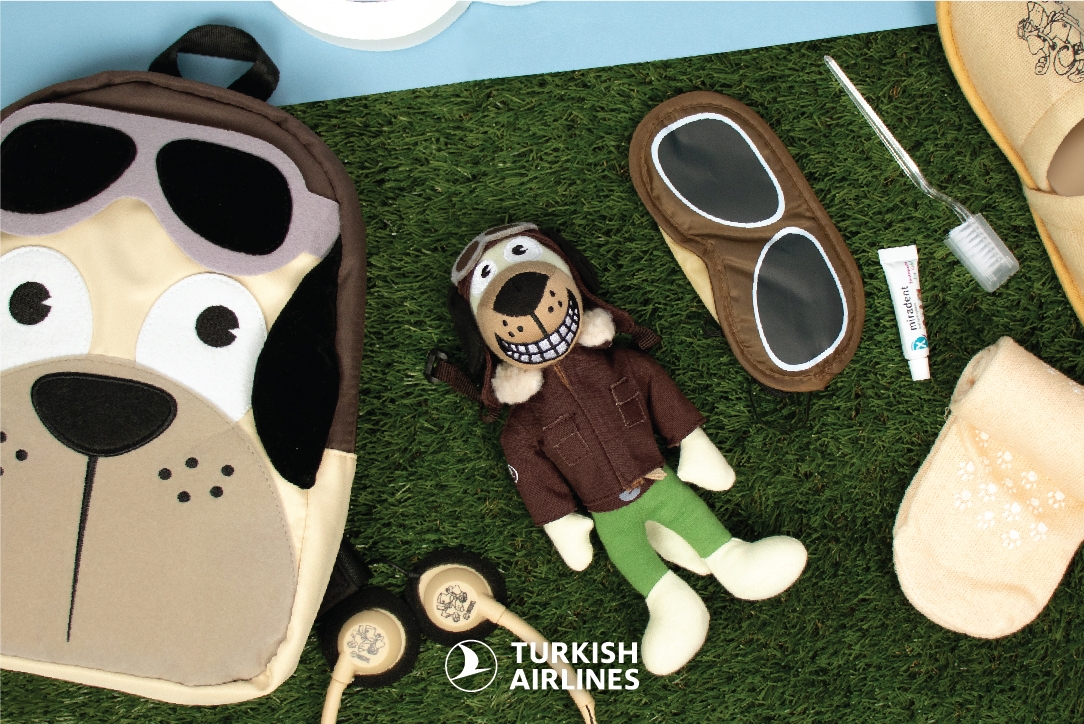 5) Children's toys by Formia
Designed with the younger traveller in mind, Formia's thoughtfully prepared children's amenity kits and toys include fun activities with an educational element to keep children entertained and learning during the flight and long after.
Their fun, innovative and eco-friendly children's products include amenity kits, toys, games and gifts curated through family-friendly brands as well as airline personalisation (with brand mascots), to amuse and even educate younger globetrotters.
They products are currently carried by: American Airlines, Delta, jetBlue, Westjet, Turkish Airlines, Emoirates, Qatar and more.
Formia
FORMIA is a global leader in the travel industry offering tailor-made, premium guest and in-flight amenities, including bags, skincare, comfort items and children's products.
Their distinctive design approach is founded on creating value through strong brand partnerships and boundary-pushing innovation. In partnership with the world's leading airlines and brands in luxury, travel, lifestyle and well-being, FORMIA focuses on identifying the most strategic fit, enabling the brand to optimise its visibility and impact while adding significant value to the airlines' proposition.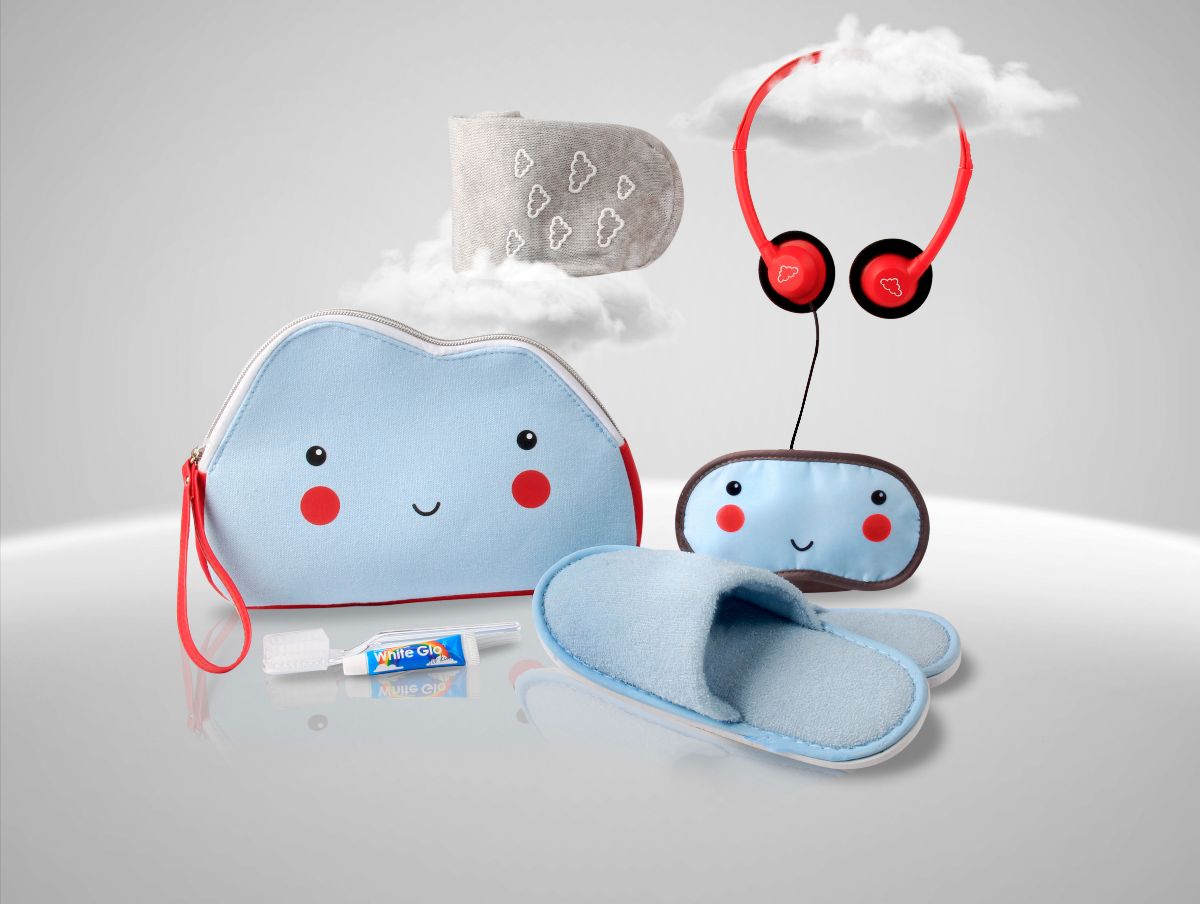 6) Fun for kids by Kaelis World
Kaelis have worked previously with carriers like Turkish Airlines to develop kids' kit for onboard. They can help to create fun sets that allow the imagination of young travellers to fly, whilst enhancing their in-flight experience.
For Turkish Arilines, each Kids' amenity kit contained:

Cloud shaped amenity bag with a zipper for children to re-use during and after the flight
Slippers – smaller sizes than traditional ones – to provide comfort for the little ones
Headphones with expandable headbands to adjust to each child's head and soft cushions
Non-slip and super soft socks with matching cloud shaped rubber tread to provide safety in every step
Fun printed Eyemask
Toothbrush and White Glow Kids' toothpaste
Kaelis World
With over 25 years of experience, Kaelis is one of the world's leading providers of onboard products, services, and solutions for airlines and railway industries, serving up to 1.5 billion passengers per year.
The company specialises in sourcing, designing, developing, manufacturing, and delivering products all over the world, as well as providing onboard services consulting to improve travel experience and make it more sustainable than before. Over the years, Kaelis has enhanced its global footprint by opening several offices around the world.
See Kaelis World's exhibitor profile

7) Qatar Oryx Kids Club by Buzz Products
Buzz creates products that enrich the journey with brand partnerships that travelers love. And children travelling with Qatar Airways can be entertained with superheroes from the Oryx Kids Club, as part of the one of the most comprehensive kids range on the market.
Qatar's large range of brightly- coloured kits feature an underwater theme for the Oryx Kids Club. The fun characters are designed to inspire kids to love and value a spirit of adventure as they explore the oceans and seas with plush toys, activity packs, collectible bags and special meal boxes.
Buzz Products
For over 22 years, Buzz has created products that enrich the journey with brand partnerships that travellers love. Meaningful collaborations combine with creative ingenuity to create products that heighten moments along the journey.
Buzz creates products that give back positively to the planet and communities. Their expertise includes sustainable partnerships and products, luxury collaborations for amenity, skincare, sleeper suits, meal serviceware and children's kits.
See Buzz Products exhibitor profile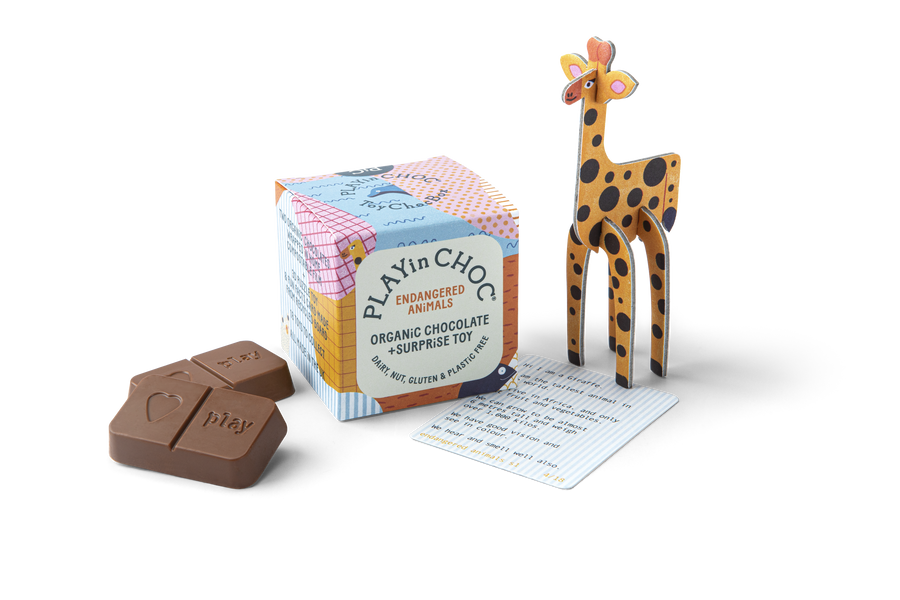 8) ToyChoc Boxes by PLAYin Choc
The company offers 66 collectable ToyChoc Boxes that are loved by kids 3+ and welcomed by adults. Each box contains 2 x 10g naturally allergen-free chocolates, a 3D animal puzzle toy to assemble and collect, as well as an educational, fun facts card. The puzzle card turns into stencils to encourage creative play, and kids love to learn, explore and discover as they read the fact card. Proudly plastic free, zero waste and 100% recyclable.
PLAYin Choc
The company manufactures delicious ethical and sustainable chocolate, which is natural, organic, allergen free and voted the 'Best Vegan Chocolate'. 
They manufacture outrageously delicious chocolate which is cabin-safe and suitable for virtually everyone. They offer ToyChoc boxes as well as JustChoc bars and slabs. PLAYin Choc uses just three plants in their recipe, so not only is our chocolate vegan, it is also free-from the top 14 allergens.
PLAYin CHOC is proudly plastic-free, zero waste and 100% recyclable. Founder, Maya Simler, created the brand with JOY+HEALTH+PLANET at the forefront of what she does, aiming to educate the future generation about the world around us.
See PLAYin Choc's exhibitor profile

9) Assorted ice cream by Smize Cream
SMiZE Cream has created a luxe super-premium ice cream that's also gamified, creating the 1st experiential dessert for passengers. Each offering comes with AR in-flight experiences and optional IFE special content.
Their product offering includes flavours such as:
Caramel Couture
Purple Dreamz
All Night Love
Caramel Couture
Caramel Swirlz
Chocolate Barbeque
Brownies, I Love You
Salted Caramel King
Caramel Cookie Queen
The Best Vanilla I Ever Had
Smize Cream
Founded by Tyra Banks, SMiZE Cream (USA) is a super-premium ice cream with yummy Surprizes hidden inside. With domestic and international distribution capabilities, SMiZE Cream is a 1st of its kind luxe-meets-fun dessert for your airline.
They offer single-serving (4oz, spoon-in-lid) super-premium ice cream complete with hidden, edible Surprizes in a variety of flavours to delight your PAX.

10) Premium Earplugs by SwedSafe AB
SwedSafe AB produce "premium earplugs in a paper pouch" (also available in a plastic pouch). Premium is their highest quality earplug with both very linear and very high attenuation – it attenuates as much as SNR 37 dB. The soft foam makes it suitable for most ear canals. Like their foam plugs, Premium is made of soft polymer foam to make it comfortable and easy to use. Sustainably produced!
They also offer economy earplugs in a plastic pouch. The foam has slow recovery properties, making the fitting easier since it is possible to roll the ear plug down to a small cylinder with time to insert it correctly.
The slow recovery of the foam also makes the expansion controlled and comfortable while it fills out the ear canal and seal it off. This product has an attenuation of SNR 31 dB and is sustainably produced!
SwedSafe AB

SwedSafe AB are a manufacturer in the hearing protection industry, focusing on earplugs. Earplugs are commonly used to block out dangerous noise, and their earplugs have the highest quality and ensure safety for the users.
However, many people also use them to improve their everyday life. To be able to sleep more soundly, to increase their ability to concentrate or to seal against water in their ears. The company has earplugs for every one of these situations.
---
---
If you are an exhibitor, log into your dashboard to add your products now.
---