Welcome to our Products in Focus series. These articles will take a look at the latest and most exciting travel catering and onboard service products for airlines and rail operators in a variety of categories.
Looking at products from across the sector, including food, beverages, packaging and amenity kits, we'll be focusing on
a selection of the many products
that WTCE attendees will be able to taste, touch and test at the upcoming event edition.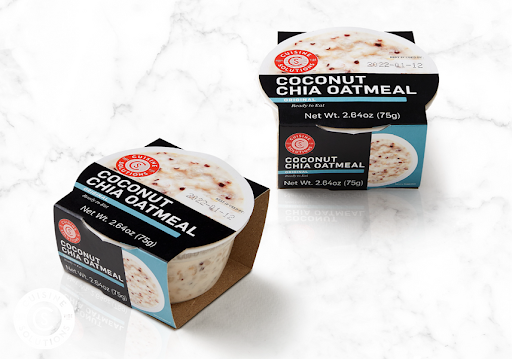 1) Coconut chia oatmeal by Cuisine Solutions
A nutritious blend of steel-cut oatmeal, chia seeds, and coconut, cooked sous vide. Slightly sweet oatmeal that's high in antioxidants, fibre, iron, protein, and omega-3s.
Made in the USA.
Packed with the highest safety standards: cooked sealed, then pasteurized, flash-frozen, and shipped to you on dry ice.
Each order contains detailed reheating instructions and nutritional information.
Cuisine Solutions
Cuisine Solutions is an industry leader in the expert development and manufacturing of premium, fully cooked foods using the sous-vide method, the precise-temperature cooking technique that was pioneered and perfected by its Chief Scientist Dr. Bruno Goussault.
With an international team of award-winning chefs, Cuisine Solutions continuously develops innovative recipes that offer onboard customers flexibility, efficiency and unmatched flavours and textures.
See Cuisine Solutions' exhibitor profile

2) Libero special meals by Foodcase
Proud Partner of Niche Food's Libero Special meal concept and Winner of On Board Award Best for Well being! Libero provides meal solutions for all classes that encompass the IATA dietary code system widely used ingrained into the travel industry, with the modern dietary needs of today.
For the first time, if you are gluten free your meal can also be diary free or vegan. All meals are made in an exclusively, nut, tree nut, sesame gluten free environment.
Foodcase International BV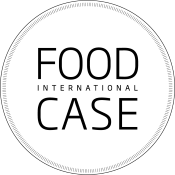 Foodcase is an independent food solutions company, fully dedicated to the airline industry with a broad portfolio of food categories, from special meals to sustainable packaging
Foodcase creates innovative food solutions for the airline industry and remote catering operations through a combination of knowledge in food technology, packaging and ingredient behavior.
See Foodcase's exhibitor profile

3) Vegan Potato Specialties by Snackboxtogo
Having trouble making special meals fun and do you want to surprise your customers onboard? Our potato specialties will tick all these boxes.
They offer Vegan hummus broccoli spinach potato pockets with a filling of hummus and green wave vegetables, prebaked in sunflower oil, deep-frozen. Other options include Vegan hummus Thai curry potato pockets: Mini-Rösti pocket with a filling of hummus, vegetables and Thai curry mix, prebaked in sunflower oil, deep-frozen.
Snackboxtogo
Snaclkboxtogo offer premium onboard snack solutions for airline and railway companies. Consumers are demanding more from great food on the move and Snackboxtogo is an ideal partner that consistently delivers great product quality, good value for money and rapid production, all important to the busy customer on the move.
See Snackboxtogo's exhibitor profile

4) Vegan lasagna by Top Foods NV
Top Foods NV are now producing great tasting ready meals in unique wooden fibre bowls as part of their Pure range. The Pure range offers a variety of halal, vegan, lactose or gluten free recipes. These healthy ready meals come in sustainable packaging made almost entirely from water and wood fibres. This reduces the company's total use of plastic by more than 85%.
Top Foods NV
Tops Foods is a producer of ambient hotmeals for buy-on-board catalogues or other occasions where the cold chain is broken.
Their hotmeal range offers a variety of authentic, vegan, lactose or gluten free recipes.
They can produce guaranteed ambient and good tasting meals by using their unique microwave technology that doesn't involve water or boiling to process food. With their meals, Tops Foods, contribute to better food, better health and a better planet.
See Top Foods NV's exhibitor profile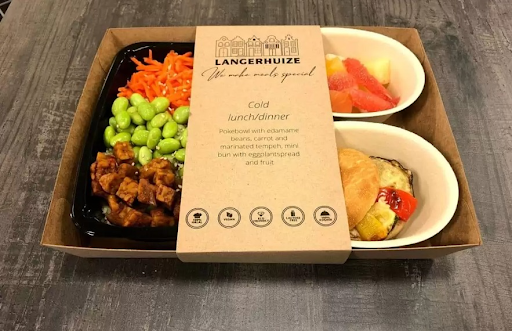 5) A new concept by Kragtwijk
Kragtwijk Finest Food has developed a new line of meals for aviation. The main focus of the development was that the meals should be suitable for several meal codes and presented very attractively.
Their new packaging is easy to use, lightweight and eco-friendly.
Kragtwijk Finest Foods

Kragtwijk Finest Food has been delivering delicious kosher meals to large airlines for more than 25 years – from economy meal boxes to first class menus. With over 20 years of experience, they are unique in the production of premium quality kosher meals served at 37.000 feet.
They have launched a new line of kosher products adhering to the highest level of Kashruth in Europe.
See Kragtwijk's exhibitor profile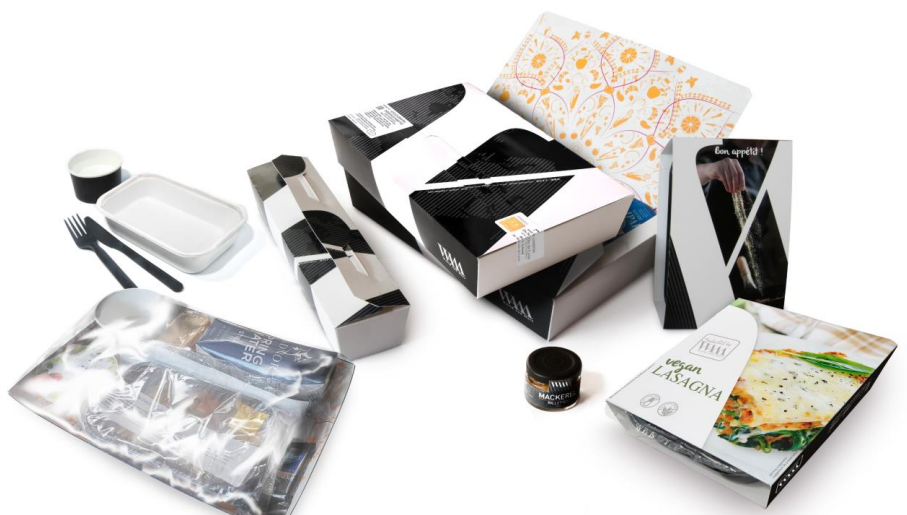 6) Kosher catalogue by Foodpartners
Since 2011, the comapny has been developing tasty special meals for catering to suit specific diets such as kosher, halal & conventional. Their products are suitable for all kind of catering situations: trains, airlines, hotels, vending machines, schools & hospitals. Meals can be stored at ambient temperature at least 6 months. In addition to refrigerated meals, their range is completed with ambient ready meals in 270g as well as meals for airline catering in 220g.
Using recyclable trays and boxes, they have also created a kosher range, certified by the Beth Din of Lyon, delivered with cacheroute certificates and official seals. They offer hot and cold meal boxes including menu items like: rillettes, fruit compotes, halva and hot dishes such as chicken tajine with olives and Mediterranean Salmon. Foodpartners export to most European countries.
Foodpartners
Special meals for catering (ambiant & frozen): Kosher, Halal, Conventional
Foodpartners Wam develops tasty special meals for catering to suit specific diets such as Kosher, Halal and Conventional. Our meals can be stored at ambiant temperature for at least 6 months – Ideal for contingency stock. From hot meal economy class (boxes or trays) and simple but efficient small snack box to business class service, Foodpartners can help you find the best catering solution and combination.
See Foodpartners' exhibitor profile
---
---
If you are an exhibitor, log into your dashboard to add your products now.
---